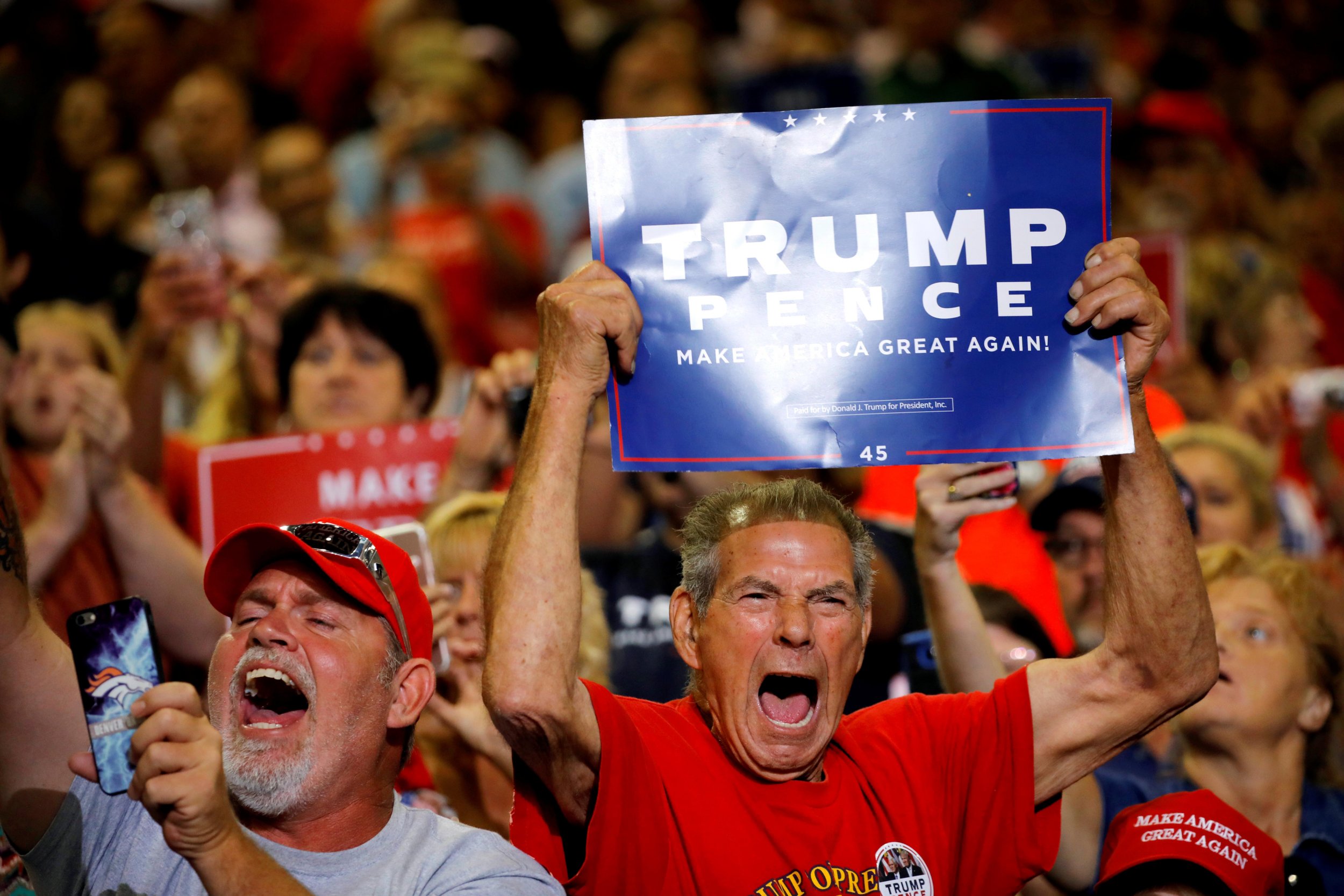 Though President Donald Trump came to power on a wave of promises to keep jobs in the U.S., reinvigorate heavy industry and, of course, Make America Great Again, many in his core support group are yet to see the benefits. Plenty of people in manufacturing are turning their backs on Trump because he hasn't followed through on what he said he'd do, says a General Motors union leader representing workers across the U.S.
The warning to the president comes almost exactly a year after Trump won the election with a pledge to improve the lives of American workers and the "forgotten men and women of our country."
Independent polls released in early October show Trump is losing support in rural areas and post-industrial Rust Belt states—such as Michigan, Wisconsin, and Pennsylvania—where he won by less than a percentage point.
However, despite this, the president may yet be able to leverage his bedrock support amongst white voters—and the group Hillary Clinton called the "deplorables"— by taking a more hardline stance on immigration and race, experts say.
In September, Trump boasted of creating job growth "the likes of which our country has not seen in a very long time." Yet Cindy Estrada, the vice president of the General United Auto Workers union, says the jobs workers face offer "poverty level wages that force them to work 10, 12 hours a day and still end up in the food stamp line, while corporations are making outrageous profits."
Manufacturing jobs in the U.S. peaked in the 1970s at 19.5 million. Out of the 12.4 million manufacturing jobs that remain today, 1.5 million make $11.91 per hour or less and 600,000 $9.60 or less, according to a 2014 study by the National Employment Law Project (NELP).
Read more: Trump approval rating plummeting even among white voters in Fox News poll
For decades Rust Belt states and their cities have seen their populations and investment by companies dwindle. In a study of future trends released October 24, the Bureau of Labor Statistics predicted low-wage job prospects in the area will continue to shrink for the foreseeable future.
After he was elected last November, Trump boasted on Thanksgiving weekend of striking a deal with air conditioner manufacturer Carrier to keep 1,100 jobs in the U.S. But by May Carrier said it would close its Indianapolis plant, cut more than 600 jobs, and move them to Mexico.
The flood of manufacturing jobs out of the Rust Belt is a familiar story that will continue unabated.
In NELP's study, it found nine out of 10 Americans believe that manufacturing is very important to building the country's standard of living and Estrada says, "I think it needs to be said more often, more loudly that not at $9, $10, or not even at $15 dollars an hour." About 40 percent of the American workforce earn $16 per hour or less, according to a Government Accountability Office report. Over a year, that wage is at least 43 percent less than the median American income of $59,039 per year.
Estrada represents workers at GM plants in Michigan, Missouri, Texas, Ohio, Arizona, and Indiana. Some 30 percent of her members voted for Trump, she says. But she's "definitely seeing a change" recently in those numbers.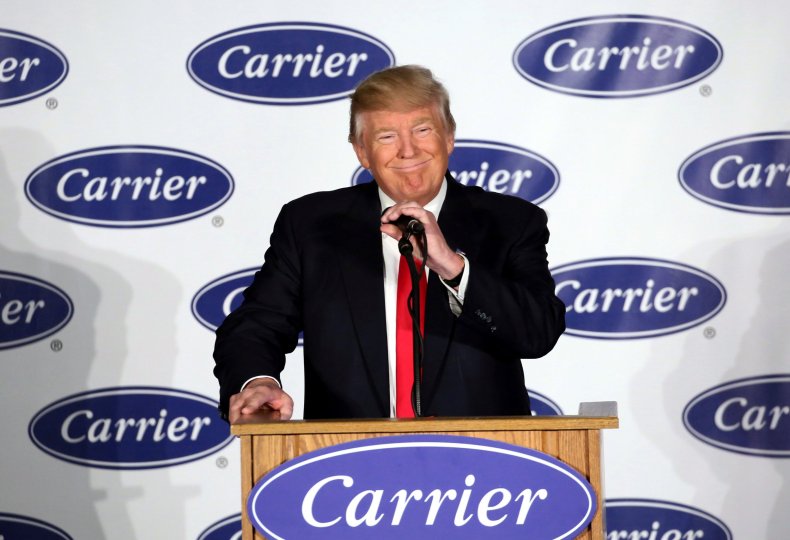 Workers are changing their minds about Trump because they're "seeing things that President Trump promised that he's not following through with," Estrada says. "He hasn't followed through on bringing jobs back. He has not followed through on protecting workers' rights. He has not followed through on healthcare—he's done the opposite."
In the federal budget passed at the end of October, Trump included plans to cut away $150 billion from several poverty programs that help Rust Belt workers, including the Supplemental Nutrition Assistance Program (SNAP) known as food stamps.
In Michigan—a Rust Belt state where Trump's approval rating has plummeted 22.6 percent since he took office— Phil Knight, executive director of the Food Bank Council of Michigan, is seeing more and more people on low-wages like manufacturing workers using foodbanks.
"We're having more people come to us and asking for food than we ever have in our history," Knight says. His organization operates seven food banks serving Michigan's 83 counties.
Knight points out that 48 percent of the people who eat up the 39 million pounds of food the Food Bank Council of Michigan gives out each year are employed. Driving this is the fact that "at $11.50 an hour you fall off the financial cliff and you're ineligible" for any federal benefits, he says.
This is happening while Michigan sits at five percent unemployment. "Five percent unemployment is pretty good, right?" Knight asks. But it's the kinds of low-wage jobs workers are getting, even when the U.S. economy continues to add jobs, that leave them making trade offs about whether they buy food, medicine they need, or pay their bills, he says.
The cuts to SNAP will be impossible for food banks like his to make up for, Knight adds. In Michigan "we only do about 10 percent of what SNAP can do," he says. "There's just no comparison. Any cut to SNAP will make it harder on the food bank network to create food security."
"We're not at a liveable wage, even though we have low unemployment," Knight says.
When President Ronald Reagan took office in 1981 he said the "best possible social program is a job." At the time, there was a direct correlation between food security and employment, Knight says. "That correlation doesn't exist any more."
Despite low unemployment, wages for manufacturing workers declined 4.4 percent between 2003 and 2013. Overall, workers wages have barely budged on trickle-down economics in the past 30 years.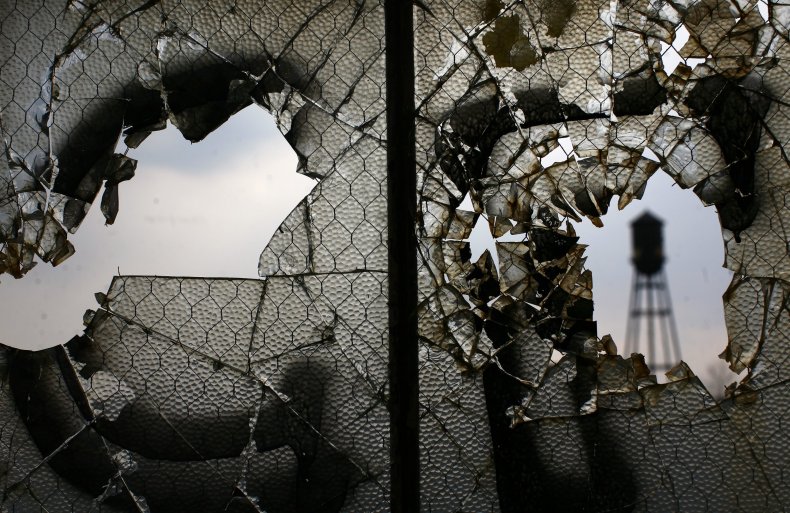 Trump keeps pointing to the highs the U.S. stock market has achieved during his presidency as a way of showing how good workers have it. However, those numbers are disconnected from workers' wages and the reality on the ground, Knight says.
"We have not had an administration in my lifetime that's willing to define the reality about poverty," he continues. The official poverty measure is some 60 years old and only measures what a person needs for food—not housing, utilities, transportation or childcare.
"We would like to see this administration be the first to define reality and the number of people who are in need in this county," he says, because "what we have in Michigan is a lot of families who are above the poverty line but they're nowhere close to self-sufficient."
Yet Trump may not need to make the lives of Rust Belt workers better to maintain the amount of support he would need to win the 2020 election. He has tapped into a solid core of supporters who will fervently continue to back him as long as he takes a hard line on issues like racial identity and immigration, says social psychologist Brenda Major, a professor at the University of California Santa Barbara.
During the 2016 election campaign Clinton referred to this group of Trump supporters as "deplorables"—a coalition of xenophobes and racists. Their public face was, in part, visible in the streets of Charlottesville, Virginia, during the violent "Unite the Right" rally in August.
From a social psychological point of view, however, "the issues and the concerns and the threat that white Americans are feeling are a bigger issue than just prejudice," Major says. "It can't just be boiled down to 'oh, it's racists.'"
Watching the whole runup to the election, "every time that Hillary would mention diversity and difference I would say to myself: 'there go another 100 white voters," Major says. "By emphasizing differences and diversity, what research in social psychology shows is that at an implicit, unconscious level whites, not just prejudiced whites, associate diversity with 'not me.'"
In a study published in late October 2016, Major and her colleagues found that just by reminding white voters—be they Republican or Democrat—of changing demographics that show the U.S. won't have a single racial or ethnic majority by 2055 was enough to tilt them toward voting Trump.
"People's identity had to have been threatened for them to then become more pro-Trump," Major says. "Research in social psychology shows that the more you emphasise intergroup distinctions, you can heighten inner-group identity," she added.
Trump "had his fingers on the pulse of that sentiment," Major says. "He still has it very well."
Trump has attempted to institute a travel ban on Muslim-majority nations, cracked down on what he calls "sanctuary cities" where police don't round up illegal immigrants for deportation, backed plans to cut legal immigration in half, and remained steadfast in his plans to build a longer, larger border wall between the U.S. and Mexico.
After Trump said in September that he wanted to preserve a program known as DACA allowing young illegal immigrants brought to the U.S. by their parents as children to work legally, former White House chief strategist Steve Bannon told the president "the guys in the far-right" are "not happy with this." Trump soon tied preserving the DACA program to achieving his more extreme immigration policies.
Despite historically low approval ratings overall, Trump enjoys solid pockets of support in former Confederate states, according to a Morning Consult poll published in early October. Trump's approval in Alabama is 59 percent, in Louisiana 57 percent; 54 percent in Arkansas; 53 percent in Tennessee; and 51 percent in South Carolina.
Trump has also launched repeated attacks on the NFL, insisting its black players are disrespecting the flag by taking a knee during the anthem as part of a protest movement against police discrimination against African Americans. The other week he spoke about preserving the "great heritage" of the Confederacy.
In 26 states he remains above the threshold of 50 percent approval, giving him enough electoral college votes to pull off a win in the 2020 election. A survey conducted by NPR late October showed that 55 percent of white Americans believe white people face discrimination.
If anything, some of the white voters who support Trump on immigration and racial issues think he doesn't go far enough. For a poll tracking how Trump's support is slipping in rural areas published in early October, Reuters spoke with John Wilson, a 70-year-old retired banker in Ohio who voted for Trump. One of his main worries was Trump might back down from his promise to force illegal immigrants out of the country.
These attitudes will remain long after Trump leaves the political stage, says Major. "I think that for people whose support for Trump is that they feel he [is] putting their concerns, as a person who is white, first, if he were to, in fact, stop doing that, that would erode their support for him in favor of some other candidate who might put their concerns first."