Trump 'Lost The High Ground' And 'Made Democrats Look Like the Grown-ups,' Conservative Columnist Says
President Donald Trump fought with top Democrats Nancy Pelosi (D-CA) and Chuck Schumer (D-NY) over the border wall and a possible federal government shutdown earlier today in front of reporters at the Oval Office.
In a Washington Post op-ed, published Tuesday afternoon, conservative columnist Jennifer Rubin explained why she believes Trump has "already lost" the fight over the shutdown and criticized the president for his behavior during the heated interaction.
"The first rule of shutdown fights is never say you are for a shutdown," Rubin wrote. "Since Republicans control everything and are likely to be blamed for shuttering the government, the last thing President Trump wants to do is say he is for a shutdown. And that's exactly what he said Tuesday."
Rubin then pointed out that Pelosi and Schumer "tried to spare Trump the embarrassment" by suggesting they conduct the conversation privately. However, Trump insisted they have an open press meeting.
"It was an extraordinary moment when Trump not only lost the high ground as president but made Democrats look like the grown-ups," she continued. "It is not clear how Trump could have appeared any more irrational and unhinged."
The conservative commentator went on to explain how Trump has, once again, placed Republicans in a "nasty spot."
"A shutdown at the end of 2018 would put an exclamation point on one of the worst years in memory for Republicans," Rubin wrote. "If they shut down the government, they'll wind up confirming that the party of Trump is not only unethical but also incompetent and dysfunctional. Christmas sure came early for Democrats."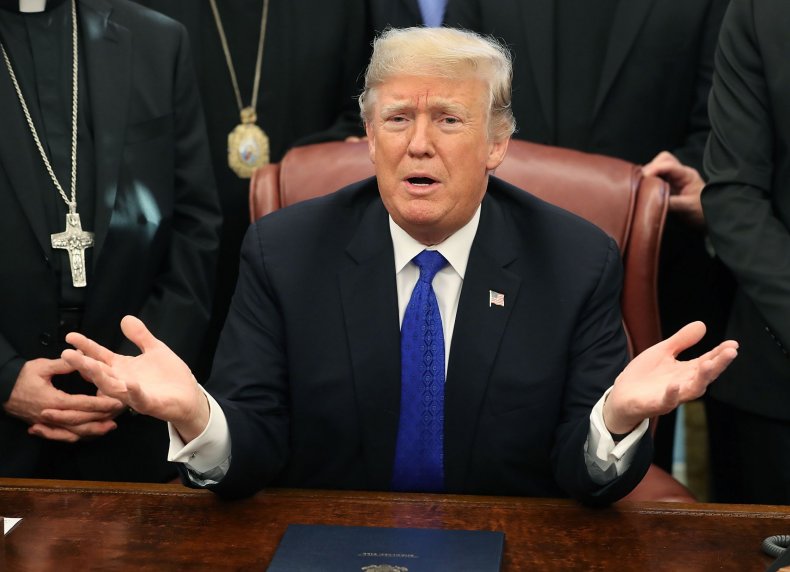 The Oval Office meeting between Trump, Pelosi and Schumer was held to discuss solutions in order to avoid a government shutdown in late December. The conversation ended today without reaching a solution as the president was unwilling to compromise on funding for his border wall—one of his key campaign promises that has not yet been delivered.
Earlier today, Trump declared that the military would build the wall if Democrats didn't vote in favor of it via Twitter. Although Republicans currently control both houses of Congress, some Democrats still have to vote in support of the wall in order for the president to get the 60 votes necessary to progress the spending bill.
"People do not yet realize how much of the Wall, including really effective renovation, has already been built," he wrote. "If the Democrats do not give us the votes to secure our Country, the Military will build the remaining sections of the Wall. They know how important it is!"