Trump Louisiana Rally Live Stream: President Stumps For 2 Republicans in Governor's Race
Fresh off a campaign rally in Minneapolis, President Donald Trump is speaking at another rally on Friday evening in Lake Charles, Louisiana, just before the state's gubernatorial election in which Republicans seek to unseat a Democrat.
Trump will speak not at his own rally, but a Republican rally in which he will vouch for Representative Ralph Abraham and businessman Eddie Rispone, both Republicans, to defeat incumbent John Bel Edwards, who is the only Democrat serving as governor in the Deep South.
A live stream of the rally starting at 7 p.m. CDT at James E. Sudduth Coliseum courtesy of CBS New is available below:
Trump promoted the rally in a tweet on Sunday.
"Going to Louisiana on Friday night for a big Republican Rally," Trump tweeted. "Keep Democrat Governor Edwards under 50%, force a runoff, and have a great new Republican Governor! Voting on Saturday. Information for Rally to follow."
In the "jungle primary," Edwards will win if he garners 50 percent of the vote, or go into a runoff with the candidate that comes in second. Democrats had a 1 percent lead in turnout from early voting returns as of Sunday morning before Trump's tweet.
On Friday morning, Trump criticized Edwards and accused him of being "suspect" on the Second Amendment, the right to bear arms.
"I will be in Louisiana tonight (Love it!) to get Republicans to vote for either of our two great Republican Candidates," Trump tweeted, "And force a run off with John Bel Edwards, who has done a really poor job of tax cutting, car insurance cost (worst in USA), & is suspect on your 2nd Amendment!"
Edwards defended himself by quote tweeting Trump and commenting, "All due respect, Mr. President, but the people of LA know my record of protecting the 2nd Amendment. I've had it my entire life."
Louisiana's governor added that Republicans and Democrats have worked together "to fix the disaster Bobby Jindal left us," referring to the state's Republican governor from 2008 to 2016. Edwards concluded, "Look forward to working w/ you in my 2nd term."
Trump in another tweet on Friday said, "We will hopefully add a Great New Republican Governor to the beautiful Louisiana mix! See you tonight!"
The president has not endorsed either of the Republican candidates.
Trump's participation in the rally on Friday caps off a push by his campaign for the GOP to take the gubernatorial race.
Vice President Mike Pence at a rally last Saturday said, "We need Louisiana to send a Republican to the governor's office and for Louisiana to vote for four more years of President Donald Trump."
The president's eldest son Donald Trump Jr. on Monday in Lafayette also campaigned for both Abraham and Rispone.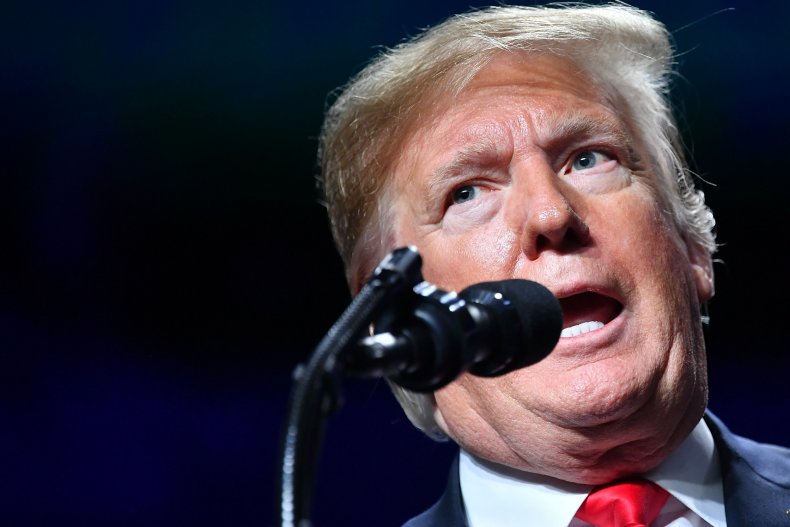 In his campaign rally on Thursday in Minneapolis, Trump blasted House Republicans for initiating an impeachment inquiry on him and took shots at 2020 Democratic front runner Joe Biden.
"He was never considered a good senator," Trump said of Biden. "He was only a good vice president because he understood how to kiss Barack Obama's ass."
Trump will likely make similar points in Louisiana, as he tries to rally his supporters against the mounting efforts to impeach him.