Trump Bossier City, Louisiana Rally Live Stream: President Holds First Campaign Event Since Impeachment Hearings Began
In his first rally since impeachment hearings began against him, President Donald Trump on Thursday evening is visiting Bossier City, Louisiana, to stump for a Republican businessman looking to unseat the state's Democratic governor.
The rally⁠—taking place a day after the House Intelligence Committee opened the impeachment hearings featuring testimony from two diplomats⁠—will kick off at 7 p.m. CT at the CenturyLink Center. A live stream courtesy PBS NewsHour is embedded below.
Trump is speaking in support of Eddie Rispone, who is facing Democratic Governor John Bel Edwards in the runoff gubernatorial election on Saturday. Trump is joining Rispone just eight days after holding a rally for him in Monroe, Louisiana.
"So Eddie Rispone is not a career politician. He's a business leader. Highly, highly respected. A man of faith and a lifelong Louisiana patriot," Trump said at the really last week. "Eddie will cut your taxes and regulations."
The president added, "I'm here for early voting," suggesting he would return to make a final push for Rispone.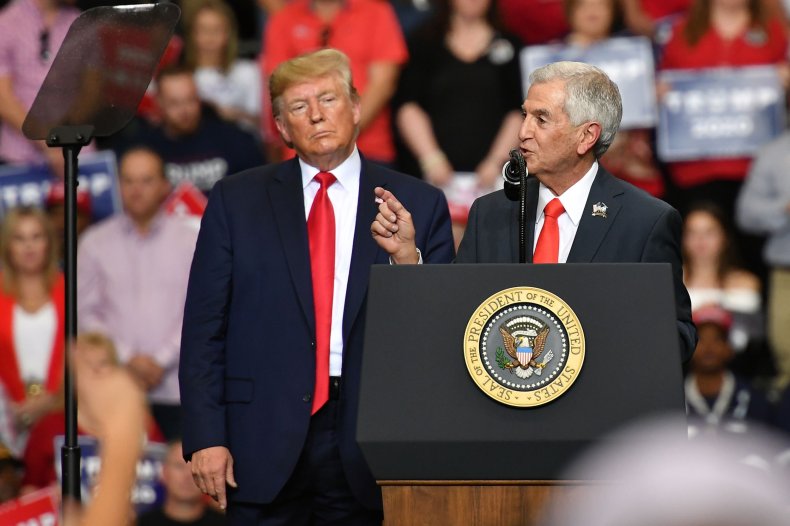 Rispone has fully embraced Trump's support, and even returned the favor by condemning House Democrats' impeachment effort.
"@JohnBelforLA and the Democrats are having another witch hunt impeachment hearing today in the swamp," Rispone tweeted on Wednesday. "Do you stand with John Bel and the radical Democrats or President Trump and Eddie Rispone?"
Rispone also tweeted that he had a "great time with @realDonaldTrump at our rally last week" and, "Let's do for Louisiana what our President has done for our country."
Trump won Louisiana by close to 20 points in the 2016 presidential election.
The president on Thursday did not tweet about the Bossier City rally and instead mostly bashed the impeachment hearings, but Rispone tweeted he was looking forward to it.
Trump has been vouching for Republican candidates and his presence appeared to not be enough to help Kentucky Governor Matt Bevin hold on to his seat. The results from last week's gubernatorial election showed that Democratic challenger Andy Beshear lead by less than 0.4 percentage points, and the vote totals will be re-checked on Thursday. Trump refused to be associated with Bevin's defeat.
"So with one Rally by me at the end of the campaign, I lift the poll numbers of Kentucky Governor Matt Bevin by 19 points, he just misses, every other Republican in the Commonwealth wins big, and the Fake News blames me for a bad night! OK!" Trump tweeted on Monday. "By the way, Mississippi won everything!"