Trump Has Not Been Loyal To Melania, Americans Say In New Poll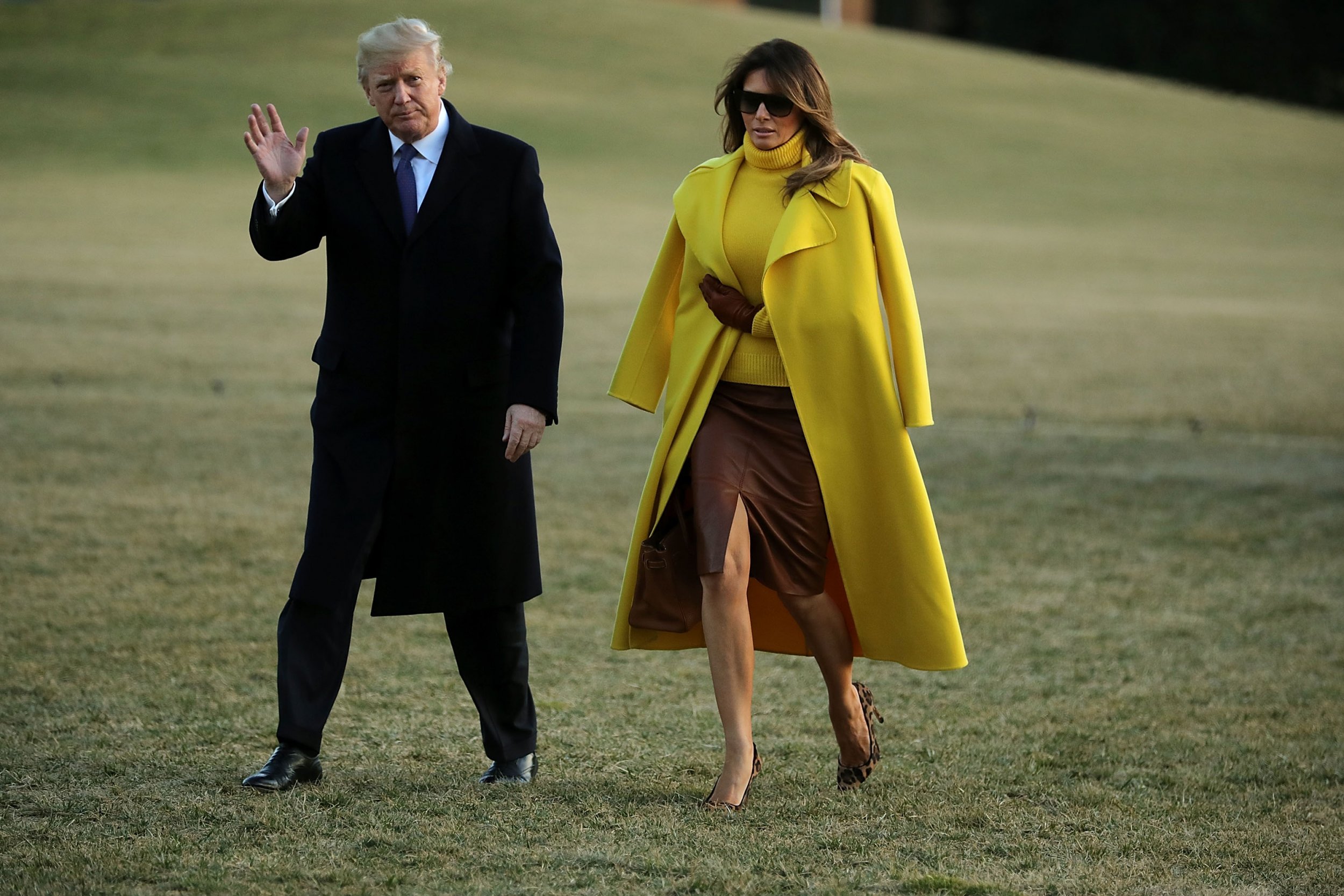 President Donald Trump has not been "loyal" to first lady Melania Trump throughout their 13-year marriage and does not respect women as much as men, a majority of American voters said in a new national poll. The survey was conducted as Trump fends off accusations of extramarital affairs, with women paid off to remain silent.
Fifty-six percent of respondents said Trump had not been loyal to his wife, while 18 percent said the billionaire had been loyal, according to the Quinnipiac University Poll released Wednesday.
As with most polls involving Trump, the results display a deep partisan divide. Forty-two percent of Republicans answered "yes" when asked if Trump had been loyal to his wife, compared with only 2 percent of Democrats. And 86 percent of Democrats believed Trump had not been loyal, compared with just 14 percent of Republicans.
Strikingly, though, 83 percent overall thought it was important for a president be loyal to his spouse.
Newsweek subscription offers >
The poll followed a detailed account of Trump's alleged affair with former Playboy Playmate Karen McDougal between 2006 and 2007, and allegations of a tryst with porn star Stormy Daniels—both of whom reportedly received a payment for silence.
Daniels, whose real name is Stephanie Clifford, got $130,000 from longtime Trump attorney Michael Cohen roughly a month before Election Day in 2016. McDougal was paid by National Enquirer owner American Media, which is run by Trump's longtime friend David Pecker, who has been accused of buying salacious stories about the president only to kill them so they never get published.
Beyond the alleged consensual affairs, the president has been accused of sexual harassment, misconduct or assault by at least 19 women.
Speculation about the state of the Trumps' marriage increased after the first lady did not travel with the president to the World Economic Forum in Davos, Switzerland, last month, even though she was originally scheduled to attend. The broken plans came after The Wall Street Journal reported the payment to Clifford.
Newsweek subscription offers >
A similar partisan divide occurred during former President Bill Clinton's sex scandal involving intern Monica Lewinsky in the late 1990s. In August 1998, before Clinton testified before a grand jury, 66 percent of Republicans agreed they would believe Lewinsky over Clinton if different stories were told about their affair while 64 percent of Democrats claimed they would stand by Clinton's account, the Pew Research Center found.
Still, 70 percent of those polled by Pew nearly 20 years ago thought the allegations of sexual impropriety by Clinton were true. The 42nd president later admitted having the affair with Lewinsky.
The latest poll also asked about voters' eagerness to see the real estate mogul's tax returns. Sixty-seven percent wanted Trump to release the returns, and 52 percent thought Trump had something to hide while withholding the returns. On the campaign trail, Trump often said he would release his tax returns after a routine audit was finished.
The Quinnipiac survey was conducted from February 16 to 19 and has a margin of error of plus-minus 3.4 percentage points.
Trump Has Not Been Loyal To Melania, Americans Say In New Poll | U.S.