Trump Loyalist Lou Dobbs 'Sometimes Went Too Far,' Says Fox News' Howard Kurtz
Two days after Fox News Media announced plans to cancel Lou Dobbs Tonight, its highest-rated program, correspondent Howard Kurtz briefly offered his opinion about the now-defunct series' longtime host.
Lou Dobbs has hosted programs for more than four decades, initially presenting the talk show Moneyline on CNN before shifting to Fox Business almost 10 years ago. An unwavering supporter of former president Donald Trump, the political commentator hosted Lou Dobbs Tonight each evening on Fox. His segments focused on political and financial affairs.
"I've known Lou as a talented broadcaster for decades," said Kurtz during a short segment recounting the series' cancellation on Sunday. It aired as part of Fox News' Media Buzz, a program that Kurtz hosts.
Acknowledging his former colleague's predilection for "controversial" views, such as those that backed Trump's baseless election fraud claims despite an absence of evidence to substantiate them, Kurtz contended that "Dobbs sometimes went too far" in voicing his perspectives. However, the Media Buzz host declined to criticize Dobbs' conduct on air.
"Dobbs became one of the most passionate defenders of Donald Trump during his presidency, and of his claims of election fraud," said Kurtz. "In my opinion, Dobbs sometimes went too far. But that was his right as an opinion host, and it's Fox's right to decide its programming. I want to wish Lou the best in the future."
Fox confirmed the talk show's cancellation on Friday, initially in comments to the Los Angeles Times. The decision to remove Dobbs' popular series from its programming roster closely trailed Smartmatic's $2.7 billion defamation lawsuit against Fox Corporation, of which Fox News Media is a division.
Alongside network personalities Jeanine Pirro and Maria Bartiromo, Dobbs was implicated in the suit for spreading "false claims and accusations" about Smartmatic after November's general election, according to a Thursday statement issued by the company. Smartmatic developed electronic voting technology used only in California's Los Angeles County during the presidential contest.
As Trump, his campaign and team of attorneys sought to challenge the election's results, they introduced unfounded allegations of ballot manipulation on the part of Smartmatic and Dominion Voting Systems, an unrelated company that also provided voting technology to elections departments last year. Pirro, Bartiromo and Dobbs reiterated a number of Trump's false claims following the election, including those related to Smartmatic and Dominion.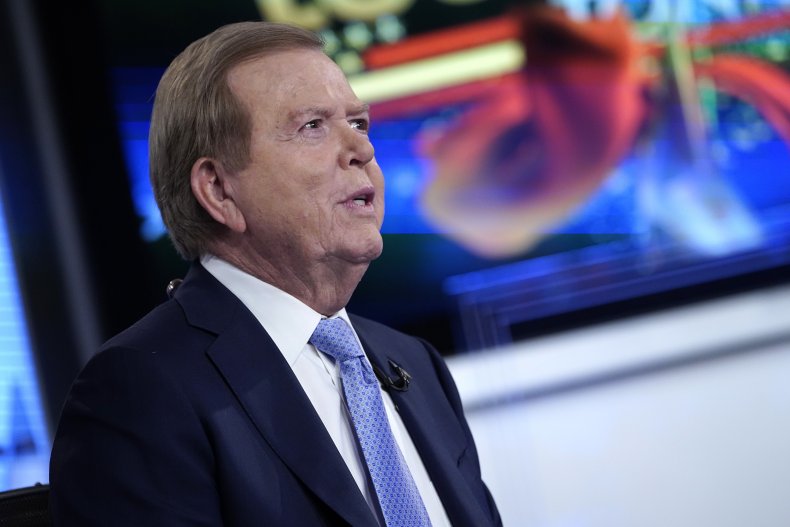 Fox News Media denounced the lawsuit in a statement released Thursday.
"Fox News Media is committed to providing the full context of every story with in-depth reporting and clear opinion. We are proud of our 2020 election coverage and will vigorously defend against this meritless lawsuit in court," the network's statement, which Newsweek acquired later, read in full.
Its remarks about cancelling Lou Dobbs Tonight, released the following day, did not mention the defamation suit.
"As we said in October, Fox News Media regularly considers programming changes and plans have been in place to launch new formats as appropriate post-election, including on Fox Business—this is part of those planned changes," the network said Friday. Kurtz reviewed the statement during his Media Buzz segment on Sunday morning.
A Fox News spokesperson directed Newsweek to "fact-checking" segments that ran during episodes of Pirro, Bartiromo and Dobbs' individual talk show series on December 19 and 20 of last year, in response to a request for further comment. An interview with Eddie Perez, technology development director at the Open Source Election Technology Institute, was the focus of each segment. The pre-taped Q&A saw Perez explaining why he believed accusations related to Smartmatic, and its role in the 2020 election, were false.
Updated 5:28 p.m. ET, to reflect Fox News' response to Newsweek's request for comment.