Trump Dines With Macron at G7 Summit Hours After Escalating Growth-Suppressing Trade War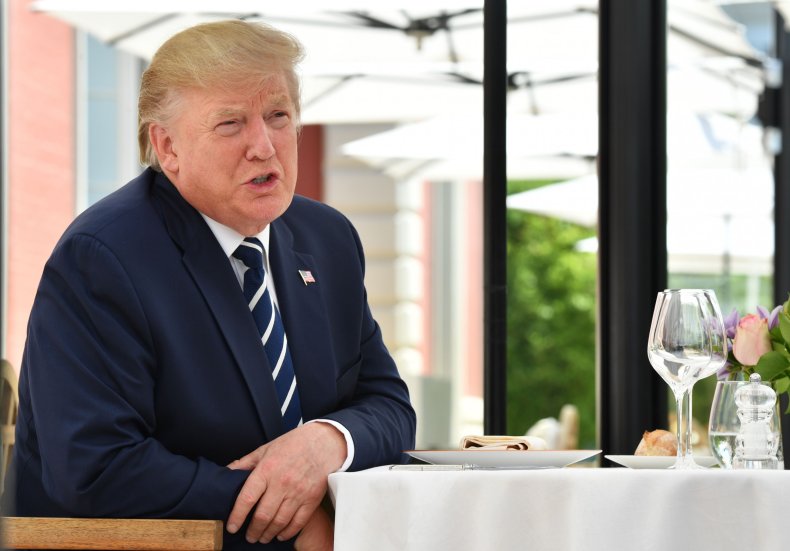 President Donald Trump and the leaders of six other economically significant countries as well as the European Union are meeting in southwestern France this weekend, ostensibly to discuss issues of global import, such as foreboding economic outlooks, climate change and supporting democratic norms.
But, for many outside observers, the real triumph for Trump's counterparts—the leaders of France, Germany, Japan, Canada, Italy and the U.K.—will simply be to make it through the summit without inciting an international incident.
"This is another G7 summit which will be a difficult test of unity and solidarity of the free world and its leaders," European Council President Donald Tusk said ahead of the gathering. "This may be the last moment to restore our political community."
During last year's G7 meeting in Charlevoix, Canada, Trump abruptly ended his participation before the summit came to its official close, rejecting the communal policy statement, known as a communiqué, traditionally released by the seven member nations.
French President Emmanuel Macron welcomed Trump to Biarritz on Saturday for a tête-à-tête lunch before the full contingent of international leaders convened in the resort town.
"We actually have a lot in common, Emmanuel," Trump said aloud in front of a gaggle of reporters filming the encounter. "We've been friends for a long time. Every once in a while we go at it just a little bit, not very much. But we get along very well. We have a very good relationship."
For his part, Macron's turn as host seeks to sidestep the traditional lines of confrontation as the French president has employed a diplomatic feng shui in order to mitigate conflict.
"The Biarritz Summit will be a showcase for [a] new working method," the Élysée Palace said in a press release explaining its approach to this year's gathering. "From 25 August, the G7 will involve partner countries that share our values and our ambition to bring about change. The goal is also to move beyond simple 'final communiqués.'"
While Macron has sought to downplay the importance of the communiqué to the efficacy of the meeting, Trump's refusal to sign the 2018 policy document looms large over how the French president has arranged this weekend's schedule.
The U.S. requested a special session focused on the global economy on Sunday, multiple news outlets have reported. This presents perhaps the greatest risk of confrontation, as Trump plays both offense and defense on his escalating trade war with China amid gloomy forecasts for economic growth abroad.
Just before his departure from Washington, Trump announced an additional five-percent tariff on all Chinese imports currently ensnared in the trade dispute.
The president is expected to air his longstanding grievances with countries like France and Germany about trade practices he deems unfair during the Sunday session, adding those disputes to the balancing act currently taking place between the U.S. and its largest trading partner.
UPDATE: Just after 5 p.m. local time, President Trump tweeted that his welcome lunch with President Macron had finished and exclaimed that "many good things are happening for both of our countries." Trump inadvertently tagged a parody account for the French president in his tweet.