Donald Trump Awarded 'Golden Idiot' Prize by German TV Show as Much of the World Laughs at U.S. President
President Donald Trump has publicly called for authorities to investigate primetime comedy sketch show Saturday Night Live over its humorous depictions of his presidency, but the Republican leader has inspired countless satirical portrayals across the globe as well.
The latest controversy erupted after Trump took to Twitter in response to an SNL skit aired over the weekend, which imagined a world if Hillary Clinton would have won the 2016 presidential election in a riff of the 1946 Christmas classic It's A Wonderful Life entitled "It's A Wonderful Trump." In the sketch, Alec Baldwin reprises his role as Trump, who is shown a much happier, alternate reality in which he is not in office.
Read more: Trump wishes Michael Flynn "good luck" in court
"A REAL scandal is the one sided coverage, hour by hour, of networks like NBC & Democrat spin machines like Saturday Night Live. It is all nothing less than unfair news coverage and Dem commercials. Should be tested in courts, can't be legal? Only defame & belittle! Collusion?" the real Trump tweeted on Sunday.
Thousands of miles away, however, Trump was being satirized in the land of his ancestors, which awarded him the undesirable Golden Idiot prize.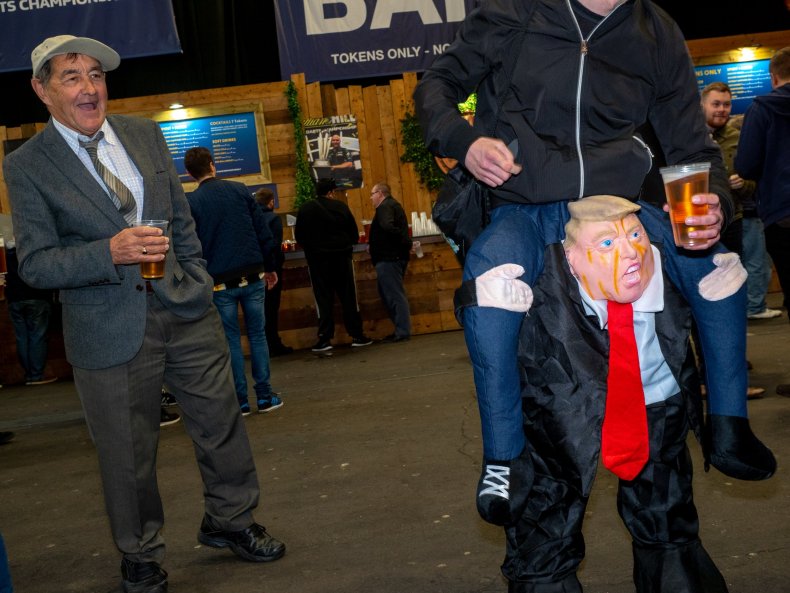 As Rick Noack pointed out Monday in The Washington Post, European media has taken a particular liking to spoof Trump and his administration. Germany's Heute-Show, presented by comedian and journalist Oliver Welke on the ZDF network, named Trump a Goldener Vollpfosten—translated as "Golden Idiot" or "Golden Dumbass"—for the fourth year in a row, sharing this year's title with Saudi Crown Prince Mohammed bin Salman, North Korean supreme leader Kim Jong Un and the whole United Kingdom, among others.
Shortly after Trump's inauguration early last year, a number of Europeans took shots at Trump's nationalist "America First" slogan, with a series of videos that reached out to the leader to invite them to their home countries "in his own words." The trend then expanded to China, India, Malaysia and further around the world, with the more popular versions getting tens of millions of views.
Even prior to this election, Trump's candidacy alone made him a popular target abroad, with the then-Republican frontrunner's aggressive demeanor being mocked in an Egyptian Twinkies commercial from June 2016. Following Trump's surprise win, Cairo-based Peace Cake Productions released "Election Results!" a parody of Trump's crass language, plans to build a border wall and alleged collusion with Russia, based on singer Hussain al-Jassmi's hit "Good Omen," which itself came out in 2014 in response to the election of Egyptian President Abdel-Fattah el-Sissi.
Trump's mannerisms have also run him into trouble in Africa, which—along with Latin America—he allegedly described as having "shithole" countries during a meeting in January. In response, tourism companies from Namibia and Zambia released advertisements poking fun at the president, while defending their countries' reputation.
In East Asia, Trump's debut U.S.-North Korea summit was mocked in the music video for "Where R U From," released in July by South Korean K-Pop star Lee Seung-hyun. Across the southern border that Trump has sought to reinforce, former Mexican President Vincente Fox has gained a new following for his brutally frank, yet often comedic anti-Trump videos and commentaries.
Despite his insistence that "the outside world is blowing up around us" as riots hit France in recent days, the ongoing Brexit drama batters the United Kingdom and the longtime centrist leadership of Germany faces new doubts, polls have shown that Trump's public image has not inspired much confidence abroad.
A Pew Research Center survey found in October that only 27 percent of respondents from various countries trusted Trump, placing him below German Chancellor Angela Merkel (52 percent) and French President Emmanuel Macron (46 percent), as well as Chinese President Xi Jinping (34 percent) and Russian President Vladimir Putin (30 percent).