Trump Makes Up Story to Justify Political Rally On Same Day As Pittsburgh Synagogue Shooting
President Donald Trump created a story to defend himself against criticism as he moved forward with a politically rally in the aftermath of the Saturday shooting at the Tree of Life synagogue in Pittsburg, which left 11 dead and six injured.
Trump's rallies, in which he often rouses crowds with violent and hateful rhetoric, have been seen as key to creating the toxic and intolerant political atmosphere which inspired both the shooting and a series of bombs sent to figures on the political left that Trump has often singled out.
But the president justified moving forward with the rally in southern Illinois hours after the shooting took place by saying the New York Stock Exchange (NYSE) had remained open after the September 11, 2001 terrorist attacks. It had not.
"With what happened early today, that horrible, horrible attack in Pittsburgh, I was saying maybe I should cancel both this and that. And then I said to myself, I remembered Dick Russell, a friend of mine, great guy, he headed up the New York Stock Exchange on September 11th, and the New York Stock Exchange was open the following day," Trump said at the rally, video coverage of the event by Fox News showed.
"[Russell] said—and what they had to do to open it you wouldn't believe, we won't even talk to you about it. But he got that exchange open. We can't make these sick, demented, evil people important," the president added. "We have our lives. We have our schedules. And nobody's going to change it. So we're here. And let's have a good time."
In reality, the NYSE, as well as the Nasdaq exchange, were closed for several days in the wake of the attacks, which leveled the World Trade Center Twin Towers in Manhattan. With New York in lockdown, the exchanges did not reopen until September 17, which was the longest shutdown since 1933, according to Bloomberg.
Earlier on Saturday, the president also made similar comments. Speaking at the Future Farmers of America conference in Indianapolis, the president also falsely claimed that the NYSE was open on September 12.
"I remember when we had the attack in Manhattan, we opened the stock exchange the next day," Trump said. "People were shocked."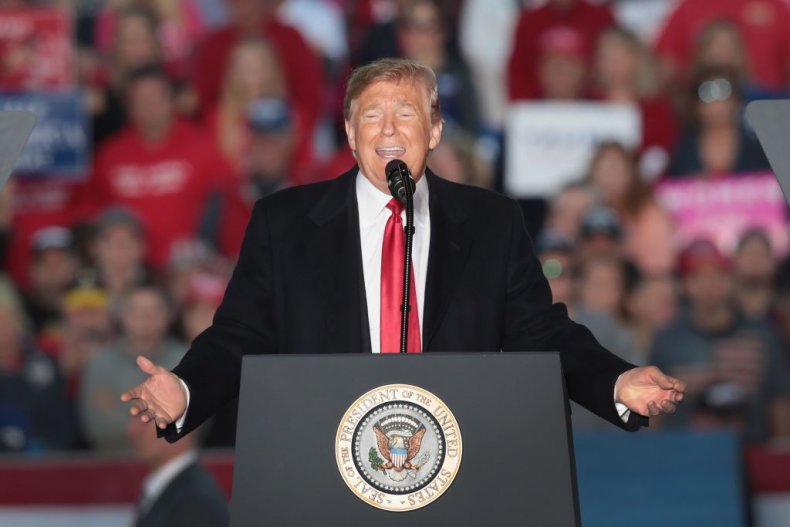 As The Washington Post 's Glenn Kessler pointed out, Trump's mistake is far from a little known historical fact. "It's easy to figure this out using Google," he noted in an article. "There's even a whole Wikipedia page."
During the Illinois rally, the president also continued his routine attacks against Democrats, despite national calls to put aside political differences and divisive rhetoric in the wake of the violent attack. He argued, instead, that the problem was the decline of the death penalty.