Trump Is Making U.S. Weaker, Says Top Diplomat, As Record Numbers Quit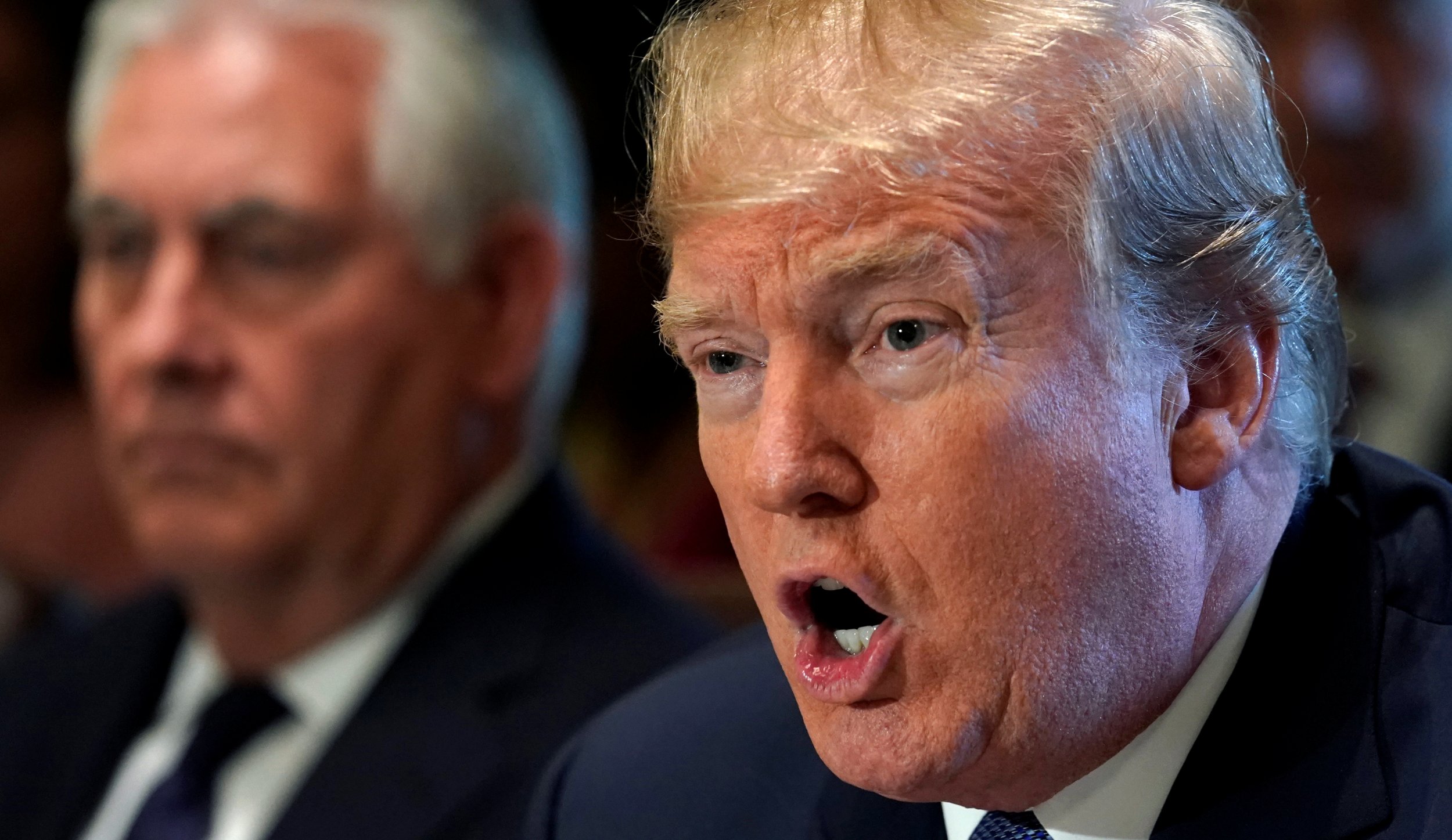 President Donald Trump promised to make the U.S. stronger on the world stage, but under his administration top diplomats are leaving at a "dizzying speed" and making America vulnerable, says the president of the American Foreign Service Association.
"Were the U.S. military to face such a decapitation of its leadership ranks, I would expect a public outcry," wrote Ambassador Barbara Stephenson, president of the Foreign Service officers' union in a preview of her December column in The Foreign Service Journal.
The Department of State has lost 60 percent of its career ambassadors since January when Trump was inaugurated, Stephenson points out. "These numbers are hard to square with the stated agenda of making State and the Foreign Service stronger," she said, detailing just how many people have left the foreign service. "The rapid loss of so many senior officers has a serious, immediate, and tangible effect on the capacity of the United States to shape world events."
That means countries like China, Russia and others will fill the vacuum, she said.
Stephenson's warning arrives as Trump touched down in China during his trip to Asia seeking help to curb North Korea's nuclear weapons program. On Tuesday Trump left Japan without a concrete deal to fix what he called an unfair trade imbalance with the country.
When Trump was asked last Thursday by Fox News host Laura Ingraham about the impact of more than 100 senior State Department positions that remain unfilled, he said the positions weren't needed.
"The one that matters is me," Trump said. "I'm the only one that matters because when it comes to it, that's what the policy is going to be. You've seen that, you've seen it strongly."
Read more: Trump is endangering U.S. national security with vacant positions, cuts at State Department: career diplomats, experts
"We don't need all the people that they want," Trump said. "Don't forget, I'm a businessperson, and I tell my people: 'Where you don't need to fill slots don't fill them.'"
Secretary of State Rex Tillerson has even struggled against the White House to fill senior posts under him. He is working to implement Trump's plan to reorganize the State Department and slash $10.1 billion from its budget, a move that could put 2,300 U.S. diplomats and civil servants out of work.
In the absence of a strong foreign service, Trump has worked to drive foreign policy with Iran and North Korea on his own. This has heightened nuclear tensions with Pyongyang and alienated American allies who back the nuclear deal with Iran that prevents it from securing a nuclear weapon. Diplomats, experts and America's allies have been critical of the president's approach, saying it makes the world a more dangerous place.
Trump insists that before him the "entire World WAS laughing and taking advantage of us."
Stephenson called trends at the State Department "disturbing" and that a hiring freeze is driving young people away from the foreign service and into other professions. Less than half of the people who took the test to become a foreign service officer last year applied to take it this year.
"Nine in 10 Americans favor a strong global leadership role for our great country," Stephenson said. "Where then, does the impetus come from to weaken the American Foreign Service? Where is the mandate to pull the Foreign Service team from the field and forfeit the game to our adversaries?"