Trump's Mar-a-Lago Faces Dual Threat From Tornados, Hurricane Ian
As Hurricane Ian barrels toward Florida, many residents are wondering whether their homes may be in the direct path of the storm and what actions need to be taken to ensure their safety as well as their property's safety.
Mar-a-Lago, former President Donald Trump's resort in Palm Beach, Florida, will feel some effects of Hurricane Ian. This morning, Palm Beach County was under a tornado watch and warning, and it was subject to hurricane-related events such as heavy rains and strong winds as the outer bands of the storm moved through the state.
Palm Beach County, where Mar-a-Lago sits, is in the southeastern quadrant of Florida along the Atlantic Ocean. Although it is not in the hurricane's direct path, which is anticipated to impact Florida's west coast later today, damage is still occurring throughout the county. In a press conference Tuesday, Florida Governor Ron DeSantis said even if the storm doesn't directly hit a certain area, its effects will be felt for miles.
A National Weather Service meteorologist told Newsweek that Palm Beach County has received 3 to 5 inches of rain, with some inland parts of the county seeing 6 to 8 inches. Earlier today, CBS News reported West Palm Beach saw winds at 33 miles per hour.
Palm Beach County Fire Department tweeted several photos showing damage to buildings within Palm Beach County, the county where Mar-A-Lago sits. There was no major damage so far, according to the tweets, but firefighters observed downed power lines, damaged roofs and fallen trees.
Stefany Valderrama, a reporter for a local CBS News station in Florida, tweeted photos of damage at a Home Depot in Delray Beach, which also is in Palm Beach County.
Valderrama called the damage "extensive". Damage consisted of downed trees, collapsed cart corrals and carts strewn across the parking lot.
Hurricane Ian was upgraded to a Category 4 hurricane early Wednesday morning. Some weather experts anticipate the storm could morph into an even more dangerous Category 5 hurricane before it finishes its onslaught on Florida.
A Category 5 hurricane is the most severe hurricane on the Saffir-Simpson Hurricane Wind Scale, which ranks the strength of hurricanes based only on the storm's maximum sustained wind speed. A Category 4 has maximum sustained winds from 130 to 156 miles per hour. Any hurricane with maximum sustained winds above 156 miles per hour is considered a Category 5.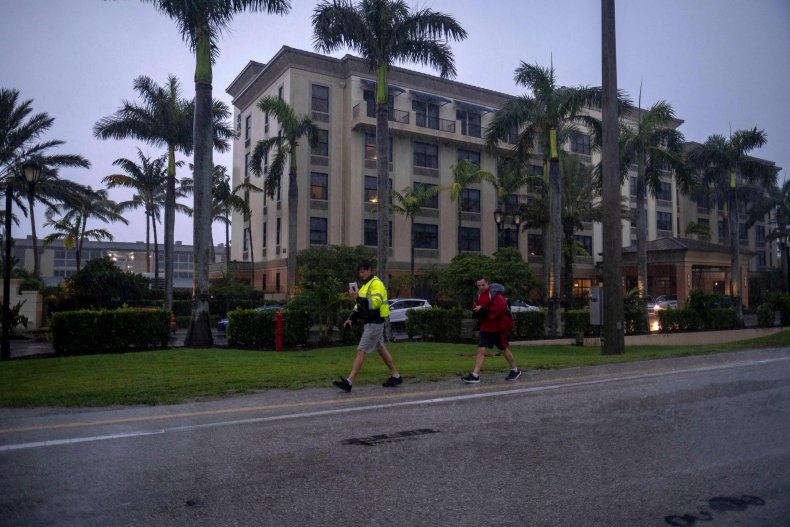 However, winds aren't the most fatal effect of hurricanes. Rather, storm surge, or rising sea levels, cause the most fatalities. Some models show Hurricane Ian stalling or slowing down when it impacts the west coast of Florida, meaning the area will be subjected to the storm's fierce winds, heavy rain and subsequent storm surge for longer. The storm is expected to impact western Florida in earnest later today before barreling through the state and up the eastern coast before curling inland.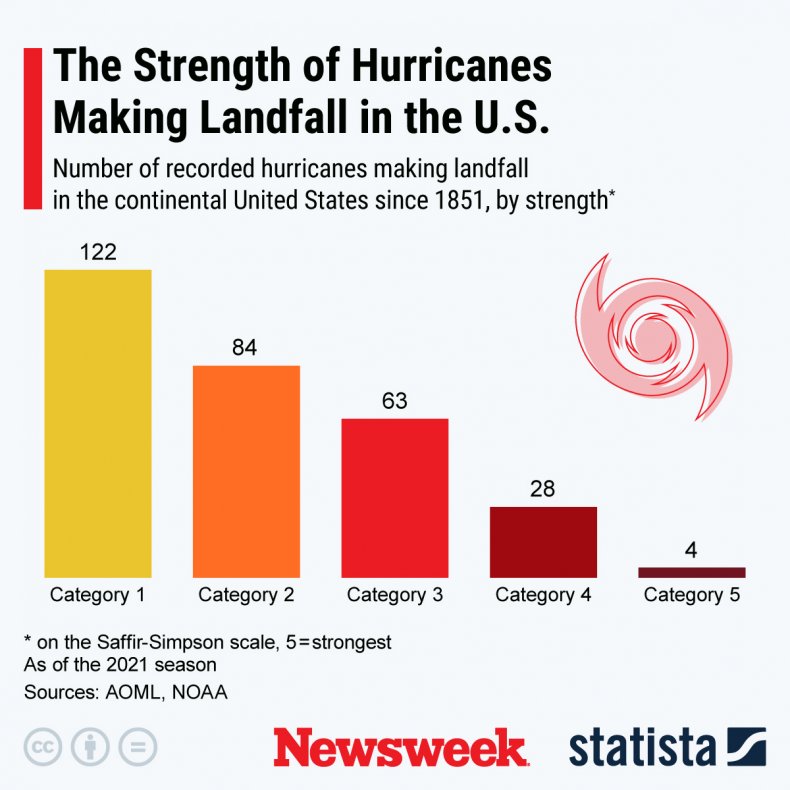 This chart, provided by Statista, shows the number of recorded hurricanes making landfall in the continental United States since 1851, by strength.
It's not the first time Mar-a-Lago has felt the effects of a hurricane. In 2017, Hurricane Irma impacted the private resort but only caused minor damage, according to a People article. Various reports show Trump doesn't live at Mar-a-Lago during the summer, as the club closes at that time.
In August, Federal Bureau of Investigation agents raided Trump's Florida resort residence and found confidential and classified documents. The resort boasts 126 rooms, more than 62,000 square feet, a winery, a club and other amenities.
Newsweek reached out to Mar-a-Lago and the Trump Organization for comment.