Trump May Be 'The Most Pro-Black President' We've Ever Seen, Says Pastor Who Claims Obama Didn't Make An Effort
President Donald Trump may be the most pro-black president the country has ever seen… according to one of the members of Trump's own National Diversity Coalition.
Pastor Darrell Scott, who campaigned for Trump during the 2016 presidential election, made the comments at a White House roundtable meeting with faith leaders and lawmakers to discuss prison reform.
"This is probably the most pro-active administration regarding urban America and the faith-based community in my lifetime," NBC News reported Scott, who is African American, saying on Wednesday.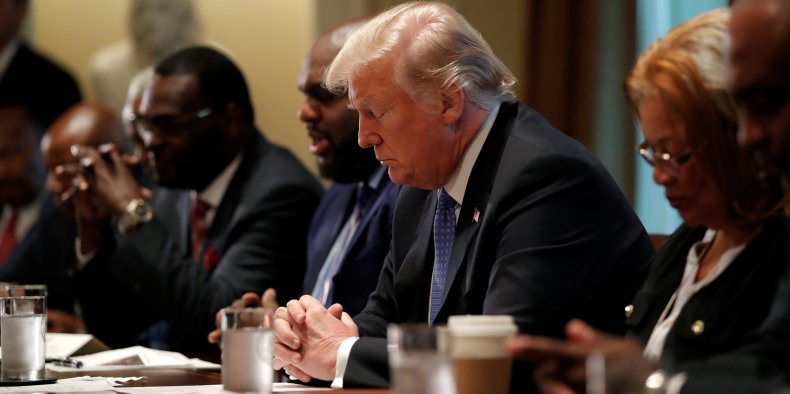 "This president actually wants to prove something to our community, our faith-based community and our ethnic community. The last president didn't feel like he had to. He got a pass," Scott said of former President Barack Obama.
"This is probably going to be... the most pro-black president I've seen in my lifetime," he added of Trump.
Also at the roundtable discussion on prison reform was the president's son-in-law Jared Kushner, who has previously spoken about his dedication to the issue and personal experience with the prison system following his father Charlie Kushner's 14-month incarceration on political corruption charges, and is partly spearheading the issue, The Hill reported.
Both Kushner and Trump have previously met with reality TV star Kim Kardashian West to discuss prison reform, with Kardashian West pleading the case of Alice Johnson, who was subsequently released from prison.
As well as discussing the administration's prison reform efforts, with the House having passed the bipartisan prison reform bill several months ago, the president also spoke out about the low unemployment rate for African Americans.
Trump has previously boasted that he is doing a lot for "inner cities." He faced criticism over appearing to use the term as shorthand to refer to African American people, and his assertions that he is doing more than anyone else were called into question by The Washington Post at the time
"I'll tell you, we're spending a lot of money on the inner cities. We're fixing the inner cities. We're doing far more than anybody's done with respect to the inner cities. It's a priority for me. And it's very important," the president said in 2017.