Trump May Be Crude, but Baltimore Really Is Spiraling—That's Why I Left | Opinion
I lived in Baltimore not very long ago. That is, until I didn't. I left as my daughter's second birthday approached. I left because of the crime. And the schools. I left because the city was ripe with corruption that infuriated white and black citizens alike. And I left because the answer to every problem in Baltimore was the same: more taxes. Which only drove taxpayers away, leaving fewer to tax.
I left Baltimore for all of those reasons, as well as some I don't remember. I'm not alone. In 1950, Baltimore was home to about 950,000 residents. By 2010, that number plunged to 620,000. The estimates for 2018 hovered around 602,000.
That's not a population loss. That's an exodus.
Baltimore's population is at its lowest level in 100 years.
Anyone who's ever seen HBO's The Wire knows why: Baltimore has its own special and very tragic problems.
There were many good things about Baltimore. And good people. People I'd come to love. It's what I didn't love—and I suspected wouldn't change—that drove me away.
That's why I left Baltimore. Because I could. Because it was the best thing for my family.
I felt bad for the inner city kids I'd come to know who's families, through no fault of their own, were trapped in dangerous neighborhoods they couldn't escape. And bad schools they couldn't leave.
And that's why I keep thinking about CNN's Victor Blackwell. And President Donald Trump's Twitter comments about Baltimore this past weekend.
Blackwell is an African American anchor for the cable news network. Trump, as the world knows, insults anyone who attacks him. He's been doing it to white and black people alike forever. Just ask Rosie O'Donnell.
Trump attacked Congressman Elijah Cummings by calling the city he represents a "disgusting, rat and rodent infested mess." It was rude. And crude. He then went on to say this: "Why is so much money sent to the Elijah Cummings district when it is considered the worst run and most dangerous anywhere in the United States. No human being would want to live there."
"You know who did, Mr. President? I did," Blackwell responded in an emotional monologue. "From the day I was brought home from the hospital, to the day I left for college, and a lot of people I care about still do."
Holding back tears, he continued, "They care for their families there. They love their children, who pledge allegiance to the flag just like people who live in districts of congressmen who support you, sir. They are Americans too."
Blackwell was right to condemn the president's line about no human being wanting to live in Baltimore. It was grotesque. But Trump also said Baltimore was the worst run and most dangerous city in the country.
Is that controversial? If so, why didn't Blackwell and his media friends attack USA Today when it named Baltimore America's most dangerous city back in 2018?
Just because Trump tweets something doesn't mean parts of it aren't true.
What I also wondered was why a tweet nearly brought Blackwell to tears on the air, but not the very tragic headlines coming from Baltimore every day. It's those headlines, and not a Twitter storm from a thin-skinned politician, that should bring Blackwell and his allies in the media to tears.
Here's one from 2018: "Neighborhoods Are Crying Out: Baltimore Has Highest Homicide Rate of U.S. Big Cities" (The Baltimore Sun).
And here's another from a few weeks ago: "Suffocating Violence: Despite National Trend, Killings Increase in Baltimore Through First Half of 2019" (The Baltimore Sun).
Here's how that story starts: "More than 150 people were killed in Maryland's largest city through the end of June marking a 17% increase in homicides over the same period last year." The city, the report added, is on track to post 300 homicides for the fifth year in a row, making Baltimore more dangerous on a per capita basis than Chicago. Baltimore had more murders than New York City last year, despite New York being nearly 12 times its size.
To understand how bad things really are, Baltimore's homicide rate in 2018 was 56 per 100,000 people. That tops 50.3 per 100,000 in El Salvador.
"I'm not happy about it, and neither should any citizen in Baltimore be happy," Mayor Bernard C. "Jack" Young told The Baltimore Sun. "It's disheartening to be labeled the most violent city in America."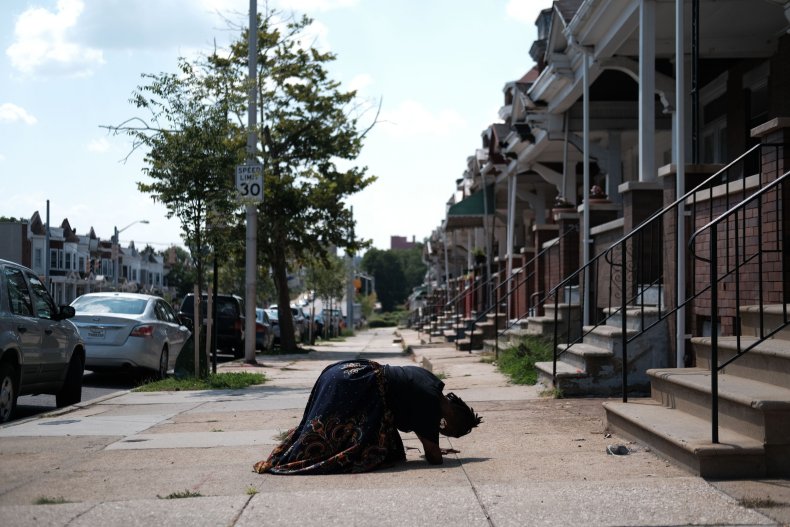 Those stories are worth crying about because those murder statistics represent real lives being cut short. Mostly young black lives being cut short. It's a loss of unimaginable magnitude. And it's been happening in Baltimore for years.
Here's another headline worth crying about from just a few days ago: "15-Year-Old Fatally Shot in Southwest Baltimore, Mother Pleads for Justice" (WBAL TV News).
The 15-year-old was Carlos Liverpool Jr. He went to Calverton Middle School. His body was found in the early morning of July 22: He was shot several times. His grieving mother, Shiretta Henderson, told reporters her son was excited about the prospect of starting high school and getting a job. The two ate dinner the night before. It was the last time she ever saw him.
"It's the small things that you hold so dear, and you robbed me of it," Henderson cried, her message intended for her son's murderer. "This is what you took from me. You took the connection that me and my child had."
Liverpool was the eighth person younger than 18 killed in Baltimore this year.
That's worth crying about. It's a story worth covering, too. But the last time the media descended on Baltimore, it covered Freddie Gray's tragic death. It turns out that black lives don't matter to the media unless a white cop is involved.
The Baltimore Sun has a website dedicated to tracking Baltimore's murders. Here's a partial list of the July victims. Almost all were black males. They all had names. And God-given abilities the world will never come to know.
Steve Tasker, 39 years old (July 28, 8:39 p.m.); Dontae Samuel, 27 years old (July 27, 10:47 p.m.); Markel Jackson, 24 (July 27, 1:13 p.m.), Calvin Carter, 32 years old (July 26, 1:13 a.m.); Anton Eastman, 29 years old (July 24, 2:45 a.m.); Curtis Cannon, 29 years old (July 21, 5:58 a.m.); Lonnie Edwards, 35 years old (July 19, 11:57 p.m.); Antoine Gordon, 33 years old (July 19, 12:12 a.m.); Charles Faulk, 22 years old (July 18, 9:27 p.m.); Kali Tyree, 22 years old (July 18, 9:27 p.m.); Antone Shantel Suggs, 33 years old (July 18, 8:56 a.m.); Alan Downer, 61 years old (July 16, no time reported); Robert Taylor, 58 years old (July 8, no time reported); Jamal Allen, 25 years old (July 5, 11:12 p.m.); Kenyon Condrey, 20 years old (July 4, 8:05 a.m.); Wayne Johnson, 23 years old (July 3, 6:06 a.m.)
That list should bring tears to anyone's eyes.
And then there are the schools, which are among the very worst in the nation. But not for lack of money. Baltimore City Public Schools ranked third among the nation's 100 biggest school systems in spending on a per-student basis in 2017. Baltimore spent $16,184 per pupil, up almost 7 percent from the year before.
But that investment hasn't paid off in academic returns. A headline from The Baltimore Sun in April 2018 said it all: "Baltimore Students Score Near Bottom in Reading, Math on Key National Assessment."
In fourth- and eighth-grade reading, the Sun reported, only 13 percent of city students are considered proficient or advanced. "In fourth-grade math, 14 percent were proficient and in eighth-grade math 11 percent met the mark, according to the National Assessment of Educational Progress, a federally mandated test from the U.S. Department of Education," the report continued.
That put Baltimore's schools ahead of only Detroit and Cleveland.
"These results underscore the urgency of the work we are now doing to ensure our students achieve at higher levels," said Baltimore City Schools CEO Sonja Santelises in a statement. She declined to be interviewed.
Then there are the 17,000 vacant homes in Baltimore, which only underscores visually the deep nature of the problems the city faces.
There's also the fatherlessness problem that plagues America. Over 40 percent is the national average, and 77 percent of all black children in the U.S. grow up without the presence of a father in their home. That's a devastating number for kids everywhere that drives so many tragic outcomes on the crime and education fronts. If social science has proved anything, it is this: There's no substitute for the masculine love a father provides.
And there's the corrupt city leadership. A joint Washington Post–University of Maryland poll in 2017 asked Maryland citizens about corruption in their state and local governments. Thirty-two percent of the state's residents described corruption as a big problem. But a whopping 57 percent of Baltimore residents called it a big problem in the state, and 59 percent said it was a big problem in their city.
That's why I left Baltimore. And hundreds of thousands of white and black residents left, too, over the past few decades.
This catalog of catastrophes drove my family out of Baltimore. And I rattled them off not to insult the people of Baltimore. They love their city despite those problems.
That Baltimore has been a city under almost continual rule by the Democratic Party since 1947 could be a part of the problem. Only one Republican served as the city's mayor in the past 70 years. House Speaker Nancy Pelosi's father, Thomas D'Alesandro, defeated him.
Though it is perfectly legitimate to express outrage over Trump's tweet, it's equally legitimate to talk about the failed leadership by Democrats of this once-great city. And how a different philosophical outlook—a different way of approaching problems—might be in order.
Our leaders—Republicans and Democrats alike—must do better. Trump must do better. Because young lives hang in the balance. And they deserve so much more than they're getting given the federal, state and local dollars being spent on their behalf.
It's time to give inner-city parents more control over those dollars, and arm them with the same choices middle-class white and black parents have. It's time to study the things other cities have done to lower crime rates, improve education and grow the tax base. Or one day soon, Baltimore will become the next Detroit.
That'll be something truly worth crying over.
Lee Habeeb is vice president of content for Salem Radio Network and host of Our American Stories. He lives in Oxford, Mississippi, with his wife, Valerie, and his daughter, Reagan.
The views expressed in this article are the author's own.​​​​​