Trump May Have Declassified a Foreign Government's Nuclear Secrets
Former President Donald Trump may have declassified a document about another country's nuclear defense capabilities—if he is correct that material stored at Mar-a-Lago was declassified.
A document about a foreign government's defenses, including its nuclear capabilities, was among material stored at Trump's Florida residence, according to The Washington Post.
The newspaper reported late on Tuesday that material discussing the nuclear-defense readiness of a foreign government was among documents seized by the FBI during the August 8 raid at Mar-a-Lago, citing anonymous sources familiar with the matter.
Some of the documents seized were so sensitive than many national security officials would not be able to access them without special clearance obtained from the president, the cabinet or near-cabinet-level officials.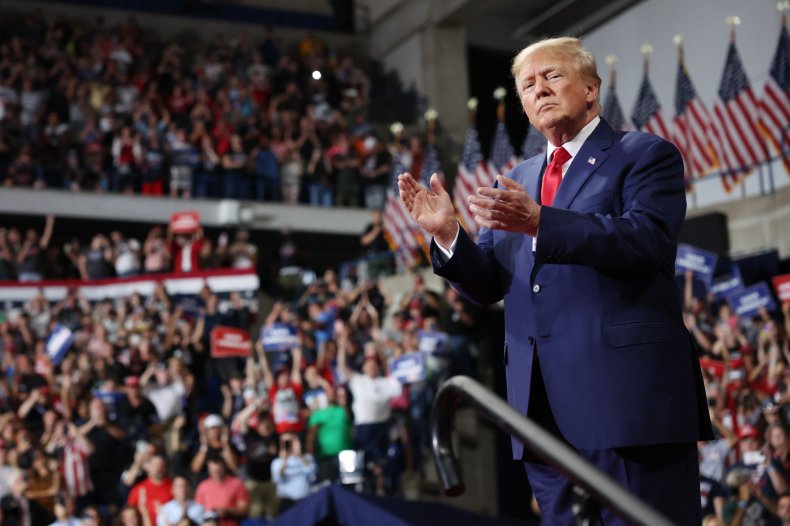 Sources did not tell The Washington Post which country the document related to or where it had been stored at Mar-a-Lago. More than 100 classified documents were seized from Mar-a-Lago on August 8.
Kyle Cheney, senior legal affairs reporter for Politico, shared the article on Twitter and pointed out that Trump has previously said documents held at Mar-a-Lago were declassified.
If true, this would mean the former president had declassified secrets about another country's nuclear capabilities.
"Presuming this bears out, it means Trump's position is that he declassified the ultra-sensitive nuclear secrets of a foreign nation," Cheney wrote.
"Trump's claim that he declassified everything is highly disputed and not necessarily relevant to potential crimes. But his publicly stated position is that he declassified it all, which would include this particular information," he added.
Eight countries other than the U.S. have or are believed to have nuclear capabilities. They are the U.K. and France—key U.S. allies—as well as India, Pakistan, Russia, China and North Korea. Israel, another U.S. ally, is also widely believed to have nuclear weapons but has never formally acknowledged this.
Newsweek has asked Trump's office and the Department of Justice for comment.
In their recent court filings, the former president's attorneys have not cited Trump's claim that the documents were declassified prior to his leaving office on January 20, 2021.
His team previously told Fox News in a statement that Trump had a "standing order that documents removed from the Oval Office and taken to the residence were deemed to be declassified the moment he removed them."
Two of Trump's former White House chiefs of staff have said there was no such order during their time with the administration.
Christopher Kise, a lawyer for Trump, criticized leaks about the investigation in comments to The Washington Post published on Tuesday.
Kise said that "the damage to public confidence in the integrity of the system simply cannot be underestimated. The responsible course of action here would be for someone —anyone—in the Government to exercise leadership and control."
"The Court has provided a sensible path forward which does not include the selective leak of unverifiable and misleading information. There is no reason to deviate from that path if the goal is, as it should be, to find a rational solution to document storage issues which have needlessly spiraled out of control," he said.
Kise appears to have been referring to the U.S. District Judge Aileen Cannon's decision on Monday to appoint a special master to review documents seized at Mar-a-Lago following a request from Trump's attorneys.
Cannon's decision has garnered criticism from legal experts and the Department of Justice (DOJ) is likely to appeal to the U.S. Court of Appeals for the 11th Circuit.
Both DOJ and Trump's legal team have until Friday to submit lists of candidates to serve as special master but the appointment could be fraught with difficulty.