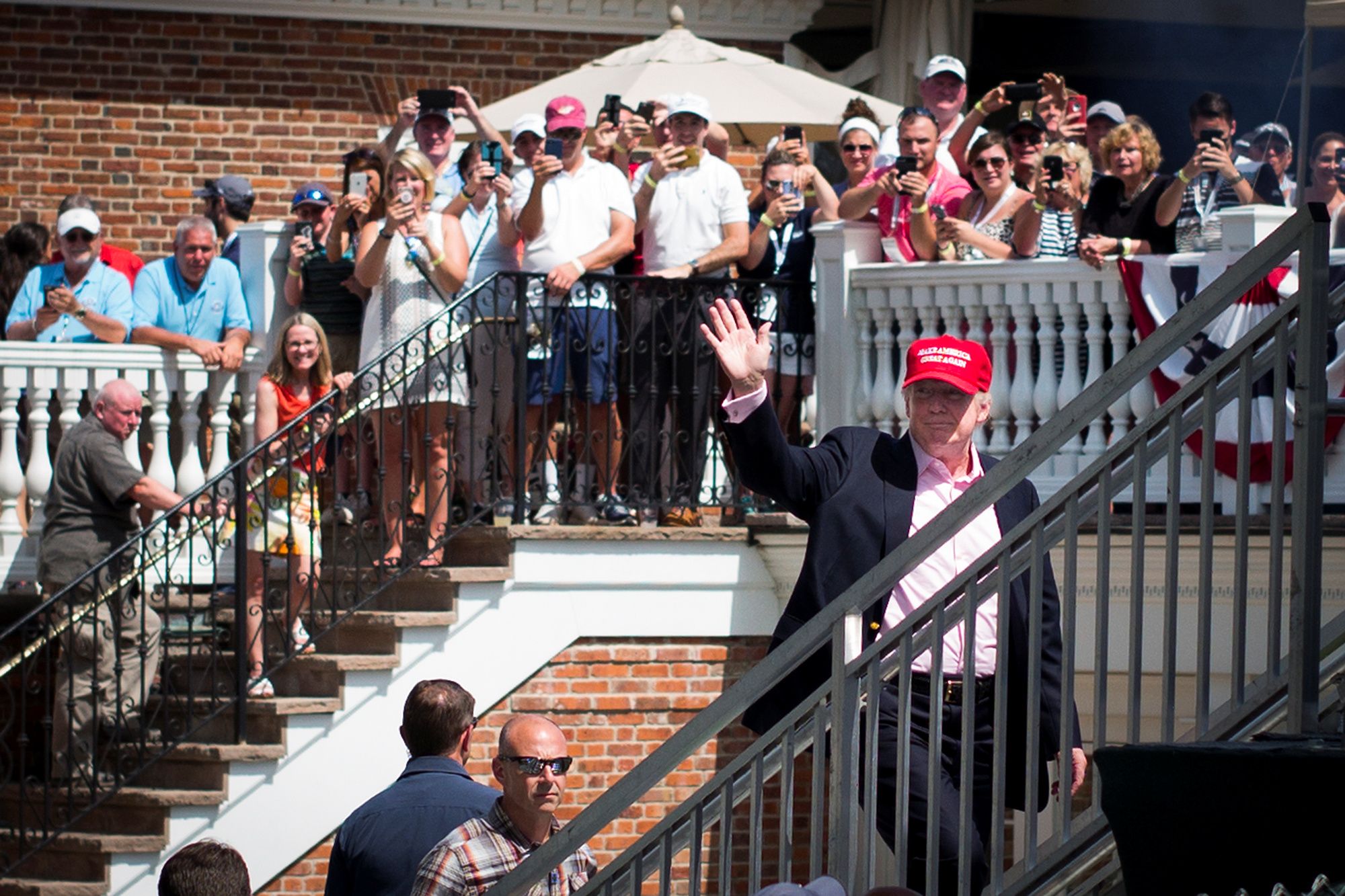 President Donald Trump may be planning to take a two-and-a-half week vacation in August after demanding that Congress stay in Washington to continue working.
Federal Aviation Administration records suggest Trump is planning to go to his Bedminster, New Jersey, golf course from August 3 to 20. The FAA announced temporary flight restrictions in the Bedminster area during that period.
Meanwhile, Trump told Republican senators during a meeting Wednesday that they should cancel their August recess and stay in Washington until they repeal Obamacare.
"We shouldn't leave town until this is complete," he during a lunch meeting with 49 GOP senators. "We should hammer this out and get it done."
Senate Majority Leader Mitch McConnell has already postponed the start of the August recess to the third week of the month, "in order to provide more time to complete action on important legislative items and process nominees that have been stalled by a lack of cooperation from our friends across the aisle."
Despite criticizing his predecessor, Barack Obama, for golfing and taking vacations while president, Trump has already spent substantial time at both his Mar-a-Lago resort in Palm Beach, Florida, and at Trump National Golf Club in Bedminster. While taking vacations is normal for any president, Trump is outpacing his predecessors in time away. His previous criticisms of Obama's vacations and his promises to "rarely leave the White House" also set him apart.
"I would not be a president who took vacations," he told The Hillin 2015. "I would not be a president that takes time off."
The administration has maintained that Trump continues to work while at Mar-a-Lago and Bedminster, but he is often pictured in golf clothes while at these clubs.
His trips to Mar-a-Lago during his first 80 days as president cost approximately $20 million, CNN reported, which put Trump on pace to top Obama's eight years' worth of travel expenses in his first year in office.
McConnell's decision to delay the start of the August recess followed calls from fellow GOP senators that they remain in Washington to work on health care and tax reform.
Senate Minority Leader Chuck Schumer told Politico he believed delaying the recess would not help the Republicans reach a consensus on health care legislation.
"The problem the Republicans are having with health care is not time—it's the substance of the bill," Schumer told reporters. "They can spend two more weeks, two more months, two years. As long as this bill continues to cut taxes on the very wealthy and hurt working Americans, the bill is going to be as unpopular as it is today."