All the Times Trump Attacked Andrew Mccabe Before FBI Deputy Director Stepped Down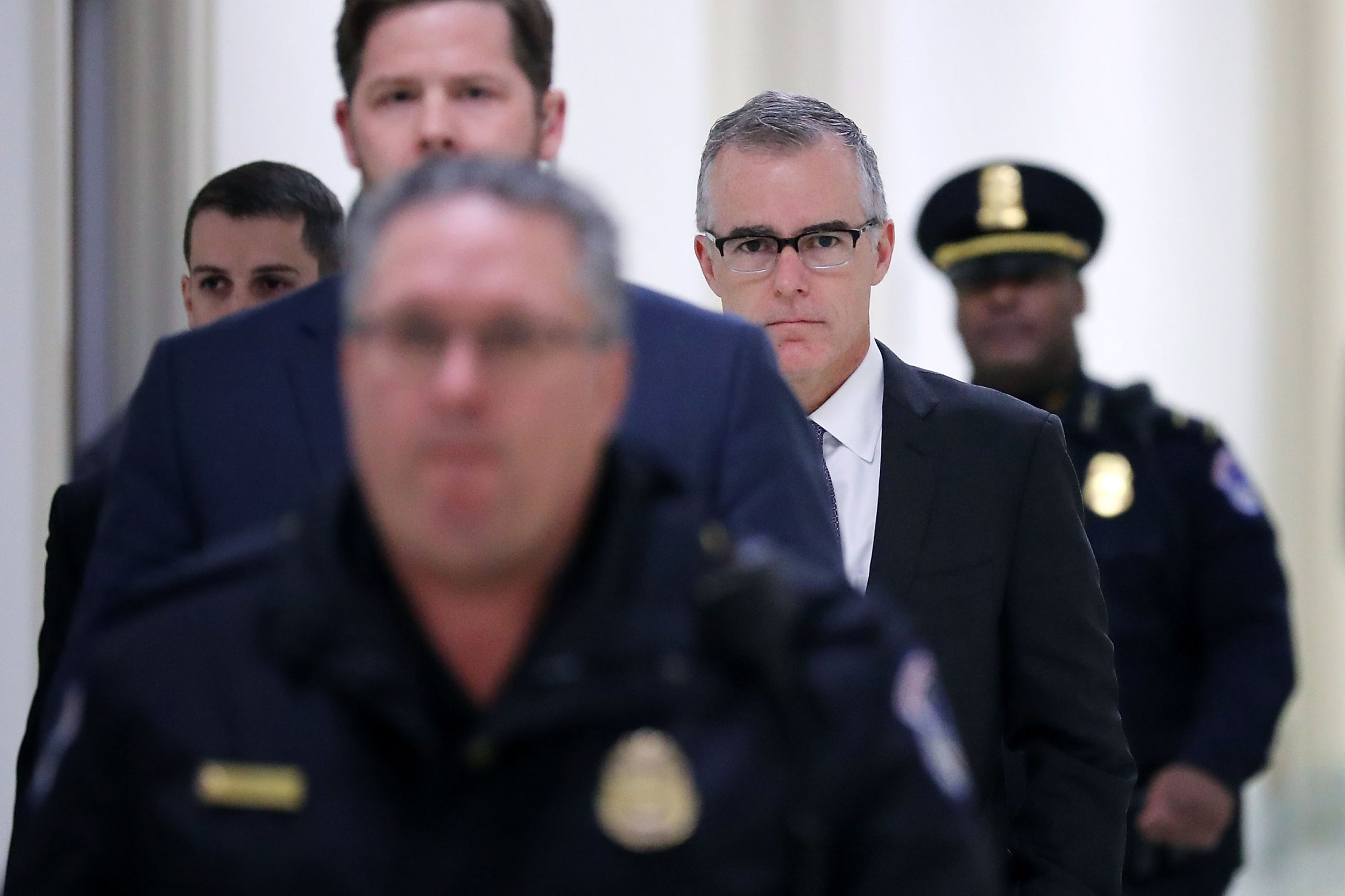 FBI Deputy Director Andrew McCabe stepped down from his post Monday after months of criticism and accusations made by President Donald Trump about the Justice Department and McCabe's alleged bias against his administration.
McCabe was scheduled to retire in March but is now reportedly taking leave, according to NBC News. He had planned "for years" to leave when he was eligible for retirement but had also built up enough "leave time" to continue remaining on the FBI's payroll in order to still retire by mid-March.
The exact reason for his sudden departure remains unclear, however, with a report from CBS News stating that McCabe was "urged" to step down.
Monday's revelation follows a number of attacks by Trump against McCabe. The Republican had specifically pummeled McCabe with allegations of bias due to his wife, Jill, having received funds from a political action committee linked to Democrat and former Trump foe Hillary Clinton.
"How can FBI Deputy Director Andrew McCabe, the man in charge, along with leakin' James Comey, of the Phony Hillary Clinton investigation (including her 33,000 illegally deleted emails) be given $700,000 for wife's campaign by Clinton Puppets during investigation?" the president tweeted December 23.
Trump added: " FBI Deputy Director Andrew McCabe is racing the clock to retire with full benefits. 90 days to go?!!! "
Trump followed up a day later, tagging Fox News: ".@ FoxNews -FBI's Andrew McCabe, 'in addition to his wife getting all of this money from M (Clinton Puppet), he was using, allegedly, his FBI Official Email Account to promote her campaign. You obviously cannot do this. These were the people who were investigating Hillary Clinton.'"
The allegations were the same from Trump back in July, when he questioned why Attorney General Jeff Sessions had not fired McCabe over this relationship to former FBI Director James Comey.
"Why didn't A.G. Sessions replace Acting FBI Director Andrew McCabe, a Comey friend who was in charge of Clinton investigation...." Trump tweeted July 26.
On July 25, Trump also brought up the campaign donation, tweeting: "Problem is that the acting head of the FBI & the person in charge of the Hillary investigation, Andrew McCabe, got $700,000 from H for wife!"
McCabe's exit also follows a report last week from The Washington Post that Trump asked who the former federal prosecutor had voted for in the 2016 presidential election.
The meeting took place in May after Trump had fired Comey and McCabe took on the role of interim director until Christopher Wray was approved by the U.S. Senate last year.
McCabe reportedly told Trump he had not voted in the election, and he found the question "disturbing." The question is also reportedly of interest to Special Counsel Robert Mueller's investigation into alleged collusion between Trump's former campaign and Russia to win the White House.