Trump And McConnell Are 'Trying To Put Corporate Bailouts Ahead Of Families' Amid COVID-19 Outbreak, Biden Says
Former Vice President Joe Biden has hit out at President Donald Trump and Senate Majority Leader Mitch McConnell "trying to put corporate bailouts ahead of families" with a proposed $500 billion fund meant to help businesses that are struggling due to the coronavirus outbreak.
The proposed fund has become the primary sticking point in efforts to push a bipartisan coronavirus stimulus package forward, with Democrats and Republicans sparring over the weekend over the sweeping controls the White House would have over which businesses receive support.
Under the proposal, Treasury Secretary Steven Mnuchin powers to decide how and where the funds are spent with limited oversight, raising concerns among Democrats who fear that the money may never reach those who need it most.
In a Medium post published on Sunday evening, Biden accused the White House and Senate Republicans of trying to create a "slush fund" for corporations, branding the initiative "simply wrong."
"Here's what's happening. The White House and the Senate Republicans have proposed a $500 billion slush fund for corporations, with almost no conditions," Biden said. "Donald Trump's Treasury Secretary would decide which big businesses get how much, and he can give out billions with virtually no strings attached."
As a result, he said, "the Trump Administration could even allow companies to use taxpayers' money for stock buybacks and executive pay packages, and they don't have to tell Americans where the money is going for months."
"This is par for the course for this president," Biden continued. "We have just watched too many CEOs spend the last few years squandering the massive Trump corporate tax cuts on buying back their own stock and increasing their own compensation, rather than investing in their workers or making their businesses more sustainable."
For a stimulus package to be successful, Biden said, "any lifelines to big companies should ensure the aid lifts up workers, instead of enriching CEOs or shareholders. If these companies are taking money from taxpayers, they must make an enforceable commitment that they will keep workers on payroll."
"We can't let Donald Trump and Mitch McConnell hold small businesses, workers, and communities hostage until they get their no-strings corporate bailout," Biden asserted.
Instead of creating a broad fund with few controls, the former vice president said, "McConnell should immediately allow a bipartisan vote on aggressive measures to help small businesses, workers, and communities first, so the relief they need can get moving."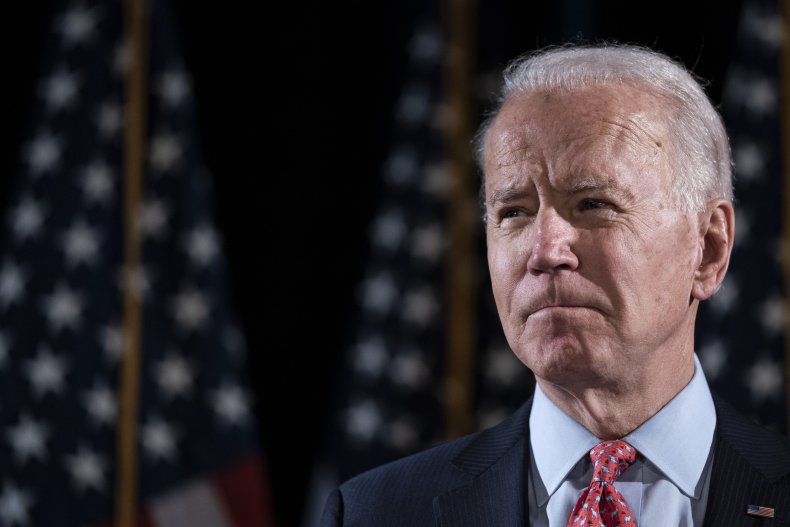 "The family-run restaurant that is trying to stay open and pay its workers—they need a lifeline. The worker who is losing hours and therefore losing wages—they need to be made whole. The family that will go hungry tonight—they need food on the table. Those losing jobs—they need strong, sustained unemployment benefits whether they are a gig worker or a full-time employee," Biden said. "Social Security checks need to be boosted. Student debt should be forgiven. Cash relief needs to go out fast to all of the people who need it the most."
"These are the hardworking, struggling Americans who should come first—not the big corporations looking for a blank check. That's not only good economics," the former vice president said. "That's who we are as Americans—we lend a hand to help each other, we step up when hard times fall. We all deserve leadership that does the same."
A procedural vote on the stimulus package is expected to take place Monday afternoon, with senators hoping to come to an agreement before then.
Newsweek has contacted the White House and representatives for McConnell for comment.