Trump to Meet Putin on Sidelines of G-20 Summit in Bid to End 'Deadlock' in Ties, Says Kremlin Aide
President Donald Trump will meet his Russian counterpart on Saturday for a two-hour meeting on the sidelines of the G-20 summit, according to Vladimir Putin's presidential aide.
Yuri Ushakov said that the two would meet at the Park Hyatt Hotel in Buenos Aires to discuss strategic stability, Syria, Iran and North Korea, state agency RIA Novosti reported.
The White House has not yet confirmed the meeting, which was initially reported by Reuters, but if it goes forward, it would be the first sit-down meeting between the two leaders since last July's summit in Helsinki.
At the Helsinki meeting, only the translators were present, and it triggered much controversy when Trump rejected the U.S. intelligence community's conclusions of Russian interference in the 2016 presidential election.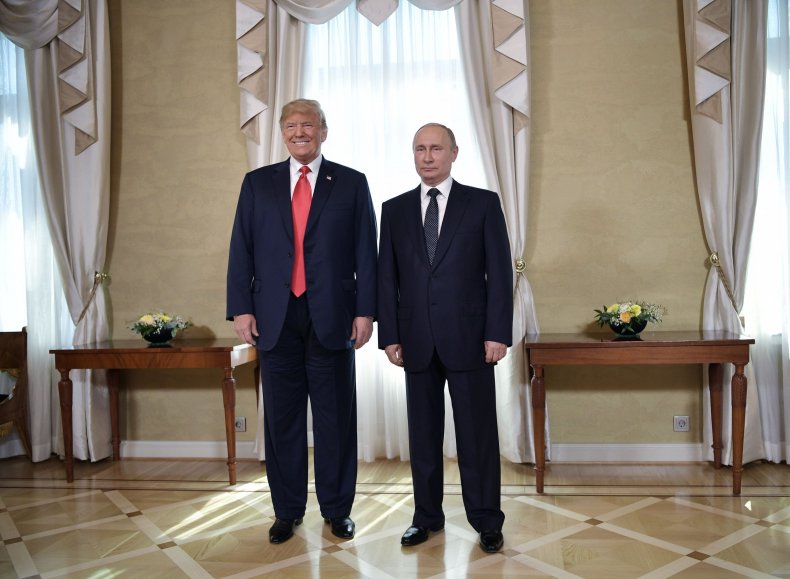 Ushakov said of the upcoming meeting, according to news agency Tass: "This meeting is equally important for both sides. It is certainly vital from the viewpoint of further developments in the world.
"We believe that in a situation when the Americans have withdrawn from the Anti-Ballistic Missile Treaty, and signals that they will stop their participation in the INF Treaty, certainly, it is very important to discuss together the options of a renewed system of ensuring international security."
Ushakov went on to say that both sides wanted "to lead these relations out of the deadlock and start looking for ways to normalize them."
National Security Adviser John Bolton told reporters Tuesday that Trump wanted to discuss security, arms control and regional issues with Putin.
"I think it will be a continuation of their discussion in Helsinki," he said, according to CNN.
It is unclear whether the situation in Ukraine would be discussed in Saturday's meeting.
Trump seemed to threaten to cancel talks with Putin after Russian ships fired on and seized Ukrainian vessels last Saturday. Trump said he was "not happy about it all," and "we do not like what's happening either way."
Putin said on Wednesday that the attack was orchestrated by Ukrainian President Petro Poroshenko to bolster flagging ratings.
"It was without doubt a provocation," Putin said, according to The Guardian.