Before Trump Meeting, Rodrigo Duterte Reveals He Was a Murderer at 16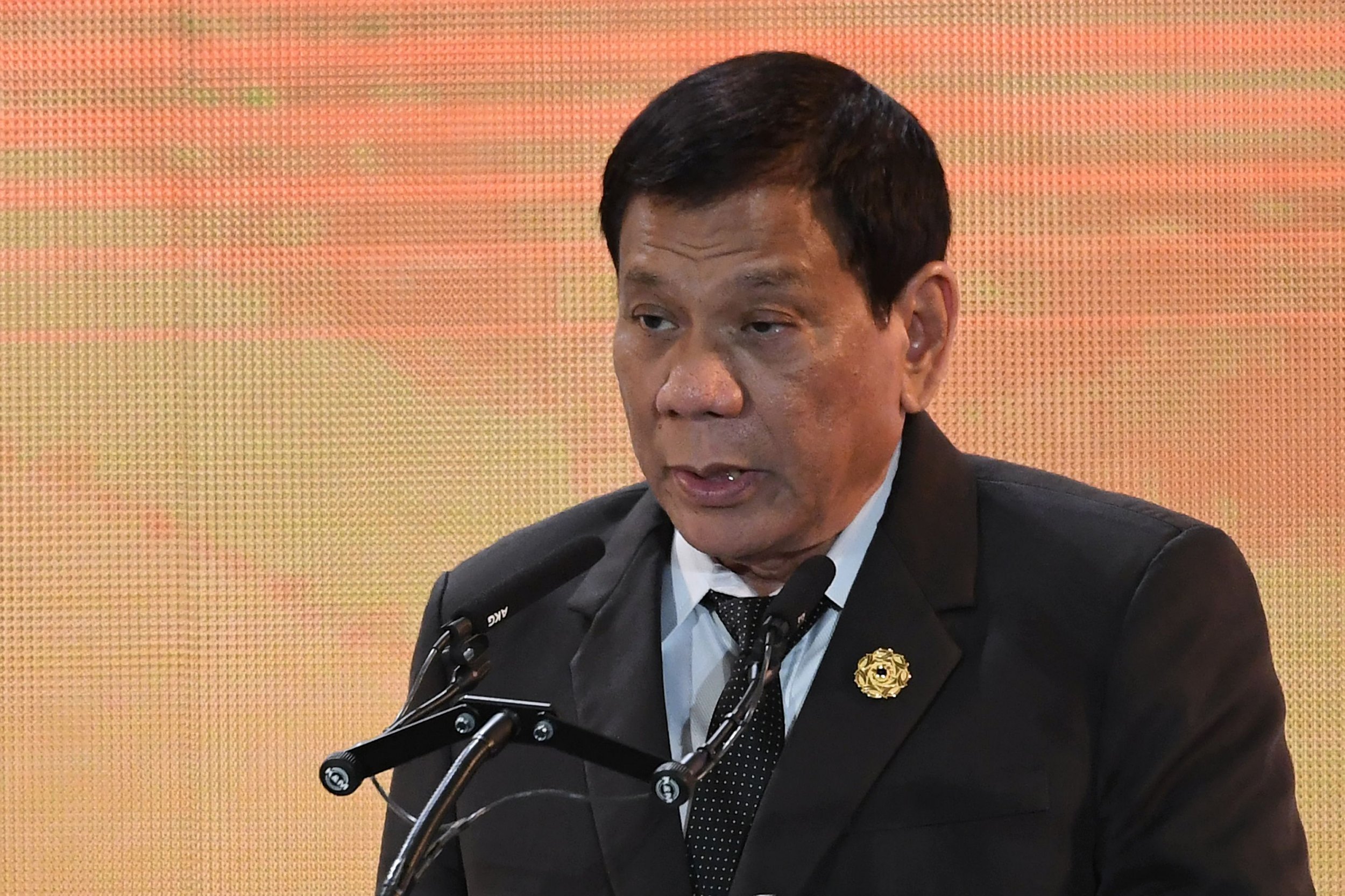 Rodrigo Duterte, the firebrand president of the Philippines, admitted to a new murder on Friday, telling a gathering in Vietnam that he stabbed a person to death when he was jus 16.
In December 2016, the Philippine leader, who is set to meet President Donald Trump and regional leaders at the Asia-Pacific Economic Cooperation (APEC) summit Friday, admitted to personally killing suspected criminals in the southern city of Davao, where he served as mayor.
But, speaking to Philippine nationals in the Vietnamese town city of Da Nang, he said his violent exploits began at a younger age, and over more trivial matters.
"When I was a teenager, I would go in and out of jail. I'd have rumbles here, rumbles there," said Duterte.
"At the age of 16, I already killed someone. A real person, a rumble, a stabbing. I was just 16 years old. It was just over a look. How much more now that I am president?"
The crowd laughed at his comments, which he used to make a comparison with his war on drugs, which has drawn criticism from rights groups, who say the Philippine armed forces are neglecting to follow the rule of law.
Duterte said he still held same attitude as he did in his youth—"even more so as president" of the country. "You f**k with my countrymen, I won't let you off the hook. Never mind about the human rights advocates."
His spokesperson Harry Roque told CNN that Duterte likes to use vibrant and jestful language when speaking to Philippine nationals abroad. "I think it was in jest," he said.
But the 72-year-old has repeatedly claimed to have murdered multiple people, a boast that seems to bolster his strongman image in a country where he is battling drug crime with violent measures, such as the use of hired vigilante gangs who have been accused of hundreds of extrajudicial murders. One of those units is the notorious Davao Death Squad, or DDS, which Duterte was accused of running in his time as Davao mayor.
Duterte said of his 2016 claim of murdering criminals in Davao: "In Davao I used to do it personally. Just to show to the guys [police officers] that if I can do it, why can't you. And I'd go around in Davao with a motorcycle, with a big bike around, and I would just patrol the streets, looking for trouble also. I was really looking for a confrontation so I could kill."
He served as mayor of Davao, a city of 1.5 million people, for two decades.
In 2015, he repeated his claim that he stabbed someone to death, but at a different age and scenario. He told Esquire's Philippines edition that he "maybe" killed someone in a "tumultuous fight" at the beach.
"We were young men then and we went to this beach and we were drinking and suddenly there was this...maybe I stabbed somebody to death...something like that," he said.
His spokespeople repeatedly say that he is overstating matters to get his point across, or joking to appear tougher. But at other points they have confirmed some of his comments. In 2016, Duterte said he had thrown someone from a helicopter. His spokesperson confirmed the episode, before both retracted the claim, saying it was a joke.
If his own actions have not actually been violent, his rhetoric certainly has been. In 2016, the Philippine president said he would be "happy to slaughter" millions of drug addicts in the country. Amid criticism of that rhetoric and crackdown, he called then U.S. President Barack Obama the "son of a whore."