Trump, Melania Greet North Korea Prisoners as They Arrive on U.S. Soil: 'Congratulations on Being in This Country'
President Donald Trump welcomed home three American citizens who were held in North Korea and were released after negotiations with North Korean leader Kim Jong Un.
The president was joined by first lady Melania Trump, Vice President Mike Pence and his wife, Karen Pence, to the Joint Base Andrews near Washington, D.C., around 2:30 a.m., where the plane carrying Secretary of State Mike Pompeo and the three Americans arrived from North Korea shortly afterward.
Kim Dong Chul, who had spent the longest time in North Korean jail of the three, after his arrest in 2015 on spying charges, was the first to step out of the plane, raising his arms and hands in a victory sign.
Read more: Who are the three American prisoners? Trump announces release after North Korea agrees to hand over custody
Kim Sand Duk—also known as Tony Kim—who was arrested last April, came out second, and Kim Hak Song, who was detained in May, followed.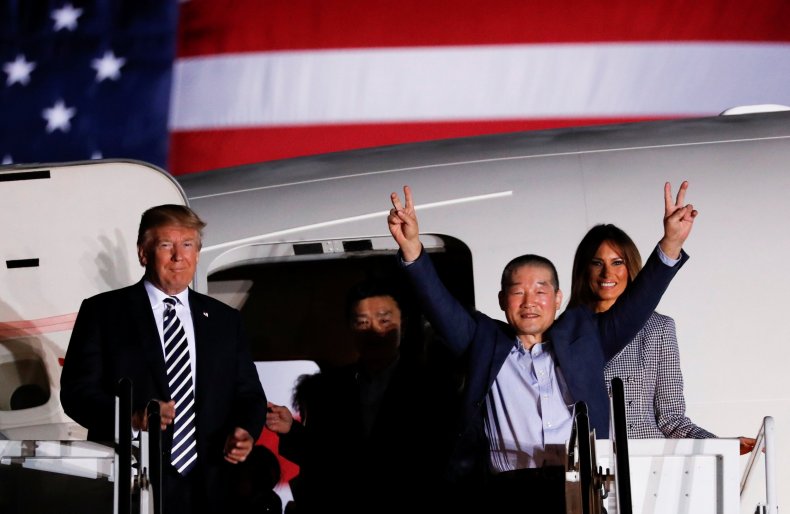 "This is a special night for this really great people. Congratulations on being in this country," Trump told them once they all gathered in front of the reporters, who wanted to know how the former detainees felt being home.
"It's like a dream, and we're very, very happy," Kim Dong Chul said in Korean, his words translated via an interpreter. He said he had to do hard labor, but that North Korean doctors treated him when he fell ill.
Using warm words to describe the former prisoners, Trump also took the opportunity to pay his respect to another American citizen who was detained in North Korea, student Otto Warmbier.
Warmbier was released last year and brought back home in a coma. He died shortly afterward. "Otto Warmbier was a great young man who really suffered. His parents are incredible people," Trump said.