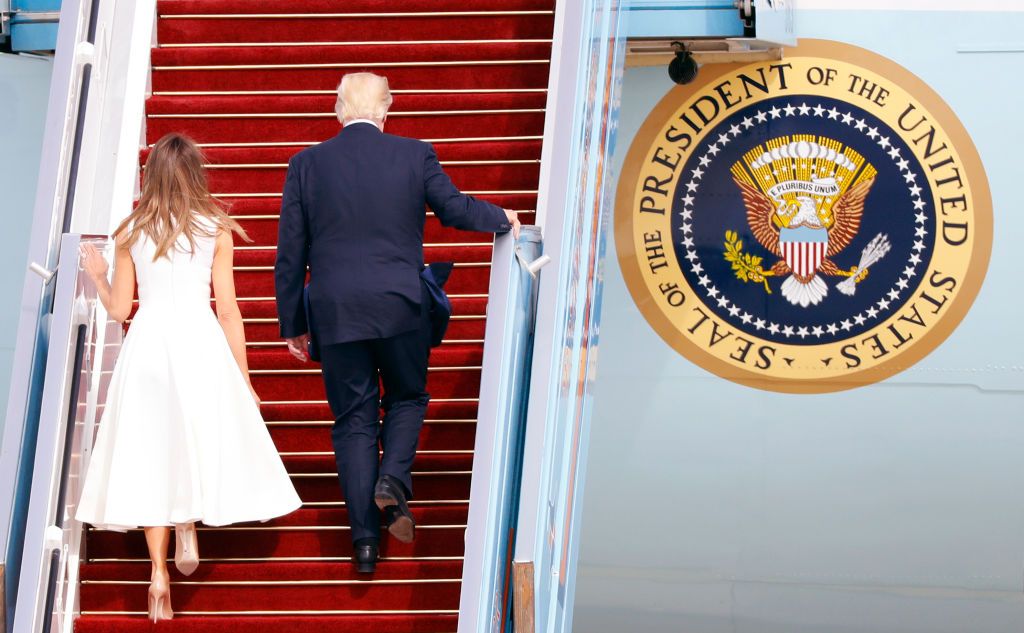 There's been no rest for the wicked just a week into President Donald Trump's 17-day vacation, what with our late-summer flirtation with nuclear war. But the women in the Trump clan seem to have been able to kick back. Given the dearth of photographic evidence otherwise, perhaps they have finally been able to put their feet up.
This hiatus allows us to reflect on a minor Trumpian trend to which the nation has become accustomed since January: the ubiquitous stiletto pump. The vertiginous spike-heel shoe is not currently in fashion, but for Ivana, Ivanka, Melania and the Trump daughters-in-law, Carrie Bradshaw's shoe of choice never went out of style. In fact, the female consorts of the Leader of the Free World do not set foot in public without first molding their arches into the supranatural curve that Mattel toy designers once devised for Barbie's plastic feet.
Six months in, and the Trump women are well on their way to normalizing the footwear of the beauty pageant. The Cinderella shoe fitted on the feet of all the Miss Teen USA's and Miss Universes who ever beamed under the Trumpian gaze in contests of yore also is the shoe that average women can bear for only a few hours at weddings or proms, before casting them off, moaning and rubbing their soles.
Former Vogue editor Andre Leon Talley, a longtime friend of Melania Trump's, believes that, other than the White House Easter Egg hunt on the lawn, Melania has not been photographed as first lady without her feet arched into one of two brands of towering high-heeled shoes that she favors, Manolo Blahniks or the 4.5-inch-heeled Oh So Kate by Christian Louboutin. (Talley says Melania picked up 22 pairs of Manolos in various colors before decamping to the White House last month.)
The stiletto is a podiatrist's dream, or nightmare, depending on your point of view, because devoted wearers ultimately require medical attention. "As you get older in these shoes, your feet are going to have problems," Talley says. "I am not gonna say Melania is gonna have them soon, but sooner or later she is going have to come down off that high arch."
The internet and YouTube are rife with tutorials on how to bear the pain (bandages, gel inserts, baby powder) and walk gracefully in them. Michelle Phan's "How to Master the High Heel" tutorial has received millions of views. Her nuggets of advice include: "Your first assignment when walking in heels is to find a straight line and follow it," and "For every step you take, you need to have a general awareness of where your heel is being placed."
Stiletto pumps demand a critical level of attention to pebbles, cobbles, sidewalk cracks, mud, grass, curbs and stairs—all while keeping head erect and shoulders back—that has sometimes eluded even the greatest public females. Remember Naomi Campbell's famous runway spill. Or Jennifer Lawrence tripping up the steps to receive her Oscar.
So sure are they of their footing that the Trump women, rare political mountain goats, never even look down for obstacles that might break up their gait or send them sprawling. Toes pointed like ballerinas in them, they stroll from the tarmac to the Wailing Wall, cross the spongy White House lawn to Marine One, click around the halls of Congress and ascend rickety risers at "MAGA" rallies in Youngstown.
Talley admitted that the stiletto pump is "not a trending shoe" nor is it "the shoe of choice for most women." Younger women in the public eye sometimes say they have sworn off heels. Jennifer Lawrence called them "Satan's shoes." Kristin Stewart wears Chucks with her gowns, and Miley Cyrus sings in "Party in the U.S.A:" "All I see are stilettos/I guess I never got the memo." Actresses and critics alike went ballistic in 2015 when the organizers of the Cannes Film Festival reportedly decreed that women could not walk the red carpet in flats.
But Talley believes the Trump women favor high heels because they were trained young in the "rigor" of wearing them—and because they look good. "It creates a tall, statuesque, almost ideal elegance," Talley says, but also comes with an element of risk—which, mastered, further differentiates them from the average woman. "It is a shoe that defies gravity. It is a risk-taking shoe. If you stumble, you will break your ankle. But these girls have mastered the art absolutely through rigorous discipline of daily exercise and weight loss, and when you set your foot into the toe box you have the mental knowledge that you can't make those mistakes and fall."
Besides indicating athletic superiority, the stiletto pump serves another purpose, summed up in shoe designer Louboutin's comment, "The core of my work is dedicated not to pleasing women but to pleasing men."
British psychologist Paul Morris and his colleagues wrote a paper describing high heels in biological terms as "supernormal stimuli"—that is, stimuli that work better than the original biological trait in provoking an instinctive response. Morris explained in an email to Newsweek that, for example, the orange spot on a herring gull's beak causes a chick to peck the orange spot for food. But researchers found that a chick will respond even more eagerly to a big orange blob on a card.
"In terms of the human example, we tend to find the defining characteristics of the opposite sex attractive," Morris wrote. "High heels function in a similar way. Males respond to the characteristic way a woman walks, i.e., the movement of the female pelvis: High heels just exaggerate the femaleness of the walk. So to deconstruct why Trump women wear high heels: They are just buying into traditional binary views of male and female."
American anthropologist and author Helen Fisher puts it more bluntly. "High heels thrust out the buttocks and arch the back into a natural mammalian courting—actually, copulatory—pose called 'lordosis.' Rats do it, sheep do it...lions do it, dogs do it. It is a naturally sexy posture that men immediately see as sexual readiness. [Heels] are a 'come-hither' signal."
Fisher is in the camp that believes heels detract from women's power, and shouldn't be worn at work. "When women wear high heels at work, they send sexual signals that should be avoided if they want to be taken seriously."
Historically, the Trumpian women's shoe of choice was invented not for women but for aristocratic men, men who would never have to work, and who didn't have to walk much but were carried in litters or carriages. Paintings of Louis XIV, the Sun King, show him sporting red-soled heels, posing with one foot forward and pointed out— much like Ivana and Ivanka Trump in countless photographs over the years.
Shoe historians say the first women to wear heels were Italian prostitutes in the 17th century, when they adopted them, along with smoking, from their male friends. From there it became a sexual symbol. The high heel was a staple of Victorian porn, and the stiletto ("dagger" in Italian) was introduced into women's fashion in the 1950s. It has remained there, waxing and waning à la mode.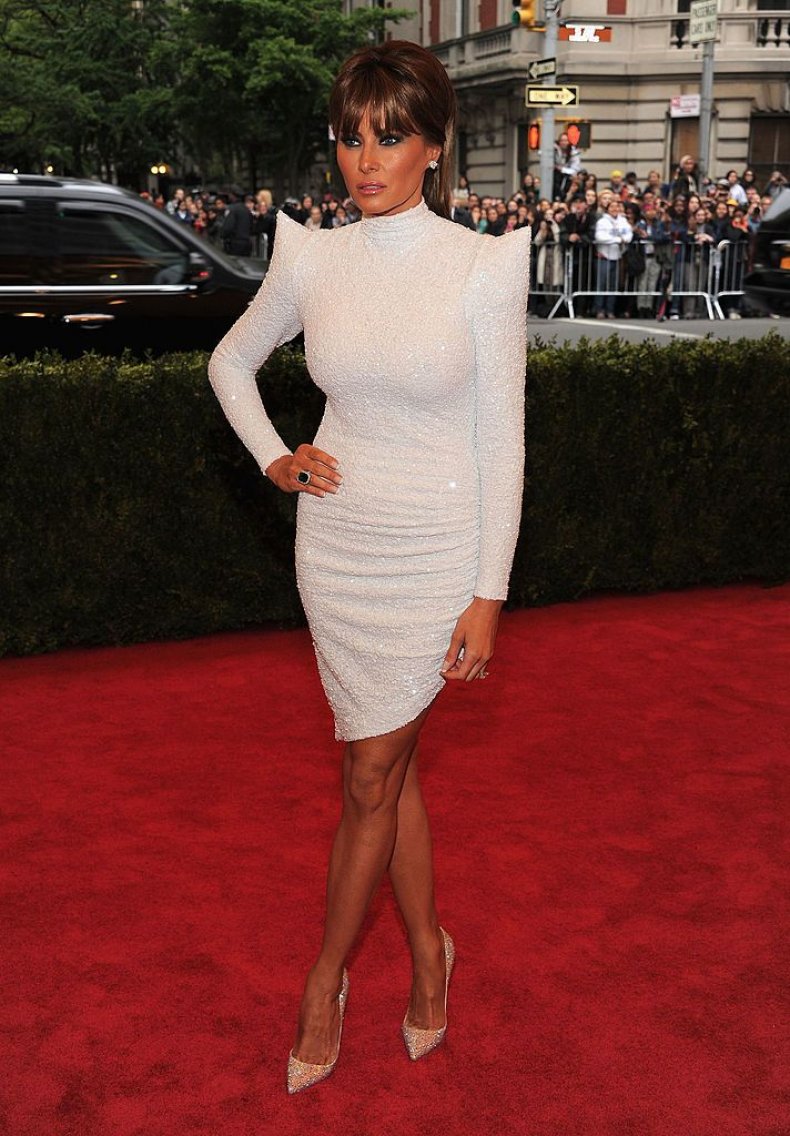 Among Trump's women, wife No. 2, Marla Maples, is the only one consistently photographed in public wearing flats, sneakers and espadrilles. An episode in her life with Trump suggests why she soured on the family shoe. In 1992, Maples' former publicist Chuck Jones, a man who loyally shepherded her through the New York tabloid gauntlet during her affair with and marriage to Trump, was found to have stolen 200 pairs of Maples' shoes, to violate in unprintable ways. He denied being a shoe fetishist, but admitted that he had a sexual relationship with Marla's shoes.
The medical name for that is altocalciphilia. One altocalciphilist, writing on a British website called Retifism and Fetishism, tried to explain what spike heels can do to a man (or, presumably, a woman). "The allure of high heels for some people is very strong. Subconsciously this may relate to a primal instinct to identify lame prey. Throughout recorded history limping in others has been seen both as a physical weakness as well as a sexually attractive impediment. Wearing high-heeled shoes can accentuate the limping characteristics in a very tantalising [sic] way."
Feminists have long grappled with the high-heeled shoe, and whether the stiletto telegraphs power (sexual or otherwise) or self-hobbled weakness. Stiletto pumps are the ultimate test of a certain type of femininity. They signal the taut combination of power and weakness that conservative women must cultivate in order to survive among ideologues who are crafting our tax-free "Handmaid's Tale" future.
The death of the high heel is often prematurely reported. In an exhaustive essay on the topic, Megan Garber wrote in the Atlantic: "Will the heel, indeed, go the way of the corset and the bound foot—an icon of femininity rendered, via the network of advances we tend to shorthand as 'progress,' obsolete?"
In this historical moment, the summer of 2017, the answer is no. Not as long as Trump women have anything to say about it.