Federal Health Officials Warned Not to Post About Mental Health After President Trump Links to Mass Shootings
After President Donald Trump repeatedly linked mental health to the phenomenon of mass shootings — a hypothesis he offered in the wake of massacres in El Paso and Dayton in early August — the Department of Health and Human Services (HHS) reportedly issued a directive forbidding staffers from posting on official social media accounts about mental health, violence and mass shootings without formal approval.
The August 5 order, which was uncovered by The Washington Post on Tuesday, reportedly told some HHS communications staffers to refrain from posting anything on social media until the "green light" was given, which the Post said would follow the president's speech that day.
"We must reform our mental health laws to better identify mentally disturbed individuals who may commit acts of violence and make sure those people not only get treatment, but, when necessary, involuntary confinement," Trump said in prepared remarks. "Mental illness and hatred pulls the trigger, not the gun."
Following the president's speech, some employees received a message from Renate Myles, a spokesperson for the National Institutes of Health (NIH), which is part of HHS. While most social media posts were allowed to resume, the employees were asked to "please send any posts related to mental health, violence or other topics associated with mass shootings for review before posting."
According to the Post, this specific instruction was intended mainly for communications staffers at the National Institutes of Mental Health, whose social media feeds are replete with messaging about mental health.
These orders were apparently concerning to staffers because Trump's loglines about mental health aren't generally supported by the prevailing science, and researchers are said to have felt like they were being deprived of the ability to clear a path through the disinformation.
In the wake of both shootings, Dr. Arthur Evans, CEO of the American Psychological Association, dismissed attempts to link mental health to America's gun violence epidemic.
"Blaming mental illness for the gun violence in our country is simplistic and inaccurate and goes against the scientific evidence currently available," he said in a statement. "As we psychological scientists have said repeatedly, the overwhelming majority of people with mental illness are not violent. And there is no single personality profile that can reliably predict who will resort to gun violence. Based on the research, we know only that a history of violence is the single best predictor of who will commit future violence."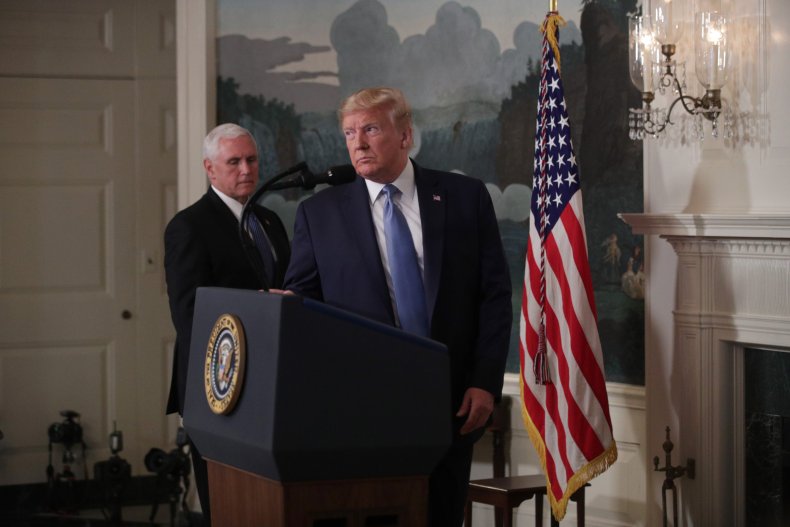 An HHS spokesperson told the paper that it is "the department's long-standing practice to not get ahead of the president's remarks."
"This allows the president to share his message first with the nation," HHS spokesperson Caitlin Oakley said. "Any suggestions that this was a formal policy put in place related to social media, or meant to stymie work on this issue, are factually inaccurate. These were staff-level discussions seeking to be sensitive and respectful to the victims and their families affected by tragedies of that weekend."
Discussions on the origin of gun violence have been highly charged for decades. The 1996 Dickey Amendment effectively blocked any attempt by the Centers for Disease Control (CDC), another HHS agency, to conduct gun violence research from a public health perspective.
The National Rifle Association has led many a post-massacre public campaign to implicate mental health in gun violence discussions.
The president has likewise picked up on this talking point and used it repeatedly, including in his August 5 address. He has also reflected longstanding conservative messaging on alternative (and often discredited) theories about gun violence, including by casting blame on video games.