Trump Merchandise Huts Sprout up in County That Could Decide Election, Near Biden's Childhood Home
President hoping to repeat 2016 victory in county that went for Obama twice
No one can say that the people of Luzerne County, Pennsylvania, don't care about America.
More than two-thirds (67 percent) of the registered voters in the county turned out for the 2016 presidential election—nearly 12 points higher than the national turnout of 55.5 percent.
This year promises to be no different.
"We had 1,200 yard signs," said Justin Behrens, Luzerne County Republican County chairman and a Trump supporter. "Within two days they were gone. That was one per person."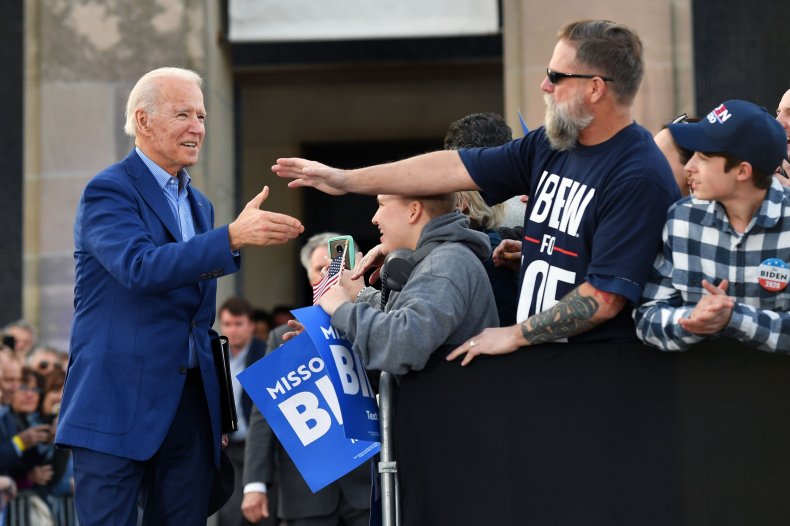 Scattered about the county, parts of which are a 20-minute drive to Joe Biden's childhood home in Scranton, are roadside tents—"Trump huts"—like the one across from the old shuttered Kmart on Route 309 in Wilkes-Barre, where private vendors sell yard signs, T-shirts, hats and other gear emblazoned with campaign slogans and the president's face and name.
In 2016, the Trump-Pence ticket enjoyed huge success in the region. Luzerne County swung from victories for Barack Obama of 8.41 percent in 2008 and 4.81 percent in 2012 to a 19.31 percent win for Donald Trump in 2016, helping him carry the Keystone State by less than 1 percent, and capture its 20 Electoral College votes.
As refrains of "So goes Pennsylvania, so goes the nation" rise, Biden leads Trump by 4.3 percent, according to a Real Clear Politics average of recent polls, in a battleground state that will likely be essential once again to winning the Electoral College and presidency.
Despite Trump's victory in 2016, Luzerne County still has its Democratic devotees. In a blue-collar, working class area of northeastern Pennsylvania that was once a booming center of anthracite coal production, this county of some 317,000 people has 214,142 registered voters as of this month, 104,858 of whom are registered Democrats and 82,433 registered Republicans.
Suzanne Pavlick, of Ashley, voted for Clinton and Obama in past elections. She often tweets #RidinWithBiden to show her support for the Democratic nominee. Economic issues, along with the trustworthiness of political leaders, are top concerns for her.
She told Newsweek that Biden "will build on the affordable health care plan, so all Americans have health care."
For Pavlick, this election is about trust.
He will protect Social Security," said Pavlick, "We need a true leader who we can trust. A leader who loves his country and cares about all the people."
The most important issues for Ed Pesotski, of Wilkes-Barre, are a $15 minimum wage, Medicare for All, and climate change. He's an Obama voter and Bernie Sanders supporter. Although he admitted he isn't excited about casting his ballot for Biden, he said "Trump is too much of a danger for this country."
He bridles at the divisiveness of the Trump campaign.
"He uses a false patriotism, using the flag as a divisive issue, hugs the flag, claims Dems want to destroy America, and this area," said Pesotski, who grew up in a working class community.
But Trump supporter Tom Stavitzski, a high school history teacher from Mountaintop, thinks that Trump doesn't get enough credit.
"I think he was doing a tremendous job until the coronavirus," he said. "The economy was doing great. Unemployment was down, things were pretty good, and it just happened. President Trump is doing what he can right now."
Although Stavitzski went for Trump, Romney and McCain and will sometimes "venture over" to vote for a Democrat, he said this is the first election he will vote straight Republican "without even looking at the ballot."
Voters in this county continue to switch political sides. David Thole, of Wright Township, is a former Democrat who voted for Hillary Clinton in 2016, became a Republican supporting Trump in this year's election, in large part because of the president's recent achievements in international affairs.
"The recent signings by the Middle East countries, with the United Arab Emirates, Bahrain and Israel, that's a historic achievement," Thole said.
He also praised Trump's targeted assassinations of Iranian military leaders.
"The taking out of Iran's Revolutionary Guard General Soleimani, two high-level Isis leaders to help protect the United States troops overseas—all of this to help provide stability in the region," Thole told Newsweek.
Biden took part in a CNN Town Hall at PNC Field 13 miles from downtown Wilkes-Barre on Thursday, but despite Luzerne County's proximity to Biden's hometown of Scranton in neighboring Lackawanna County, Wilkes-Barre Mayor George Brown, a Democrat, said he hopes Biden visits his city. He wants to see his party's nominee connect with voters the way Trump has at rallies at the 8,000-seat Luzerne County-owned Mohegan Sun Arena that have attracted overflow crowds.
"I keep saying, not just because I'm the mayor of Wilkes-Barre, but because I think even as a voter, you want to see that you matter enough to the candidates to warrant a trip to your hometown," Mayor Brown said, "especially when your hometown is the county seat."