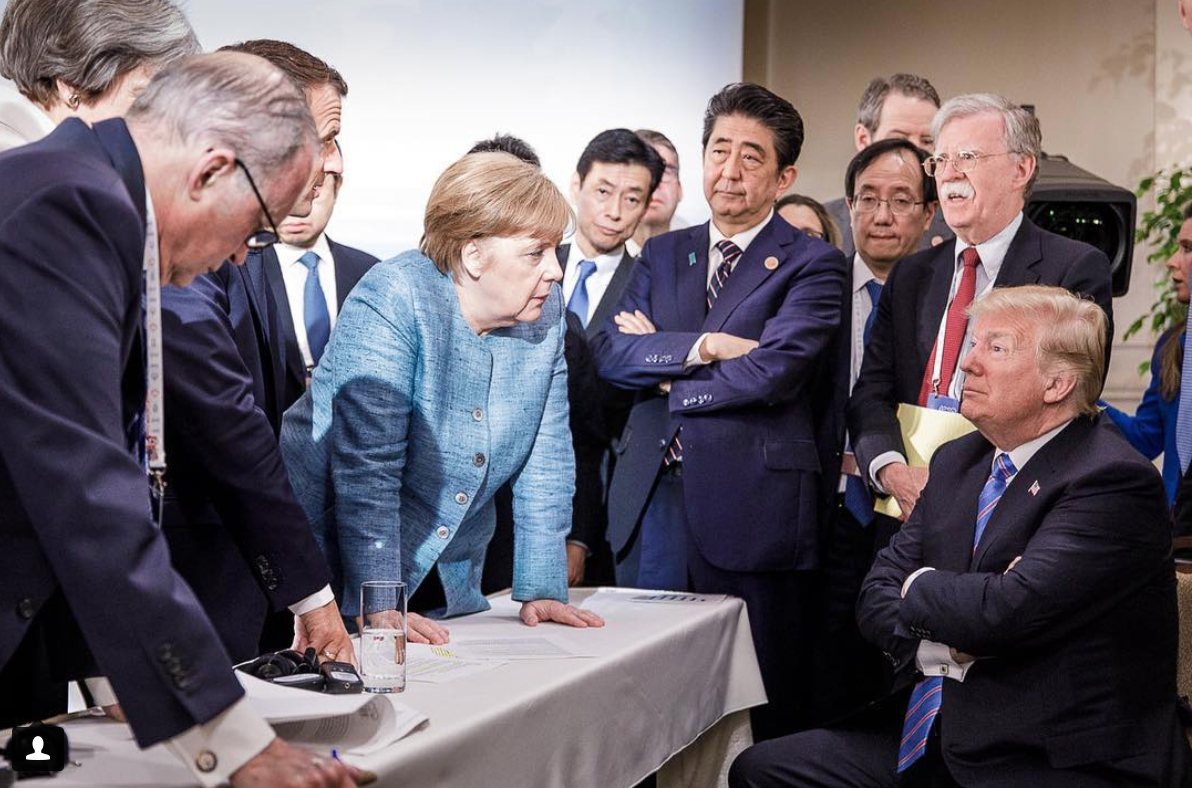 German Chancellor Angela Merkel shared a picture on her official Instagram account that shows her staring down President Donald Trump during the G-7 Summit in Canada this weekend. True to form, online commenters have since turned the photo into a humorous caption contest.
Merkel—or an aide that runs her account—shared the picture on Saturday, as Trump was preparing to depart early from the meeting in Montréal, Quebec ahead of a high-stakes Singapore meeting with North Korean leader Kim Jong-un. The photo depicts Trump sitting behind a table with his arms crossed, while stony-faced aides and leaders look in his direction. Merkel looks especially peeved at the former business mogul, whose decision to raise tariffs on aluminum and steel rankled some foreign leaders ahead of the annual meeting.
Japanese Prime Minister Shinzo Abe is also in the photograph, standing with his arms crossed, while Trump's national security adviser John Bolton stands nearby. The meeting also included Canada's Justin Trudeau, France's Emmanuel Macron, Italy's Giuseppe Conte and the U.K's Theresa May
Merkel's official caption is rather benign: "Day two of the G7 summit in Canada: Spontaneous meeting between two working sessions."
Many twitter users, however, had a deeper interpretation of the photograph. Merkel, arguably the most powerful leader in Europe, has clashed with Trump numerous times. The two also share wildly different leadership styles. While Merkel takes a more traditional approach toward diplomatic relations, Trump, in contrast, has let his characteristic bluster lead the way, frequently speaking off the cuff and making disparaging remarks about other heads of state. Many—if not most—of the captions created by social media users riffed on that contentious dynamic.
Others, meanwhile, said the photo perfectly encapsulated what was a difficult summit for Trump, who reportedly told aides he didn't want to attend and who arrived late to the first working session—a meeting in which women's empowerment was on the agenda.
But the summit was off to a rough start before it even began, sparked by both Trump's unconventional leadership style and his May 31 announcement regarding tariff hikes. The president also said repeatedly he wanted to let Russia rejoin the G-7 Summit, despite the country having been suspended following the 2014 annexation of Crimea from Ukraine.
During a solo press conference shortly before he departed, Trump rebuffed rumors that the atmosphere was anything but pleasant. Also true to form, he described the reports as "fake" news.
"I would say that the level of the relationship is a 10. We have a great relationship — Angela and Emmanuel [Macron] and Justin [Trudeau]. I would say the relationship is a 10."
He continued, blasting a CNN reporter.
"The relationship that I've had [with the other leaders] is great, so you can tell that to your fake friends at CNN," the president said.