Has Trump Finally Met His Handshake Match In Portugal's President?
President Donald Trump has become well known for jerking around foreign leaders with his policies and his handshakes. Videos of his vigorous handshake maneuvers with various world leaders have gone viral after several high profile meetings, but it appears that Trump has finally met his match.
A video of Trump greeting Portugal's President Marcelo Rebelo de Sousa at the White House on Wednesday shows a handshake quite different from what the U.S. president is accustomed to. As his Portuguese counterpart steps from his vehicle, Trump moves forward and extends his hand. However, this world leader is well prepared for the moment.
In the brief exchange, Trump can be seen jerking forward as De Sousa takes his hand. The president even appears to lose his balance momentarily as he staggers forward during the rough greeting.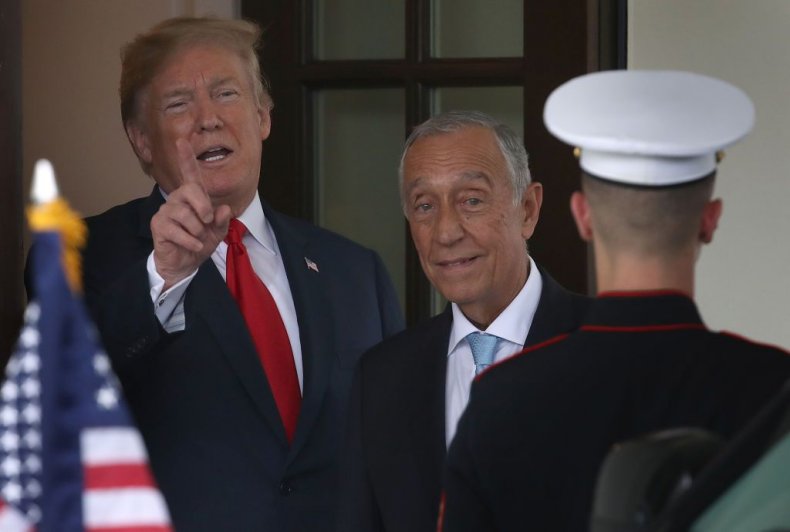 Portugal's president visited Washington to discuss an upcoming NATO summit and various European issues. While European leaders struggle to find solutions to an ongoing migrant crisis, Trump has angered European counterparts with new tariffs and by going rogue on international concerns, such as climate change and the Iran nuclear deal.
Experts have previously suggested that Trump's iconic handshake technique—dubbed the "clasp and yank" —is one way the president exerts dominance over his counterparts.
"[World leaders] find themselves yanked into his personal space, where it is difficult or impossible for them to make eye contact, or to talk coherently without looking away. This gives Trump an advantage in the game of micro-politics," Geoff Beattie, a professor of psychology, wrote for The Independent last year.
"His handshakes are clearly all about status rather than solidarity. From a psychological perspective, they are arguably self-serving and egocentric, and demonstrate that, as in many aspects of life, the most important thing to Donald Trump is Donald Trump himself," Beattie explained.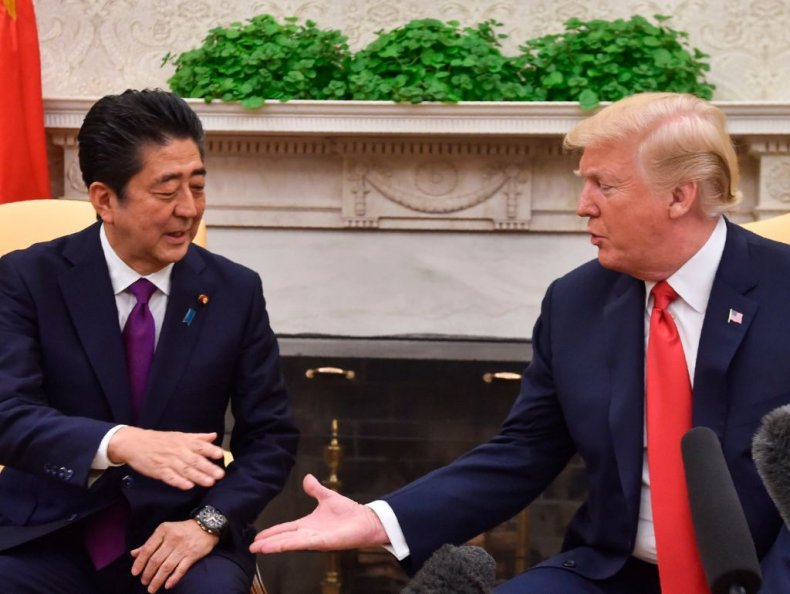 Several prominent leaders have fallen victim to Trump's aggressive handshakes. Japan's Prime Minister Shinzo Abe was one of the first to be caught off guard as he was yanked roughly and repeatedly toward Trump in a photographed handshake in February 2017. Supreme Court justice Neil Gorsuch and French President Emmanuel Macron have also fallen under Trump's firm grip.
However, Macron later redeemed himself, leaving visible white marks on Trump's hand after a firm handshake at the G-7 summit in April. Canadian Prime Minister Justin Trudeau has previously been praised for his expert counter maneuvering when shaking hands with the president.