The headline said it all: "Four Women Accuse New York's Attorney General of Physical Abuse." At first, there was denial, talk of "role-playing" and vows of consensual sex. But just three hours later, Eric Schneiderman, a Democrat and prominent women's advocate, was finished, brought down by The New Yorker in the latest #MeToo scandal. His party had demanded it. "The violent actions described by multiple women in this story are abhorrent," said Senator Kirsten Gillibrand of New York. Describing their relationships with the attorney general, two of the women told the magazine he had slapped and choked them repeatedly. "Given the damning pattern of facts and corroboration laid out in the article, I do not believe it is possible for Eric Schneiderman to continue to serve as attorney general," said Governor Andrew Cuomo. Though he disputed the allegations, Schneiderman promptly resigned.
Yet halfway across the country, Eric Greitens settled in for a fight. The Republican governor of Missouri also stood accused of abuse. Earlier this year, a woman said he blindfolded her and bound her to exercise equipment. Then, the woman charged, he took her photo to keep her silent and coerced her into oral sex. Greitens disputed the account—he says the encounter was a consensual extramarital affair—but when the calls for resignation came, he dug in. Echoing President Donald Trump, he claimed he was the victim of a "political witch hunt," even as he faced a felony charge for invasion of privacy. (On Monday, prosecutors dropped that case but said they intend to refile the criminal charge.)
The divide between Schneiderman and Greitens shows how much—and how little—has changed since the Harvey Weinstein scandal sparked the #MeToo movement. Neither party is blameless. But Democrats, who once defended President Bill Clinton against charges of sexual transgressions, are now trying to define themselves as the party of #MeToo. Watching a surge of women at the polls this year, they rightly saw Schneiderman's hypocrisy as a political albatross. Republicans, however, see a different landscape. Led by Trump, who has been accused of sexual misconduct by at least 22 women over the years, their base is no longer as animated by a "moral majority," as it was decades ago, but by a silent one, driven more by competition. To many of these voters, staying in power seems to be the utmost value.
Last year's Alabama Senate race remains instructive. Remember, GOP nominee Roy Moore was accused of preying on underage girls by nine women who said he pursued them aggressively when they were teens and he was in his 30s. One woman said he initiated a sexual encounter when she was 14, younger than the already-low age of consent in Alabama. Moore barely denied the allegations, and yet he remained a paragon of Christian morality for some. While a number of Republicans backed away from him, the Republican National Committee (RNC) restored financial support to his campaign after he received Trump's endorsement. As for Moore's supporters, many found ways to overlook or dismiss a mountain of moral indictments—and he almost won the race. "I'm just voting for the Republican," one told The New York Times. Another, another cited lyrics from Randy Newman's Good Old Boys album: "He might be a fool, but he's our fool."
To be fair, since Moore's implosion, a string of Republicans have taken a different approach: surrender. Among those engulfed in sexual misconduct scandals were Texas Representative Blake Farenthold, who resigned in April following accusations by former staff members, and Pennsylvania Representative Patrick Meehan, who stepped down after it was revealed he used taxpayer funds to pay off a sexual harassment claim. Even in Missouri, top Republican leaders have called on Greitens to resign, and, on Friday, the GOP-led Legislature is set to convene a special session to consider impeachment.
But for the governor and too many in the party, Trump remains the model. In February, after one of his key aides, Rob Porter, resigned following multiple domestic violence allegations, the president continued to defend him, emphasizing not the women's claims (one ex-wife had photos of the black eye she said Porter had given her) but his aide's denials. (After a week, Trump clarified that he was "totally opposed to domestic violence." Big league.) In May, however, within minutes of Schneiderman's resignation, the White House was gloating. "Gotcha," adviser Kellyanne Conway wrote on Twitter. Considering Trump's long list of accusers, another tweet, this one by Donald Trump Jr., applied as much to the White House as it did to its intended target, Schneiderman: "Self awareness level: 0."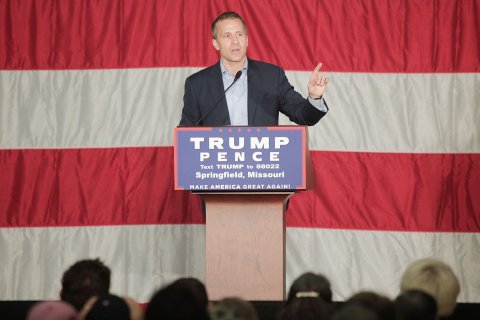 Similarly, the RNC successfully pressured Democrats to return donations from Weinstein, but then it neglected to do the same with funds provided by alleged sexual abuser Steve Wynn. This warped worldview flows from the animating touchstone of Trump's life: the 2016 election victory. Despite the unrelenting string of sexual misconduct allegations, Trump won. And when his accusers came forward to renew their claims against him in the #MeToo moment, White House press secretary Sarah Huckabee Sanders repeatedly called them liars. "The people of this country, at a decisive election, supported President Trump, and we feel like these allegations have been answered through that process," she said.
The uncomfortable truth is, she's not wrong. In electing Trump, American voters told the world that they didn't care about abused women. They didn't care about over a dozen women coming forward with grotesque allegations; they didn't care even when confronted with a video in which Trump himself bragged openly that he could "grab them by the pussy." Since the election, lawmakers have shown how little they care, continuing to praise the president as though he's not an alleged sexual predator.
The question now is how much voters have changed. Since October 2017, women who have come forward with allegations against powerful men in a variety of industries are finally being heard. Some commentators claim that women have only now become emboldened to speak up. That's not true. Women have been speaking for decades. The public has only just decided to listen—and Democrats hope they vote accordingly.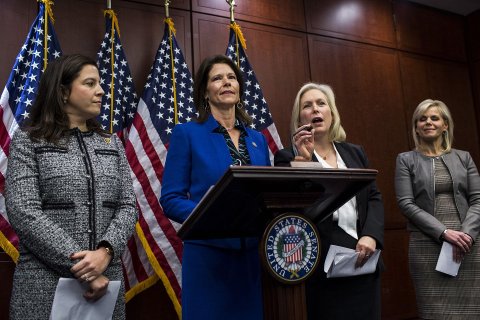 But for all its righteous—and commendable—outrage over Schneiderman, the party's grasp on moral superiority is tenuous. Before #MeToo, it routinely dismissed Bill Clinton's accusers as politically motivated, and its recent reckoning within its own ranks—first with Michigan Representative John Conyers, then Minnesota Senator Al Franken—was clumsy and cringeworthy. Now, party leaders are again hedging on whether to take away power from one of their own: California Representative Tony Cardenas, a Democrat accused of sexually assaulting a 16-year-old girl in 2007. The congressman, who denies the allegations, holds a recently created leadership position under Nancy Pelosi and chairs Bold PAC, the powerful political action committee of the Congressional Hispanic Caucus. Most Democrats say they're avoiding a rush to judgment, except Representative Jim Costa, Cardenas's California colleague, who dismissed the allegations. "I think he's being framed," Costa told CNN, with very little explanation of how or why someone would do that. Sound familiar?