Trump Miami Resort to Host Golf Tournament Planned by Local Strip Club
A Miami gentlemen's club is scheduled to hold a golf tournament Saturday at the Trump National Doral Miami resort. Shadow Cabaret will host its "Shadow All Star Tournament" with club employees playing a big role in the event.
Shadow employees will serve as caddies and then perform a burlesque show once the tournament is completed, according to the Washington Post.
Organizers said this year is the first for the club to hold its tournament at the Trump venue. The site indicates that the cost to enter the tournament is $450 per player, and $1,800 for a foursome. There are also "VIP upgrades" for $1,000 each to those who want to "play and stay." That includes a two-night stay.
Emmanuel Mancuso, the marketing director for the event, told The Post that everyone will be clothed.
"They're going to be clothed the whole time" Mancuso. "At the venue is different."
He added that anyone who signs up to play before July 10, then the player gets to choose their "caddie girl." For those enrolling after Wednesday, then girls will be assigned through an "auction."
There will be a "Meet Your Caddy Girl" event on Friday, and the tournament will tee off right before noon on Saturday.
Mancuso said the caddies will wear a pink miniskirt and a "sexy white polo."
Mancuso told The Post that the club's decision to play their tournament at Trump Doral had nothing to do with politics, but rather the quality of the course.
"They deserve a VIP environment," he said.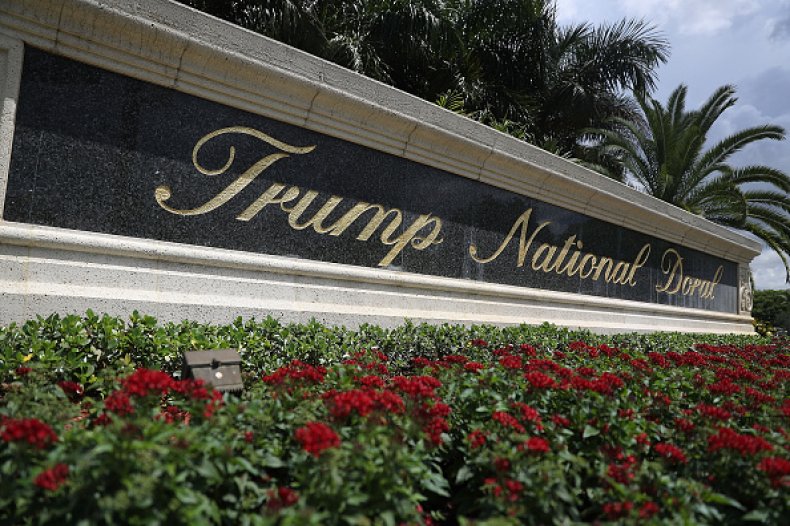 The 800-acre resort that originally opened in the 1960s has four championship golf courses, including the notorious Blue Monster. The sprawling resort also suites, bars and restaurants, spas, wellness centers and meeting space. It typically holds other tournaments and private events throughout the year as well.
After President Trump took the presidency in 2017, he turned over control of the resort to a trust that is overseen by his adult sons. The Doral Resort had been the location of a PGA event since 1961, but the PGA announced in 2016 — when Trump was a candidate for the presidency — that it would move its event to Mexico City beginning in 2017.