Trump More Afraid of Michael Cohen Raid Than Mueller Probe: Report
President Donald Trump's circle is reportedly more concerned about the ongoing case involving his lawyer, Michael Cohen, than it is about the special counsel investigation into his campaign.
On April 9, the FBI raided Cohen's office, home and hotel room and searched a safety deposit box and two cell phones belonging to him. His lawyers are asking that their team be able to review evidence in the case for documents that could fall under attorney-client privilege. They appeared in court on Friday, as did three lawyers for Trump, who at this time is not a party in the case.
Related: Trump Wins Delay in Cohen Hearing
The raid has shaken Trump, who called Cohen on Friday, The New York Times reported. Several people close to the president said Cohen raids pose "a greater and more imminent threat," the Times said.
Trump's lawyers in the Cohen case, Joanna Hendon, Chris Dysard and Reed Keefe, did not respond to questions from Newsweek as they departed the courthouse on Friday.
Prosecutors said the raid on Cohen's office was the result of a "months-long investigation" into Trump's personal lawyer, and that the crimes largely relate to Cohen's "own business dealings." But the raid reportedly unsettled Trump enough that he had a phone call with Cohen on Friday to "check in."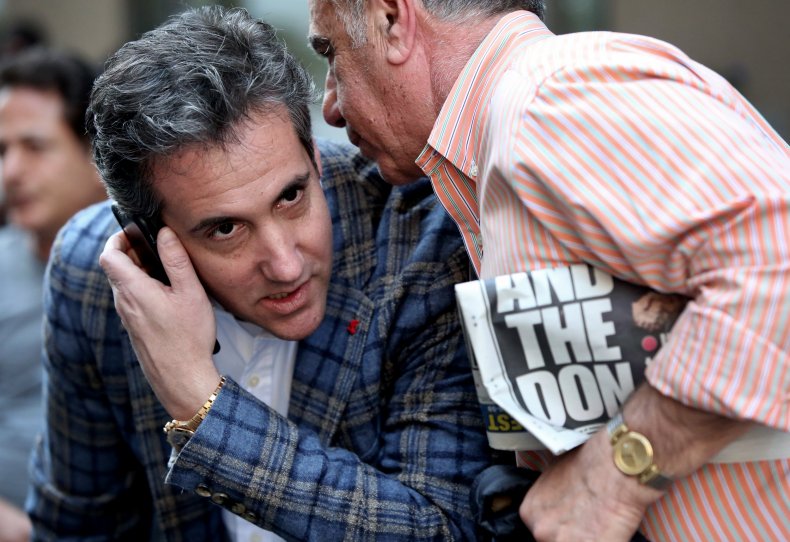 Trump was surprised by and tweeted angrily about the Cohen raid, and disparaged top Department of Justice officials during a press conference and in tweets in response.
The president has maintained that special counsel Robert Mueller's probe is a political witch hunt against his campaign. Mueller's team recently told Trump's lawyers that he is a subject of the investigation, but not a criminal target.
Trump's lawyers have until Sunday night to file a brief explaining why they should be involved in the case. On Monday, the judge will continue to consider Cohen's lawyers' request, which federal prosecutors argued is unjust. The judge requested that Cohen be present in court on Monday.
Also present in the courtroom on Monday was Michael Avenatti, the lawyer for Stormy Daniels, the adult-film actress who received money from Cohen and who has alleged that she had an affair with Trump.