What Happened to Trump's Promised Middle-Class Tax Cut? Treasury Secretary Won't Say if It's a 'Real Thing'
Treasury Secretary Steven Mnuchin wouldn't commit to a tax cut for the middle class that was previously promised by President Donald Trump.
Leading into the 2018 midterm elections Trump touted a promised tax-cut for average Americans, but now it doesn't quite seem like that has a shot of actually happening.
"I'm not going to comment on whether it is a real thing or not a real thing," Mnuchin told Bloomberg in a piece published on Tuesday. "I'm saying for the moment we have other things we're focused on."
Instead, Mnuchin said, he'd focus on making fixes to the 2017 Republican tax law. The tax changes Trump pushed for—which, analysis showed, handed out the biggest breaks to the wealthy and corporations—proved to be widely unpopular.
In the days leading up to midterm elections, Trump claimed the GOP was working on something for the middle class.
"It's going to be a tax reduction of 10 percent for the middle class," Trump told reporters in late October. "Business will not enter into it, and this will be on top of the tax reduction that the middle class has already gotten, and we're putting in a resolution probably this week."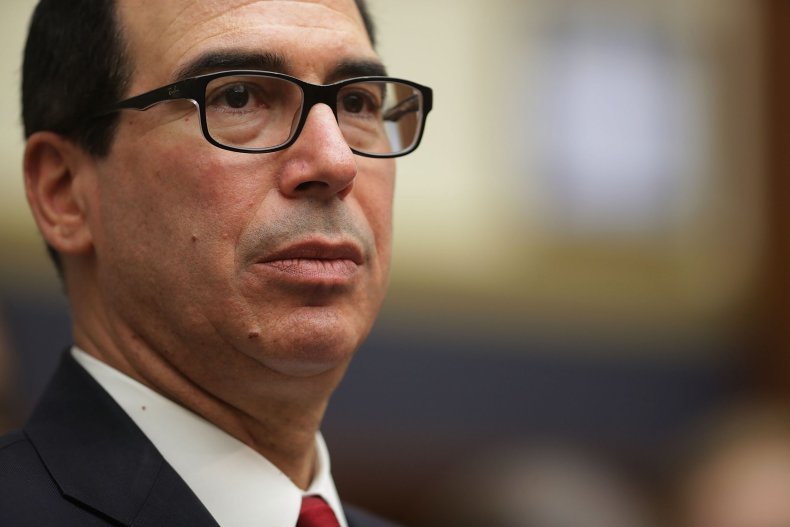 The president claimed at the time that the GOP had handed as much of a tax break as possible into the original tax law, despite rejected proposals that cut into relief for corporations and redirected it to the middle class.
"I didn't think we could get any more than we got. We got the max," Trump said in October. "And now because of the fact that the economy is doing so well, we feel that we can give up some more. I couldn't have gotten that extra 10 percent when we originally passed the plan."
Now, it appears, that plan is on the back-burner. Republicans may also have to go on the defensive with Democrats soon to control the House of Representatives. CNBC reported this week that Democrats are planning to go after the GOP tax law "from several angles."