What Donald Trump's Middle East Peace Plan Means for Israelis and Palestinians
President Donald Trump's much-anticipated Middle East peace plan would give Israel control over long-sought territory and open a potential path for Palestinian statehood in an attempt to end a territorial dispute between the two sides that has spanned eight decades.
The president presented his 80-page "Vision for Peace, Prosperity and a Brighter Future" alongside Israeli Prime Minister Benjamin Netanyahu at the White House Tuesday, revealing a strategy for resolving the Israeli-Palestinian conflict at a time when both Trump and Netanyahu face trouble at home during elections seasons.
The president faces an impeachment trial based on charges of abuse of power and obstruction of Congress, while Netanyahu was formally indicted Tuesday on corruption charges of bribery, fraud and breach of trust just hours before Trump's initiative was rolled out.
The Plan
Trump said his two-part plan would "more than double the Palestinian territory and provide a Palestinian capital in Eastern Jerusalem where America will proudly open an embassy." The capital, however, would have to be established outside of the security barrier marking the overwhelming majority of the city under Israeli occupation. He also promised heavy international economic investment in Palestinian-administered areas.
The plan dramatically shifts the borders of the West Bank and East Jerusalem, territories that were recognized as part of a Palestinian state by the United Nations in 1947. They have been partially occupied by Israel since the Six-Day War that pitted Israel against Arab militaries that support Palestinians three decades later.
The Trump administration framework also allows Israel to administer to apply its laws to Jewish settlements, which have not been officially recognized internationally, in the West Bank and East Jerusalem, along with the Jordan Valley eastern border region.
This demilitarized Palestinian state would have a tunnel that links the West Bank and Gaza Strip, and gain some southwestern desert lands along the Egyptian border as well as access to some port facilities in western Israel and southern Jordan.
"No Palestinians or Israelis will be uprooted from their home," Trump said.
The president said that Israel would work with King Abdullah II of Jordan to maintain the status quo of the administration of Jerusalem's sacred sites. Israel has also agreed to pause settlement construction for five years as a good-faith measure should Palestinians agree to engage in talks, something that so far appeared unlikely in the short term.
Trump's plan also includes hefty investments in cash-strapped territories under Palestinian control. He vowed the plan would create a million new Palestinian jobs, cut poverty in half and double or triple the aspirational state's GDP over the next decade. Three initiatives outlined in the plan promise a robust Palestinian market economy bolstered by education, tourism, infrastructure, healthcare and other sectors.
The policy hinged on the hope that wealthy nations of the Arabian Peninsula will contribute to a prospective $50 billion purse to fuel commerce and construction in the West Bank and Gaza Strip.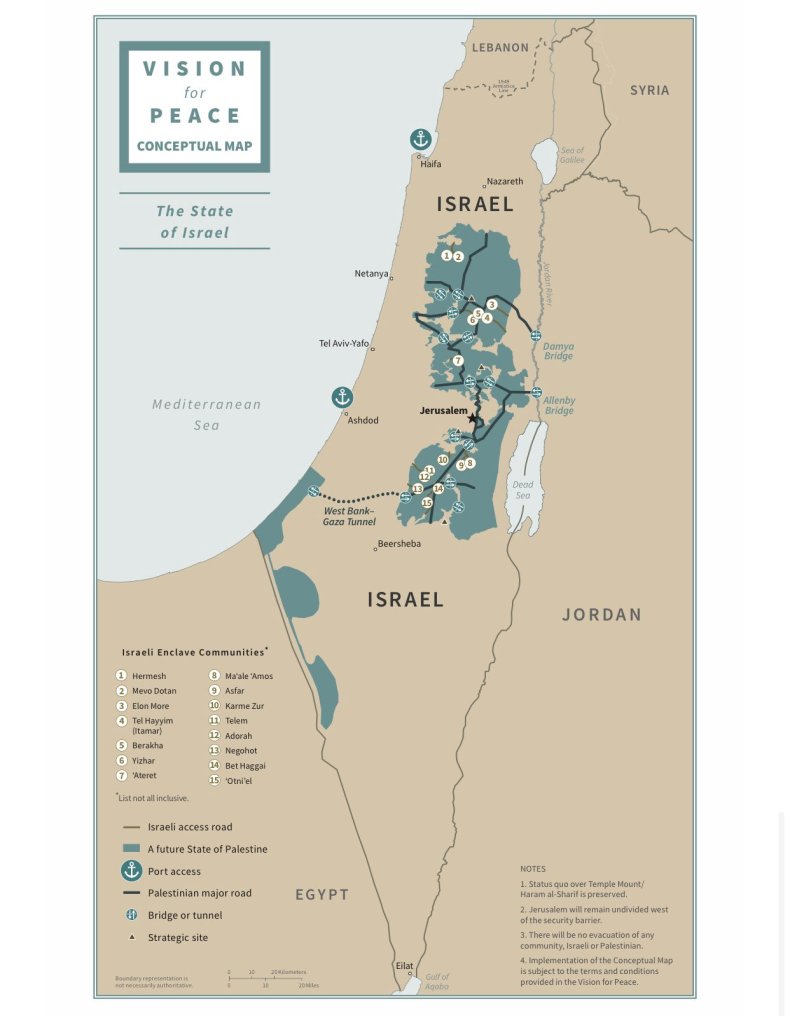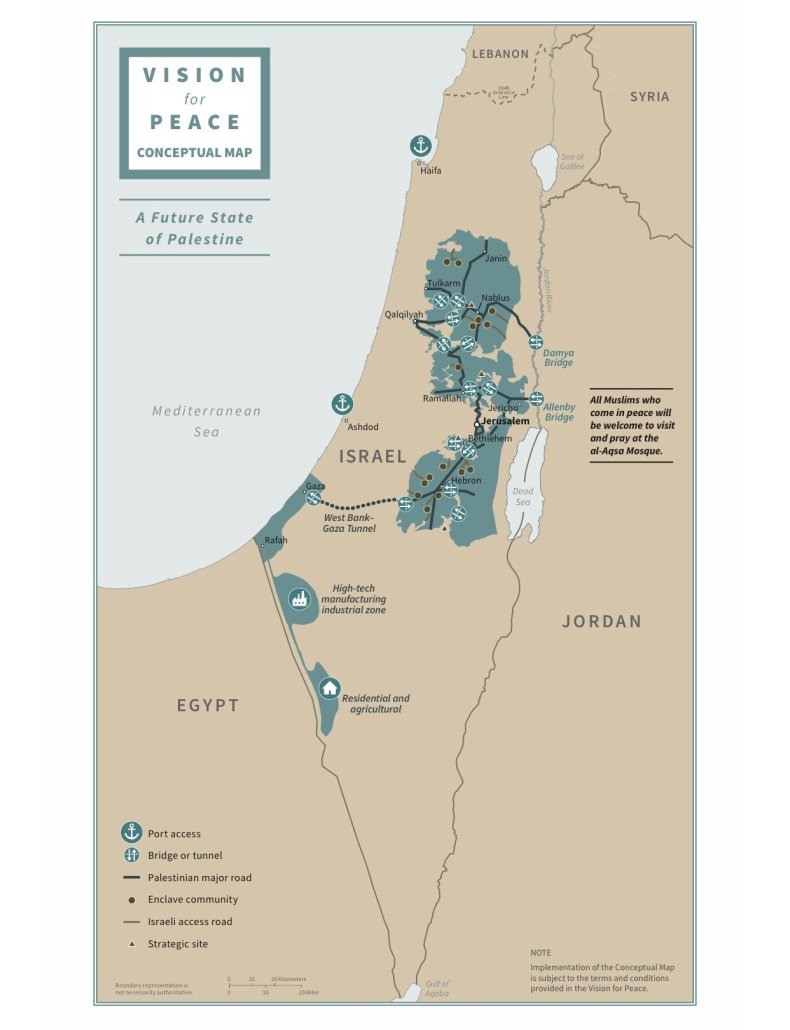 Palestinian reaction
No Palestinian officials attended Tuesday's announcement. Palestinian President Mahmoud Abbas, Prime Minister Mohammad Shtayyeh and lead negotiator Saeb Erekat all preemptively dismissed the plan as too favorable to Israel. They have rejected the Trump administration's role in trying to restart negotiations since the White House recognized Jerusalem as the capital of Israel in December 2017. The move defied a widespread international consensus that considers the holy city as disputed among Israelis and Palestinians.
Abbas spoke Tuesday with Palestinian Sunni Muslim movement Hamas Political Bureau chief Ismail Haniyeh, who called for a show of unity across Palestinian political faultlines to resist the Trump administration's proposal, which would include the disarmament of Hamas and other U.S.-designated Palestinian terrorist organizations.
Protests broke out across Palestinian territories Tuesday in response to Trump's plan. The State Department issued new travel restrictions to government employees and called on U.S. citizens to take precautionary measures.
"United States citizens should avoid areas where crowds have gathered and where there is increased police and/or military presence. We recommend that U.S. citizens take into consideration these restrictions and the additional guidance contained in the Department of State's travel advisory for Israel, the West Bank, and Gaza when making decisions regarding their travel," the advisory said.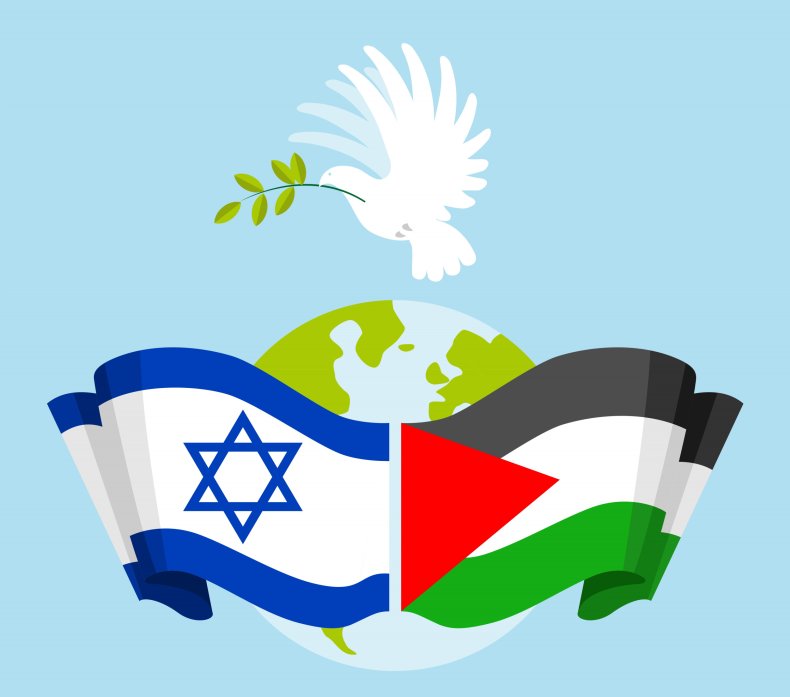 Israeli reaction
Trump help back-to-back meetings Monday with Netanyahu and his upcoming elections rival Benny Gantz to brief them on the roadmap. Both men have endorsed the White House's plan and Netanyahu praised the Trump administration's track record of pro-Israeli foreign policy decisions such as the recognition of Israel's annexation of East Jerusalem and Syria's Golan Heights.
"You have been the greatest friend Israel has ever had in the White House," Netanyahu said of Trump. "Though we've had some great, outstanding friends in these halls, it's not even close."
Past presidents' proposals
U.S. administrations dating back decades have attempted to broker peace in the Arab-Israeli conflict. The United Nations in 1947 created Israeli and Palestinian territories after the departure of the colonial United Kingdom's post-Ottoman Mandate of Palestine, but a series of wars erupted between Arab nations and Israel. In the late 1970s, President Jimmy Carter facilitated agreements between Egypt and Israel that included support for a "self-governing" Palestinian authority in the West Bank and Gaza.
President Bill Clinton fostered Israeli-Palestinian agreements known as the Oslo Accords beginning in 1993 and eventually resulted in the establishment of limited Palestinian self-rule and governance but fell short of a peace agreement. After an effort to resolve residual grievances at Camp David in 2000 ended without success, violence surged amid a new Palestinian uprising and Israeli crackdown.
President George W. Bush was the first president to explicitly call for the establishment of a Palestinian state alongside an Israeli one and tried to accomplish this with the "Roadmap for peace," a strategy jointly drafted alongside the U.N., the European Union and Russia. The plan contained three phases involving a ceasefire, economic recovery for Palestinians and then a final status agreement. Israeli and Palestinian leaders gathered at the 2007 Annapolis summit with the aim of crafting an eventual deal to further the proposal, but no treaty ever materialized and the two sides again entered into conflict.
President Barack Obama brought Israelis and Palestinians back to the table and, although Netanyahu cast potential support for a future Palestinian state for the first time, continued Israeli settlement construction, quarreling over the 1967 war lines. Abbas' attempts to reconcile with Hamas led to yet another breakdown in talks.
Trump sought on Tuesday to set himself apart from his predecessors by arguing his
"In the past, even the most well-intentioned plans were light on factual details and heavy on conceptual frameworks. By contrast, our plan is 80 pages and is the most detailed proposal ever put forward by far," the president said.
What happens next?
While Palestinians have already rejected the offer, Israel was likely to be consumed by election fever for the next six weeks as Netanyahu and challenger Benny Gantz battle out their highly-contested race for the premiership. The Israeli cabinet is also set to vote Sunday on beginning to take over the Jordan Valley and Jewish settlements on Palestinian territory with a de facto green light from the Trump administration to do so.