President Trump Says He Isn't Sure Republicans Can Win 2018 Midterms Because the Candidates Aren't Him
President Trump admitted Thursday that he wasn't sure if his popularity with the Republican base would lead to Congressional wins in the 2018 midterm elections.
Trump discussed attending rallies to support failed Congressional candidates Roy Moore and Rick Saccone where he could "feel the love" in the room but said it was unclear if that love would translate into big midterm wins.
"I don't know if it's transferable, I'm not sure if it is. They all like me, they're all going to vote for me and say I'm going to do great in 2020 but they don't know if it's transferable," he said to a group of college Republicans. "I hope it is because we have to do our agenda in 2018 and win, we need more Republicans."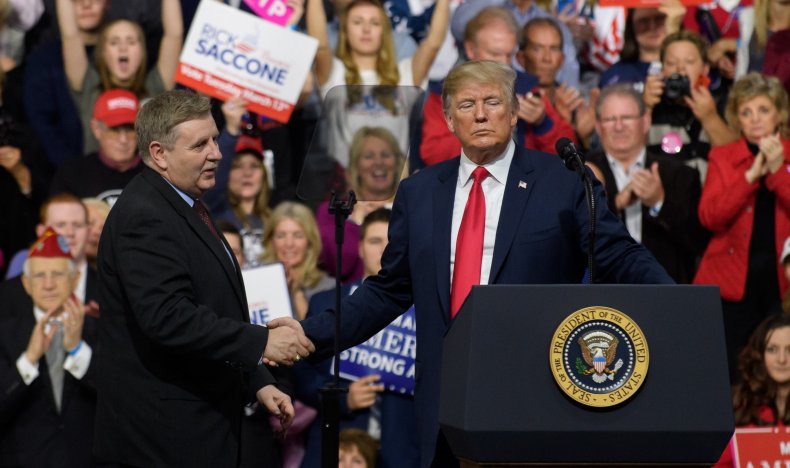 President Trump's approval rating is 84 percent amongst his Republican base, according to a March 21st Quinnipiac University Poll. But the same poll found only 38 percent of Republicans were more motivated than usual to vote in this year's elections. And while the majority of the GOP said they would vote in the Midterms to express their support for Trump, less than a third said they'd be more likely to support a candidate because Trump campaigned on his or her behalf.
Historically, midterms are tough on the party in power, and recent special elections have not been kind to Republicans. Still, "the folks who try to run from the president of either party wind up the ones that get slashed at the ballot box," said Republican strategist Ford O'Connell. "Midterm elections tend to be base affairs."
Trump is not the first prominent Republican figure to hedge the results of the midterm elections. Senate Majority leader Mitch McConnell told The New York Times in February that the GOP would likely lose Congressional seats. "The odds are that we will lose seats in the House and the Senate," McConnell said. "History tells you that, the fired-up nature of the political left tells you that. We go into this clear-eyed that this is going to be quite a challenging election."
House Speaker Paul Ryan reportedly warned a group of Senate and House Republicans in January that the party in power usually loses two dozen seats at a GOP retreat in West Virginia.
Vice President Mike Pence, however, has taken a far more optimistic tone, stating that he believed Republicans will "make history again," in the midterm elections. "The truth of the matter is we made history in 2016, and we're going to make history again in 2018, when we reelect Republican majorities in the House and in the Senate," he said during the retreat.
President Trump is planning to ramp up his midterm campaign efforts, and will likely tour the country on behalf of candidates this Fall.
Republicans currently hold a slight majority in both the House and the Senate.