Trump Might Still Target GOP Incumbents' Primaries, Despite Working on Endorsements with Kevin McCarthy
House Minority Leader Kevin McCarthy told reporters that former President Donald Trump has not promised to refrain from challenging sitting Republican members of Congress during future election cycles.
A few hours after McCarthy addressed the issue during a Friday press conference, Trump announced an endorsement for Max Miller, a former White House aide who plans to challenge GOP House incumbent Anthony Gonzalez of Ohio.
Earlier Friday, McCarthy told reporters he and Trump are collaborating on endorsements to secure seats for the Republican Party in Congress during future elections. He was asked specifically if he has received confirmation that the president would not throw his support behind candidates challenging GOP incumbents.
"I don't have a commitment of that," McCarthy said. "I've worked closely with the president on working on endorsements to win seats in the House. We did quite well," he said in reference to the number of seats Republicans retained in the House during the 2020 election. Though Democrats currently have majorities in the House and Senate, McCarthy pointed to how narrow those majorities are.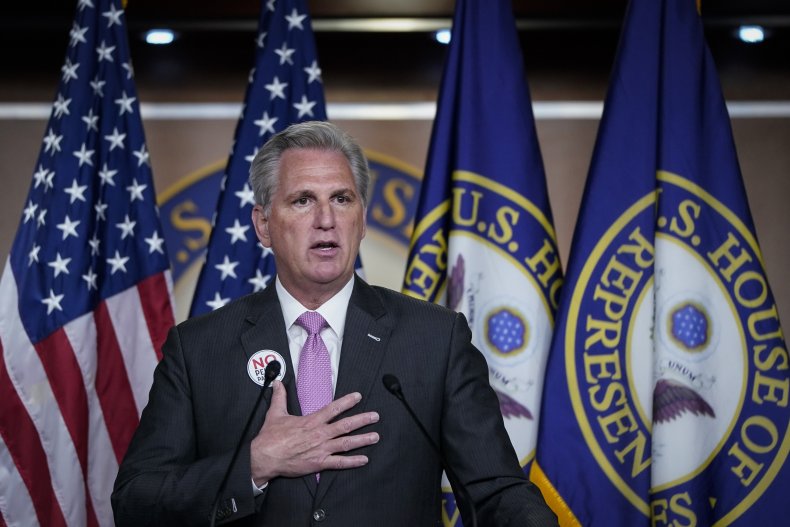 "What I have found is we work very well together," McCarthy said of his collaborations with Trump. "I'm focused more on what the American people need. So really my focus right now is not on politics—my focus is getting people back to work, back to school and back to health."
Before leaving office last month, Trump encouraged widely discredited conspiracy theories about election fraud in the wake of the 2020 presidential election. Some of his supporters officially disputed the results of the election as both chambers of Congress gathered in Washington, D.C. on January 6 to certify the Electoral College results, a process that was disrupted when rioters breached the Capitol Building and sent members of Congress into a temporary lockdown. The Electoral College votes were ultimately certified, delivering the final confirmation that Democrat Joe Biden would be the 46th U.S. president.
Though some Republicans joined Democratic lawmakers in placing the blame of the violent Capitol riot on Trump, the former president remains popular with his conservative base and among many elected officials in Congress. Trump is believed to be considering another presidential run in 2024 and is likely to hold sway over the 2022 midterm elections.
On Thursday, Trump announced his support for Kansas Sen. Jerry Moran, one of the Republicans up for re-election in 2022 who voted to acquit Trump during an impeachment trial in the Senate earlier this month. In contrast, Trump's endorsement of Miller comes less than two months after Gonzalez voted to impeach Trump on an "incitement of insurrection" charge in connection with the Capitol riot.
"Max Miller is a wonderful person who did a great job at the White House and will be a fantastic Congressman. He is a Marine Veteran, a son of Ohio, and a true PATRIOT," Trump wrote in his endorsement. "Current Rep. Anthony Gonzalez should not be representing the people of the 16th district because he does not represent their interest or their heart. Max Miller has my Complete and Total Endorsement!"
Days after his acquittal in the Senate, Trump released a statement in which he mentioned that he planned to back some candidates who choose to challenge incumbent Republicans in future primary elections.
"Where necessary and appropriate, I will back primary rivals who espouse Making America Great Again and our policy of America First," Trump said.
Newsweek reached out to the former president's communications team for comment but did not receive a response in time for publication.