Trump Brands Migrant Caravan a 'Disgrace,' Orders Homeland Security Officials to Turn Away Immigrants at Border
President Donald Trump ordered Department of Homeland Security officials to turn away the roughly 50 immigrants who managed to reach the southern border after traveling in a caravan of nearly 1,500 people.
In a series of Monday morning tweets, the president said he'd told Secretary of Homeland Security Kirstjen Nielsen to block the migrants from entry. "It is a disgrace," he wrote. "We are the only Country in the World so naive! WALL.
"Mexico, whose laws on immigration are very tough, must stop people from going through Mexico and into the U.S.," Trump continued. "We may make this a condition of the new NAFTA Agreement. Our Country cannot accept what is happening! Also, we must get Wall funding fast."
Mexican officials made efforts to break up the caravan earlier this month, stopping the group of migrants—who were traveling together to mitigate some of the dangers typically associated with a journey to the United States-Mexico border—in Oaxaca. The Mexican Foreign Ministry announced that officials had repatriated hundreds of Central Americans, while they allowed others to apply for Mexican asylum.
A portion of the remaining migrants made it to the border last week only to be "illegally turned away," according to a spokesperson from Pueblo Sin Fronteras, the immigrant rights group behind the caravan.
"There have already been cases of people being illegally turned away by border officials when trying to request asylum at the U.S. border," Alex Mensing, the group's spokesperson, told Newsweek last Friday. Others had been "processed" by DHS officials, Mensing said, and the organization planned to keep a close eye on "any abuses" migrants may experience in custody.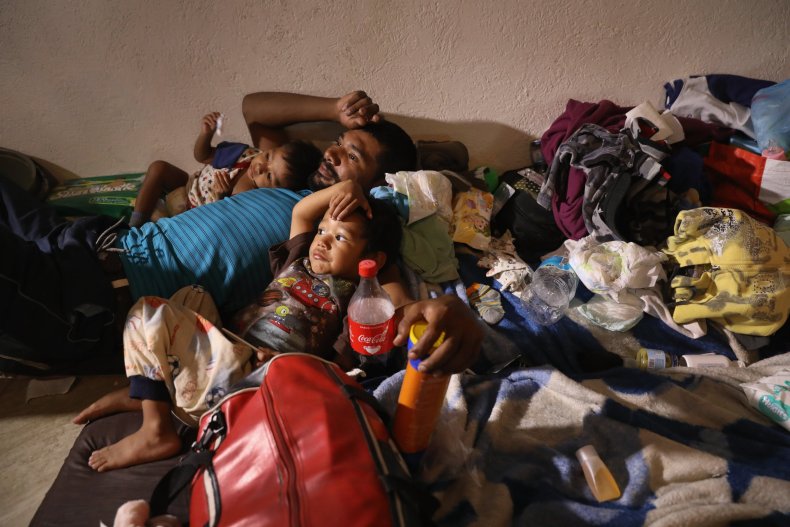 Trump has continued to blame Mexican officials and the lack of adequate border security—that is, the lack of the "big, beautiful wall" he's been pushing for since his campaign—for the caravan, which inspired him to sign an order to deploy National Guard troops to secure the border.
Immigration experts contended that the reason for the caravan was much more complicated, adding that Trump's rhetoric on the issue ignored the very reason most migrants flee to the U.S. to begin with.
"The biggest flaw in Trump's thinking is that there is nothing illegal or improper about people in fear for their lives asking for protection," Adam Isacson, the director for defense oversight at the Washington Office on Latin America, told Newsweek earlier this month.
"But Trump sees gang members, criminals, people trying to take jobs illegally—to be frank, he sees nonwhite people," Isacson continued. "He's not seeing people fleeing violence."