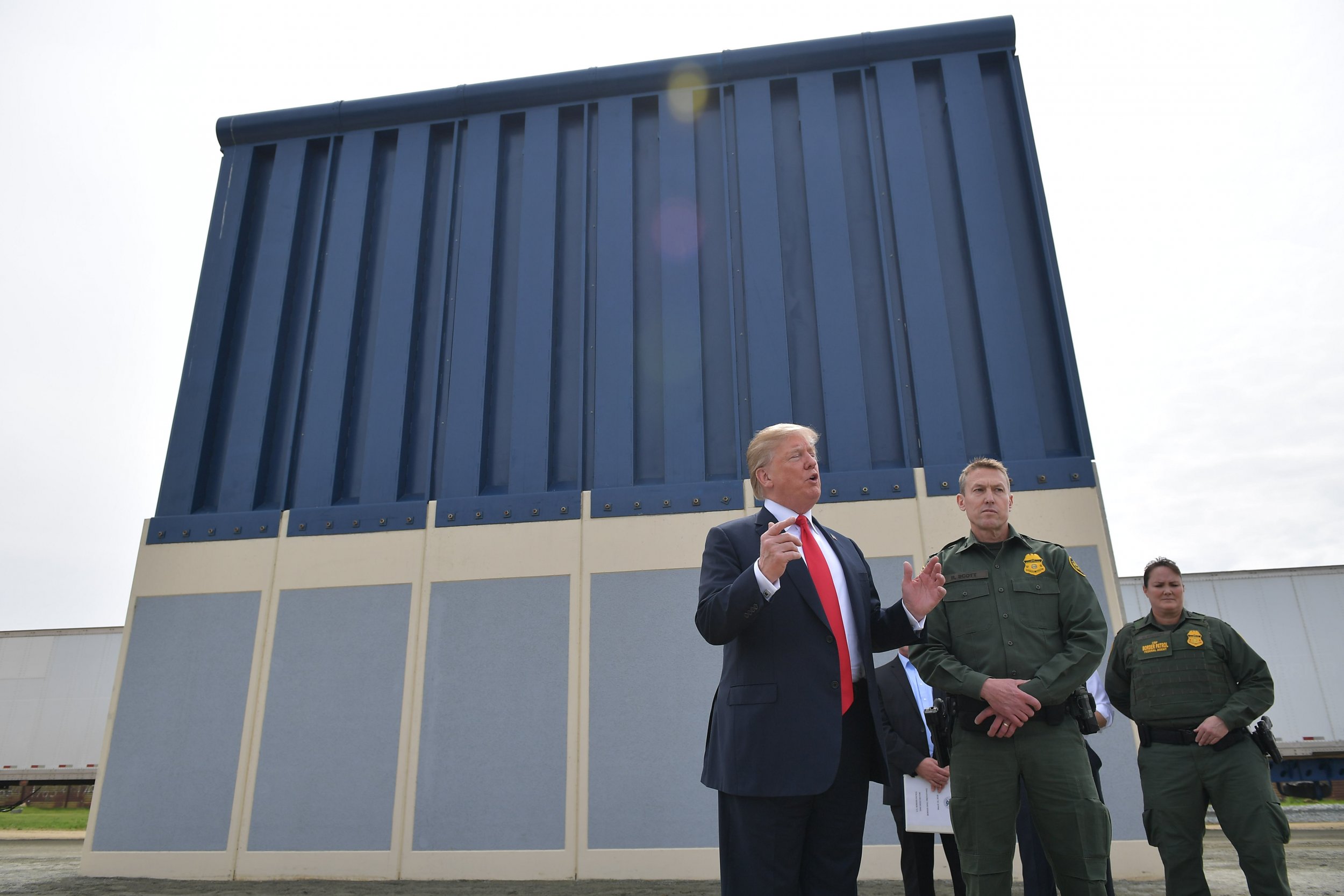 Speaking to reporters on Air Force One Friday, President Donald Trump said if Congress won't fund Homeland Security to build the U.S.-Mexico border wall, he would do so using military funding.
The president also would not rule out the possibility of a partial government shutdown, despite acknowledging it could hurt Republicans in the midterm elections.
"We have two options: we have military and we have Homeland Security," Trump said. "I'd rather get it through politically, I'd rather get it through Congress. If we don't, I'm looking at that option very seriously."
He mentioned the Army Corp of Engineers as a possibility for building the wall, as he's done in the past.
Trump was also asked if he would support a government shutdown to try and force Congress, specifically Democrats, to appropriate more money for the wall. The president said he would likely do it, but the move jeopardizes vulnerable House Republicans at risk of losing in November.
"If it were up – I don't want to say 'up to me,' because it is up to me – I would do it because I think it's a great political issue," Trump said. "[Republicans] have races, they're doing well, they're up. And you know, the way they look at it: might be good, might be bad."
Trump could refuse to sign the budget when it's due September 30, effectively forcing Congress to pony up the money or face a government shutdown just over a month out from the midterms.
The president's campaign claim that Mexico would pay for the wall seems to have all but disappeared from Trump's new strategy. Congress has only appropriated $1.6 billion, a fraction of the $25 billion Trump has requested in the past. The Washington Post reported Trump is hoping to negotiate $5 billion more in funding by the end of the month.
Despite this, Trump continues to claim he's received more than $3 billion. He made the claim Thursday night at a rally in Montana.
"We've spent $3.2 billion on the wall. We've got to get the rest of the funding," Trump said Thursday night. "We've done a lot of work on the wall. A lot of people don't understand that."
But the omnibus spending bill passed in late March provided $1.6 billion in funding. The money was primarily for new or secondary fencing along the border, something the president has made very clear is different from his wall.
Eight prototypes of the wall have been placed near the border. The administration has only begun construction on very small sections of border wall, including 14 miles in San Diego and 20 miles in Santa Teresa, New Mexico. Money appropriated from Congress last year is being used, according to Homeland Security as reported by The Post.