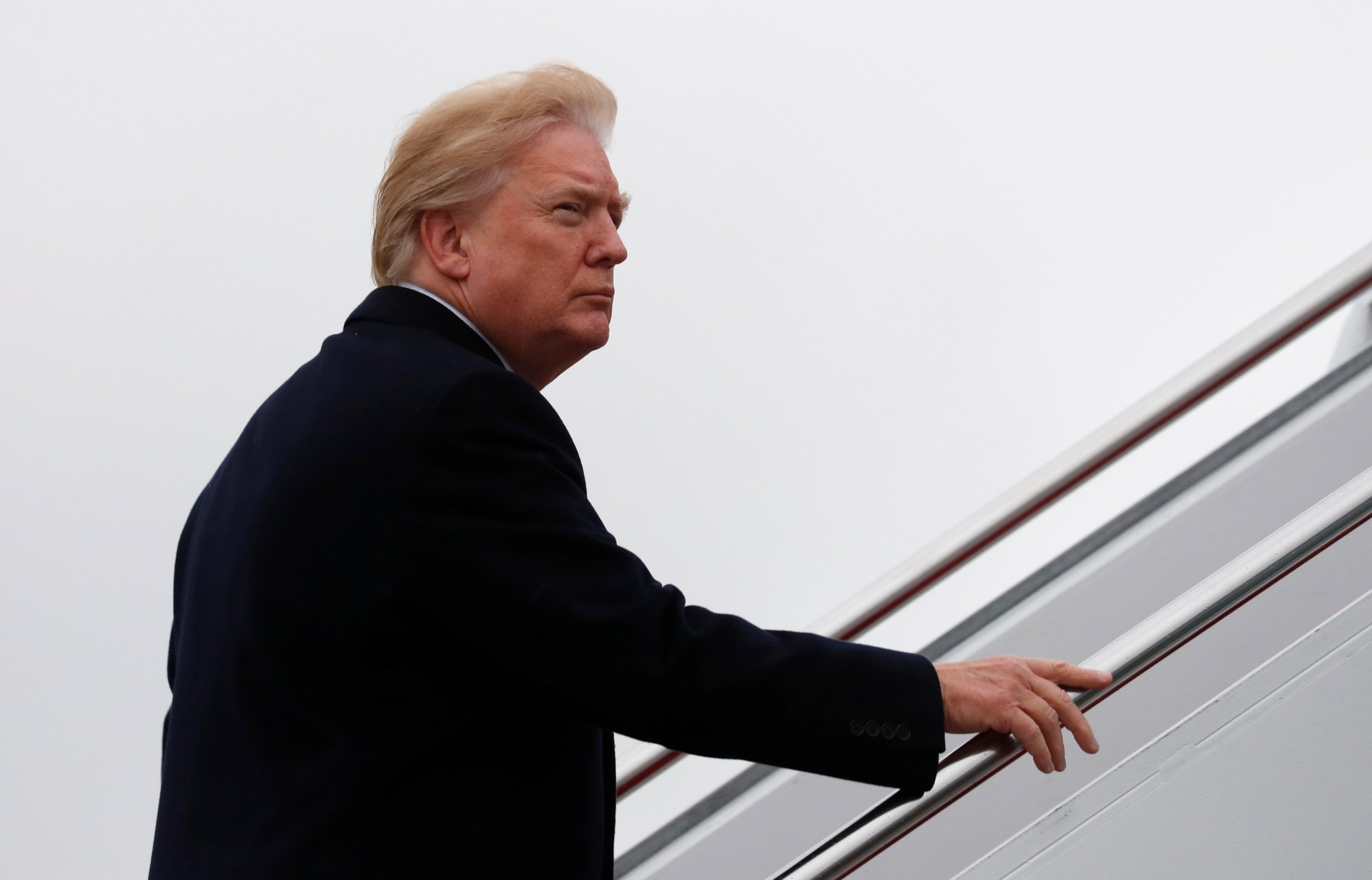 Let's go to the tape. Again and again.
President Donald Trump on Sunday misquoted himself in a tweet complaining about how he had supposedly been misquoted in a scrutinized Wall Street Journal interview. The Journal soon released audio of the interview to prove the president said what it reported, and the White House followed up minutes later with a seemingly identical recording trying to prove the Journal wrong.
Trump on Twitter took issue with the most notorious line from his Thursday interview: When he said "I probably have a very good relationship with Kim Jong Un," the North Korean dictator who has been threatening for months to launch a nuclear attack on the United States.
"I have relationships with people. I think you people are surprised," Trump added, declining to say whether he had ever spoken directly with Kim.
Trump's cryptic comment stood out not only because of the shared hostility between him and Kim, but also because the U.S. has no diplomatic ties with North Korea, and it would be unprecedented for an American president to have a "very good relationship" with the leader of the world's most hermetic nation.
But on Sunday, after days of speculation over his remarks, Trump claimed the whole thing was a mistake.
"The Wall Street Journal stated falsely that I said to them 'I have a good relationship with Kim Jong Un' (of N. Korea). Obviously I didn't say that. I said 'I'd have a good relationship with Kim Jong Un,' a big difference. Fortunately we now record conversations with reporters... ...and they knew exactly what I said and meant. They just wanted a story. FAKE NEWS!" he wrote over two tweets.
Within minutes, the Journal released audio from the interview that seemed to clearly show Trump's comment had been reported right the first time. The recording backed up a transcript already released by the Journal that included the quote Trump now disputes.
The Journal said in a statement that it "stands by what it reported."
But that wasn't enough for the White House, which responded minutes later with its own recording of the conversation. The White House clip sounded identical to the Journal audio, but it had a more muffled sound quality, making it harder to make out Trump's exact words.
On Saturday, White House Press Secretary Sarah Huckabee Sanders tweeted a "fake news" alert accusing the Journal of botching Trump's Kim comment.
Trump's battles with media organizations are routine for him, but the Sunday spat showed him facing off against a publication that he has mostly regarded favorably. The right-leaning newspaper has published many editorials supporting Trump's controversial stances, and Trump has thanked the Journal on Twitter for "very nice" coverage and often shared its stories. (But he has also, in nearly equal measure, attacked the paper as "ever dwindling," "dying" and "phony," and he has previously disputed some of its reporting.)
The Journal jumble came two days after the paper broke the story of Trump's lawyer arranging to pay porn star Stephanie Clifford (also know as Stormy Daniels) $130,000 in the final month of the 2016 campaign to keep quiet about an alleged consensual sexual encounter with Trump in 2006, one year after he had married First Lady Melania Trump.