Trump Mocked Obama for Holding Hanukkah Celebration Early—But He Did Too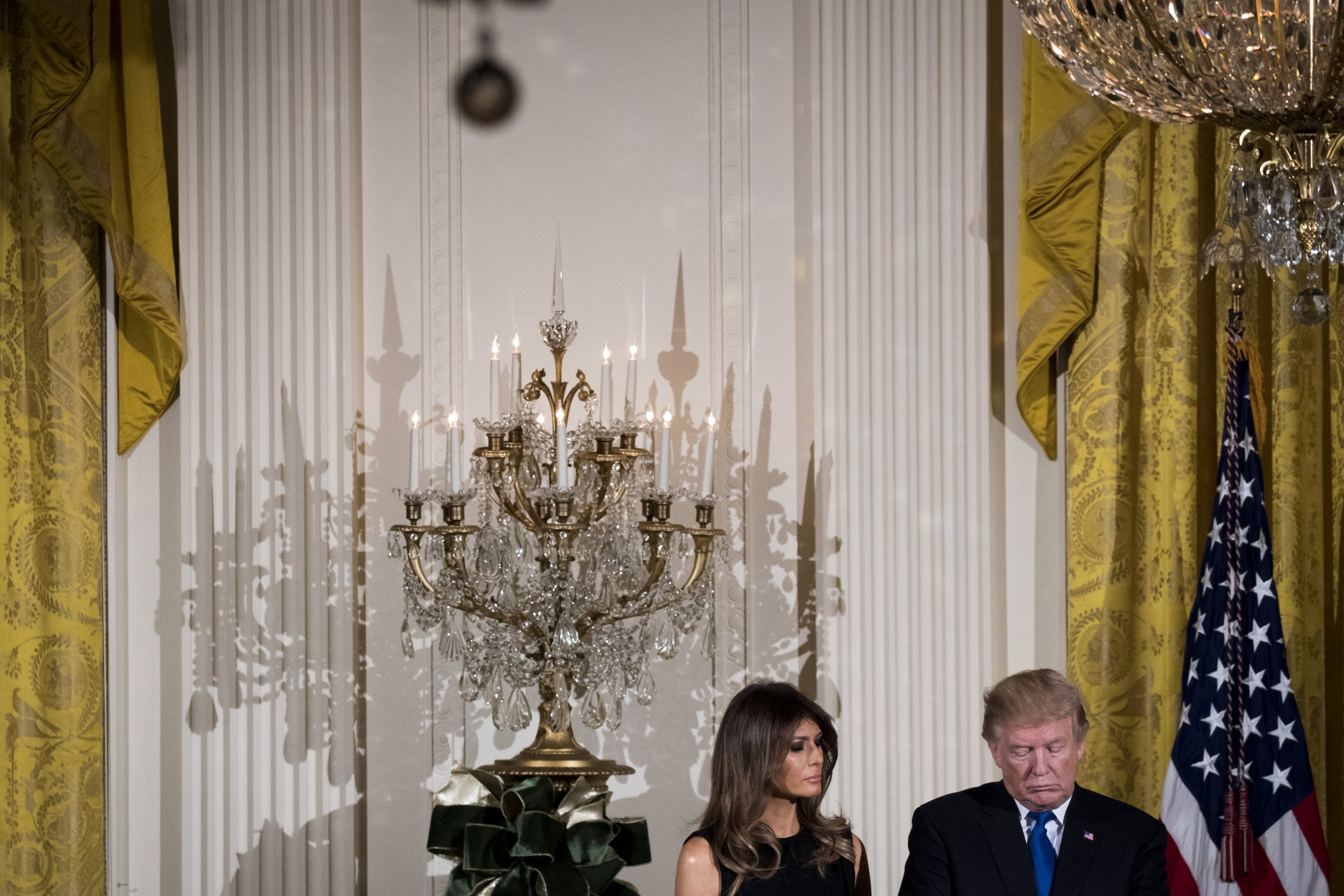 President Donald Trump held the White House Hanukkah celebration five days before the beginning of the Jewish festival of lights, ahead of his trip to his Mar-a-Lago golf resort in Florida this weekend.
In 2011, Trump criticized then-President Barack Obama for holding the celebration two weeks early, suggesting it was to avoid conflicting with his family's Christmas vacation to his birth state of Hawaii.
"Why was the Hanukah [sic] celebration held in the White House two weeks early? @BarackObama wants to vacation in Hawaii in late December. Sad," Trump complained on Twitter on December 9, 2011.
This year, Hanukkah begins Tuesday, December 12. President Trump's schedule for that day is not yet known. Trump has spent Christmas in Florida at his club for the past 20 years and celebrated the holiday there in December 2016 after winning the election.
Trump's early celebration of the Jewish holiday drew attention online to his 2011 tweets needling Obama.
Past presidents celebrated the Jewish festival through candle-lighting ceremonies, but George W. Bush was the first to introduce a party and lighting the menorah at an event inside the White House. He lit the candle for the second day of the festival on December 10, 2001.
Trump travels to Mar-a-Lago on Friday to start his weekend getaway that will include trips to Pensacola and Mississippi. Trump will hold a rally in Pensacola, Florida, on Friday, just over the border from Alabama where a special election is taking place on December 12. The president is backing the controversial Republican Senate contender Roy Moore in the election.
Read more: When does Hanukkah 2017 start and end? Dates and facts about the Jewish holiday
On Saturday morning, Trump will travel to open the new Mississippi Civil Rights Museum and Museum of Mississippi History. Air traffic advisories indicate Trump will spend the rest of the weekend at Mar-a-Lago and leave Sunday.
During his Hanukkah celebration at the White House on Thursday evening, Trump said that it is "all about Jerusalem" and his decision Wednesday to recognize the city claimed as a holy site by Jews, Muslims and Christians, and now recognized by the U.S. as the capital of Israel.
"Right now, I'm thinking about what's going on and the love that's all over Israel and all about Jerusalem," Trump said in the White House East Room, flanked by his daughter Ivanka, who converted to Judaism when she married her husband, senior White House adviser Jared Kushner.
American allies, including the European Union, Germany, Britain and France, plus the Pope and Arab states, have condemned Trump's decision. The announcement that the U.S. will move its embassy from Tel Aviv to Jerusalem has heightened tensions in the Middle East and, allies argue, puts an end to hopes of a lasting peace, because Jerusalem is also claimed by Palestinians for any future state.
"No force has ever crushed your spirit, and no evil has ever extinguished your faith. And that is why the Jewish people shine as a light to all nations," Trump said as he opened Hanukkah celebrations at the White House. "We wish you a very happy Hanukkah, and I think this one will go down as especially special."