Trump Mocks Feinstein Over Ford Letter Leak: That Was Really Bad Body Language
President Donald Trump mocked Senator Dianne Feinstein at a rally on Saturday over her insistence she did not leak the letter from Christine Blasey Ford accusing Supreme Court nominee Brett Kavanaugh of sexual assault.
Speaking at a rally in West Virginia, the president did not directly address the testimony given by Ford before the Senate Judiciary Committee, instead commenting that what was going on in the Senate showed that people were "mean and nasty and untruthful."
"The one thing that could happen and the beautiful thing that is going on over the last few days in the Senate, when you see the anger, when you see people that are angry and mean and nasty and untruthful," he said.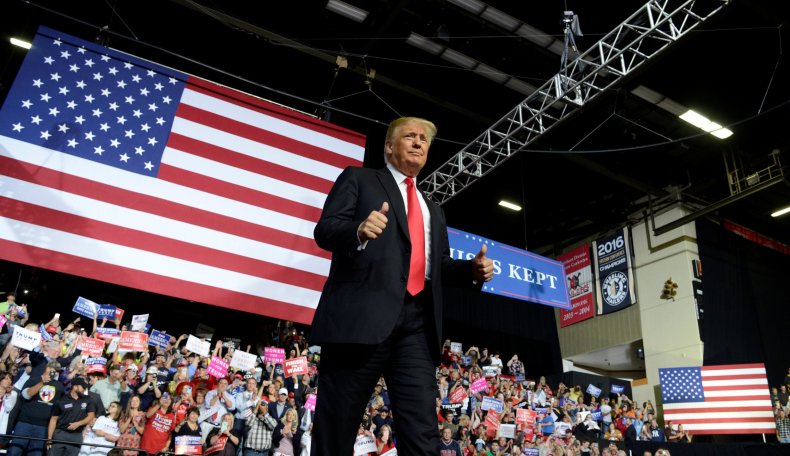 "When you look at releases and leaks and then they say 'oh, I didn't do it. I didn't do it.' Remember? Dianne Feinstein, did you leak? Remember her answer… did you leak the document—'oh, oh, what? No. Oh, no. I didn't leak. Well, wait one minute. Did we leak…No, we didn't leak," he added, in an impression of the senator.
Feinstein was sent the letter detailing the allegations against Kavanaugh by Ford back in July, and it was leaked earlier in September – but Feinstein denied that the leak came from her office.
"I did not hide Dr. Ford's allegations, I did not leak her story," Feinstein told the committee, The Hill reported. " She asked me to hold it confidential and I kept it confidential as she asked."
But her denial did not appear to sit well with the president, who commented during the Saturday night rally: "I'll tell you what, that was really bad body language. Maybe she didn't, but that's the worst body language I've ever seen."
Continuing his defense of the Supreme Court nominee, who has been accused of sexual misconduct by three women, the president suggested that the Democrats were using the allegations for their own ends.
"They are determined to take back power by any means necessary. You see the meanness, the nastiness, they don't care who they hurt, who they have to run over to get power and control," Mediaite reported the president saying.