Trump Mocks Idea of John Kerry 2020 Bid: I Should Only Be So Lucky
President Donald Trump said the field of likely Democratic candidates for the 2020 presidential race "looks really good—for me," adding he would count himself particularly lucky if former Secretary of State John Kerry was to snatch the nomination.
Trump made the comment on Monday after Kerry refused to rule out a 2020 run during an interview with CBS's Face the Nation on Sunday.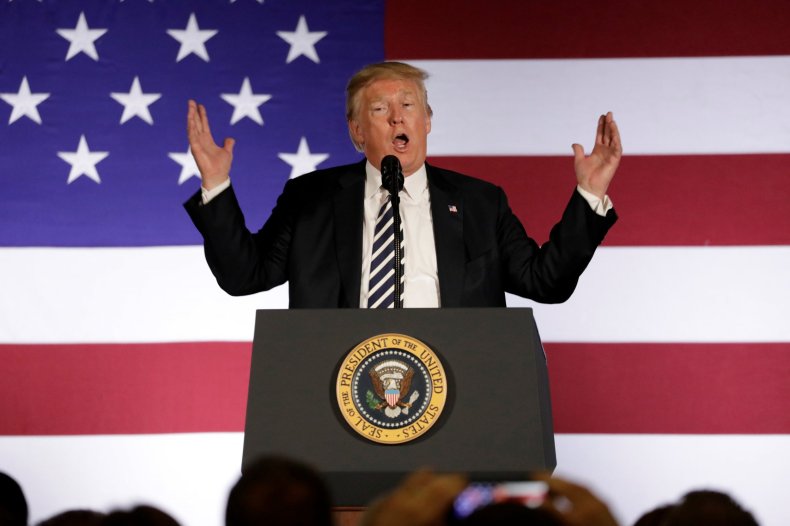 "I see that John Kerry, the father of the now terminated Iran deal, is thinking of running for President. I should only be so lucky—although the field that is currently assembling looks really good—FOR ME!" Trump tweeted.
The president has previously laughed off the idea of various challengers in 2020, saying in an interview with Piers Morgan in The Daily Mail: "I know them all, and I don't see anybody [who could win]. They don't have the right candidate."
His comments about Kerry came as the former secretary of state refused to definitely state his future plans—not commenting on whether or not he would be taking a crack at the race.
"I'm really not thinking about it. Talking about 2020 right now is a total distraction and waste of time," Kerry told CBS.
"What we need to do is focus on 2018. We need to win back the confidence of the country to move in a better direction and to do it in sensible ways," he said. "We are in a moment of crisis for our country. The world is in a moment of crisis."
Although he didn't comment specifically on whether or not he would consider running in 2020, Kerry said that he would "continue to fight" in areas where he has previously been active—including on issues such as the Iran nuclear deal, which President Trump pulled the U.S. out of.
Regarding his work to try to save the Iran nuclear deal, and specifically Trump's accusation that he had attempted to undermine him, Kerry said: "I was trying to have the policy of the United States of America, which was part of the agreement, to continue and common sense to continue. I didn't negotiate. I spoke out, and I will always exercise my right to speak out."