Trump Told Models in Dressing Gowns 'OK Now Ladies, Drop 'Em' in Front of First Wife Ivana, New Book Claims
A new book claims that President Donald Trump once told a group of models wearing dressing robes to "drop 'em" in front of his first wife Ivana.
The incident allegedly took place in the early 1980s backstage at a fashion show in New York, according to the book All The President's Women: Donald Trump and the Making of a Predator, an extract of which was published by The Guardian on Saturday.
The authors, Barry Levine and Monique El-Faizy, say their account of the president is based on conversations with more than 100 interviewees, several of whom reported inappropriate behavior.
"Since his campaign, Trump has already faced allegations from nearly two dozen women," an edited extract from the book published in The Guardian reads. "Our book reveals another 43 allegations, bringing the total to 67 accusations of inappropriate behavior, including 26 instances of unwanted sexual contact."
"In short, far from being occasional or accidental, his alleged misconduct with women was regular and widespread," the authors write. "We found that Trump repeatedly and systematically engaged in aggressive sexual pursuit of women over many decades and that his alleged behaviour followed discernible patterns. One of those was a predilection for young models."
The story of the alleged backstage incident in New York was told to the authors by former model NaKina Carr who was working a runway show for Dominican-American fashion designer Oscar de la Renta in the early '80s. Carr said she was backstage in the models' dressing room when somebody shouted, "Put your robes on, here he comes!"
Carr, a Texas native who was 21 years old at the time and new to New York, said she had "no idea" what was going on, recounting that all the models promptly put on their dressing robes.
According to the former model's story, Carr asked another woman what was happening and this person told her in reference to Trump: "He's the money man. He can do whatever he wants... Unless you're a gold digger, you avoid him at all costs."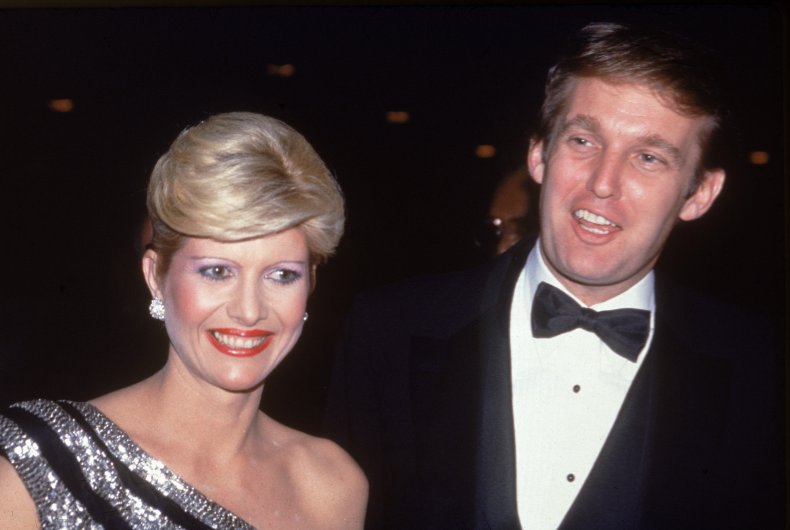 Carr claims that Trump then walked in "as if he owned the place" with his wife Ivana—who was pregnant at the time—following behind him.
"He threw his arms wide open and said: 'OK now ladies, drop 'em,'" Carr is quoted as saying in the book. "The one thing I'll always remember is the dejected look on Ivana's face in the dressing room. I thought how horrible, that he would treat her in this way."
The former model said that she hid behind a pillar, angry at Trump's crude remark, noting that the other girls appeared to be afraid of him "like they knew he meant it and it wasn't a joke."
Newsweek has contacted the White House for comment regarding the claims made in the book.