Trump More Popular Than McConnell As Senate Leader Urges GOP to Move Past 2020 Election
Senate Minority Leader Mitch McConnell may want to move past former President Donald Trump but polls indicate overcoming the former president's base will be a tall order for the GOP Senate leader.
McConnell sees Trump's constant spotlight on the alleged voter fraud that occurred in the 2020 election as a detriment to Republican efforts to retake control of Congress. While McConnell wants 2022 candidates to be focusing on President Joe Biden, Trump remains the leader of the GOP despite holding no official title and polls indicate that he still commands strong support among members of the party.
A YouGov/Economist poll from October 16 to October 19 found Trump had significantly more support than McConnell. About 81 percent of Republicans had at least a "somewhat" favorable view of Trump, more than double the 37 percent McConnell received.
Independents also had a better view of Trump than McConnell at 40 percent to 15 percent, according to the poll. The only political demographic McConnell bested Trump on was Democrats and that was with only a 12 percent favorability rating.
Once a staunch ally to the former president, McConnell's been on the receiving end of Trump's wrath since the Capitol riot. He put the responsibility on the former president for the January 6 insurrection and Trump's been lobbing insults at him ever since. He's criticized McConnell's appearance, his wife and his governing style for compromising with Democrats too often and giving away Republican leverage.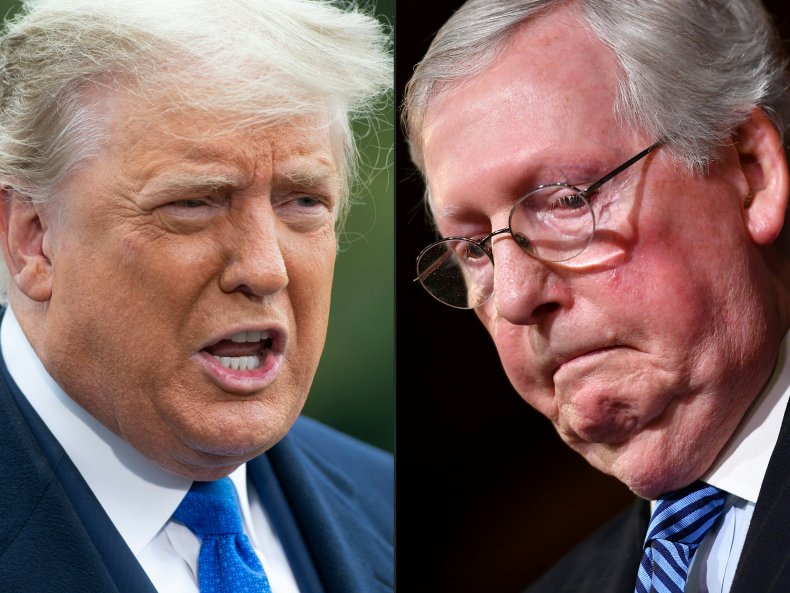 Although the former president's sights are currently set on the 2022 midterms, Trump has even floated the idea of backing a primary challenger to McConnell, who isn't up for re-election until 2026. The former president has urged officials to "solve" the issues of the 2020 election before the midterms because if they don't, Trump predicted Republicans wouldn't vote in the 2022 and 2024 elections because they'd be discouraged their vote wouldn't count.
Speaking with CNN's Manu Raju on Tuesday, McConnell said Republicans need to be "thinking about the future and not the past."
"I think the American people are focusing on this administration, what it's doing to the country, and it's my hope the '22 election will be a referendum on the performance of the current administration, not a rehash of suggestions about what may have happened in 2020."
The YouGov/Economist poll findings were in line with other recent polls. A Morning Consult survey taken around the same time found Trump was twice as popular as McConnell with registered voters, including 86 percent of Republicans and 37 percent of Independents. Once again, McConnell was more popular with Democrats, although only 12 percent had a favorable view of him.
The odds are in Republicans' favor to take back Congress, as the president's party often loses seats in the midterm election. However, some Republicans are worried that Trump's continued litigation of the 2020 election will hurt Republicans' chances at flipping the necessary seats. While he's known to mobilize voters to go to the polls, some worry that he's sowing discouragement among voters by continuing to cast doubt on the integrity of the 2020 election.
Even if they'd wish Trump would stop focusing on the 2020 election, Republicans largely back Trump as being a major player in the party and an important part of their ability to win elections.