Trump Is the 'Most Gifted Politician' of Our Time, Says Stephen Miller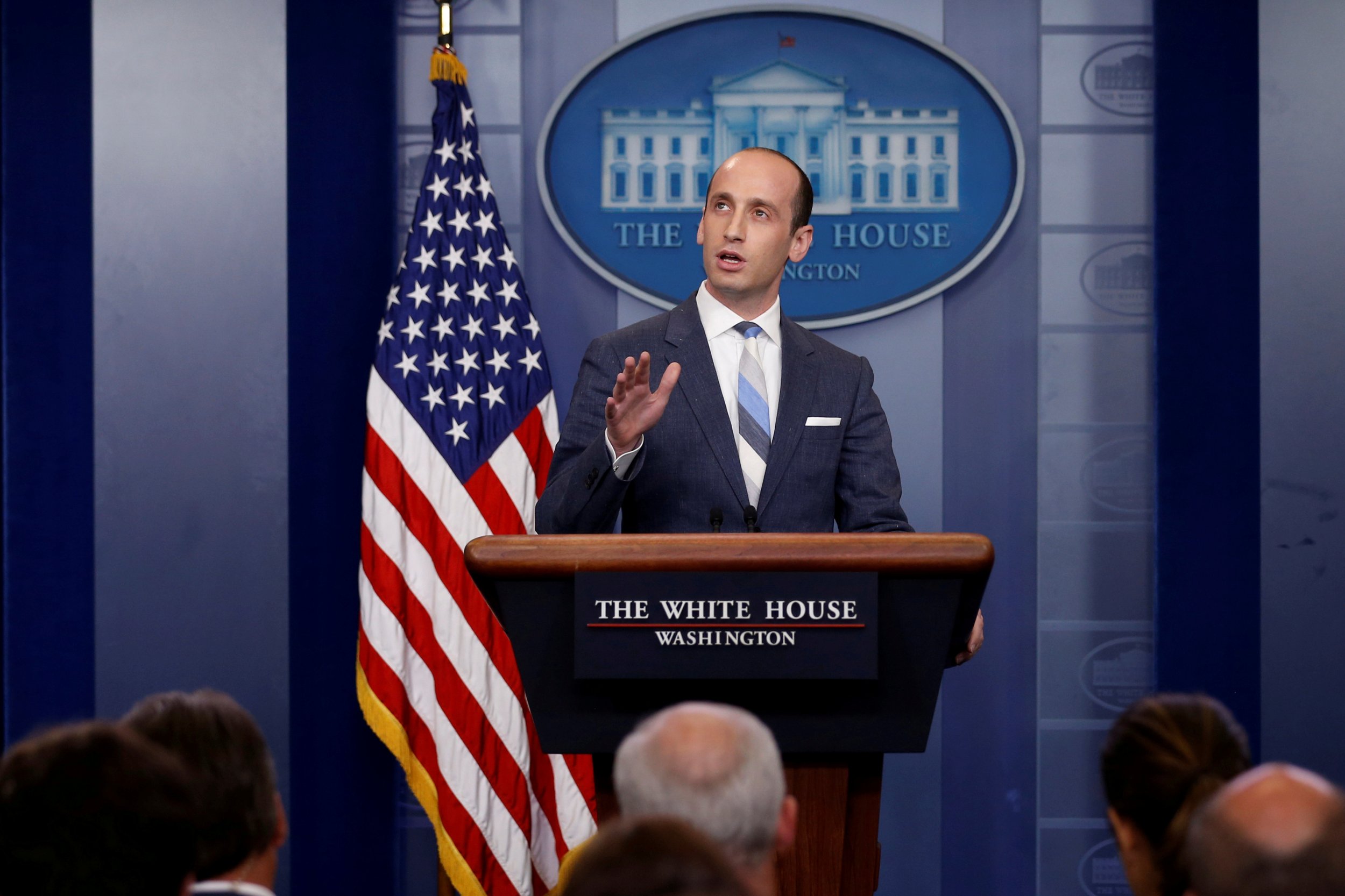 Despite President Donald Trump's off-track interviews, meandering speeches, low approval rating, and stalled legislative agenda, he is the most gifted politician of our time, said senior White House policy adviser Stephen Miller late Tuesday.
"President Trump is the most gifted politician of our time. He's the best orator to hold that office in generations," Miller said in an interview with Fox News host Laura Ingraham, who was filling in on Tucker Carlson Tonight.
Trump "is the leader of this nationwide and worldwide populist movement, and it's about uplifting working class people. Black, Hispanic, white, all backgrounds," Miller said. Trump's agenda, he argued, is taking more African-American and Hispanic workers into the middle class.
"There are certain Republicans that don't want that message to resonate and a lot of Democrats as well," Ingraham said.
Last week Miller defended Trump's support for an immigration policy that would cut the number of foreign nationals allowed to obtain residency in half over the next ten years. Economists and State Central bankers criticized the policy, saying it will only hurt, not help, the growth of America's economy.
Trump's Republican legislative agenda in the Congress stalled just before August when a vote for a new healthcare bill to repeal and replace Obamacare failed. The administration has struggled to pass any significant Trump agenda bills from an ambitious plan laid out by GOP leaders for the first 200 days of his presidency.
Ingraham defended Trump. Recent polling numbers from multiple sources showing the erosion of Trump's support among non-college-educated white Americans and the middle class doesn't "necessarily reflect" the populist movement behind the president that is taking hold in the U.S., she said.
In one poll, approval for Trump among Republicans sits at 83 percent. Miller told Ingraham there is liberal bias in the coverage of the new polls that show support for the president shrinking among those seen as his base supporters.
Related: Why did Stephen Miller deride the noble words at the base of the Statue of Liberty?
Counselor to the president Kellyanne Conway acknowledged on ABC's This Week Sunday that Trump's support is slipping among Republicans and his core voters.
Miller, who has helped draft controversial Trump administration policies and has had a hand in writing the president's more nationalistic speeches, is under consideration to become the new White House communications director.
A senior Trump administration official told Reuters Saturday that Miller is a contender after he quarreled with CNN reporter Jim Acosta last week about whether New York's Statue of Liberty is meant to be a beacon of hope for immigrants to America.
Miller said Trump is going to continue to grow his base through his trade policy "that creates more manufacturing jobs for our workers in Detroit and Baltimore and all over the country" and an "immigration policy that uplifts Hispanic and African American workers into the middle class" as well as getting rid of gangs and cartels.
"These are policies that are going to help minority workers and traditional Democratic constituencies, and we're going to keep making inroads," Miller said.
During his presidency so far, Trump has held rallies in states that he won in the 2016 election. On Twitter Monday he cited "rallies in Penn, Iowa, Ohio" as a sign that "the Trump base is far bigger & stronger than ever before (despite some phony Fake News polling)."
Miller attacked the media in his interview with Ingraham Tuesday, saying they are driving the bad polling results as an attempt to smear Trump.
"The extreme media is going to do whatever they can to tear down this president," Miller said. "The media has gotten the president wrong since the day he announced and every day since. And he has been right, and they have been wrong."