Trump Moves to Ban Bump Stocks as Pressure on White House Over Gun Laws Intensifies After Florida Shooting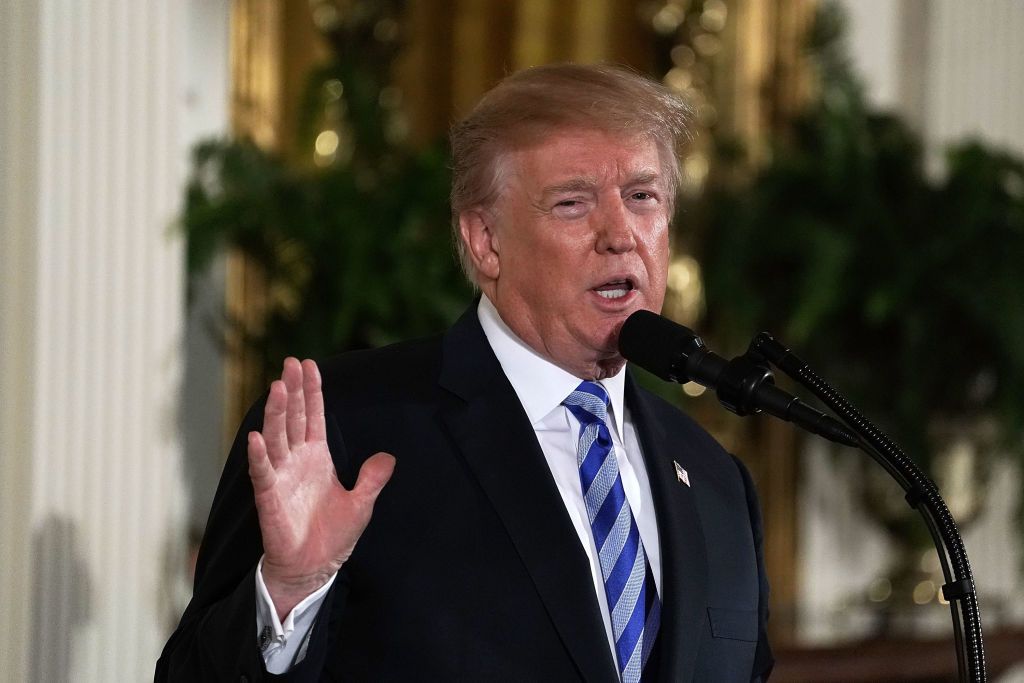 Updated | President Donald Trump has said his administration was drafting an executive order banning bump stock devices that modify rifles to fire hundreds of rounds per minute.
Used by the gunman who killed 58 people at a Las Vegas concert last year, bump stocks replace a standard rifle stock, converting semi-automatic rifles into fully automatic weapons that are able to fire more quickly.
Congress has come under renewed pressure to try to stop mass shootings in the U.S. after 17 people were killed last week in a shooting at Marjory Stoneman Douglas High School in Parkland, Florida.
Speaking at the White House Tuesday evening at a ceremony recognizing the valor of police officers, Trump said he had directed the Justice Department to draft a bill to make bump stocks illegal.
"We can do more to protect our children. We must do more to protect our children," Trump said during the announcement.
Florida shooting suspect Nikolas Cruz is not believed to have used a bump stock, but on Tuesday the White House said that an age restriction for purchasing an AR-15 rifle, which he used, was also "on the table."
Las Vegas shooter Stephen Paddock used bump stocks to fire on crowds at an outdoor concert last October, killing 58 people and injuring more than 500. After the shooting, both Republicans and Democrats had called for a ban, but the legislation stalled in Congress.
At Tuesday's event, Trump said he had directed Attorney General Jeff Sessions to finalize new guidelines to declare bump stocks illegal "very soon."
"The key in all of these efforts, as I said in my remarks the day after the shooting, is that we cannot merely take actions that make us feel like we are making a difference, we must actually make a difference," he said.
"We must move past clichés and tired debates, and focus on evidence-based solutions and security measures that actually work and that make it easier for men and women of law enforcement to protect our children and protect our safety."
According to a Quinnipiac University poll Tuesday, voters support stricter gun laws, 66 percent to 31 percent. A Justice Department spokeswoman said it had "acted quickly to move through the rule-making process" following Trump's order.
Correction: A previous version of this story stated that President Donald Trump had signed an executive order banning bump stock devices.