President Donald Trump's lawyers are reportedly considering requesting specific conditions in order for their client to agree to sit down for an interview with the man leading the investigation into Russian election interference.
The president's legal team may try to use an interview with Trump as "leverage" to gain certain considerations from Special Counsel Robert Mueller's investigative team, The Wall Street Journal reported Friday.
Those parameters are said to include Mueller agreeing to an end date to the parts of the probe involving Trump—possibly 60 days after the date of the interview—and to create a clear scope or idea of what questions the special counsel's team may ask the president.
Trump's legal team expects much of the questioning to involve the firing of former FBI director James Comey, which prompted Mueller's appointment by Deputy Attorney General Rod Rosenstein last year, as well as the dismissal of former national security adviser Michael Flynn, according to the Journal.
The president, who has publicly and repeatedly denied any collusion took place between his campaign and Russia to win the 2016 election, has reportedly pressured his attorneys to bring an end to Mueller's investigation.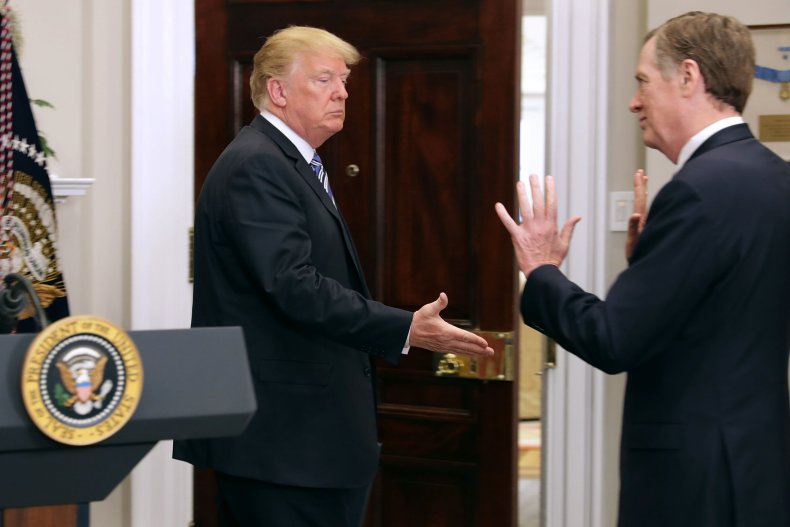 Mueller has shown interest in interviewing the president for several months now, but Trump's attorneys and allies have warned the billionaire that the meeting could be a perjury trap.
In January, Mueller, a former FBI director, reportedly offered Trump's legal team a number of topics he could question the president on, according to CNN, including Comey and Flynn.
Trump had previously stated that he would be "love" to answer questions from the special counsel and would be prepared to do so under oath.
Trump has often referred to the Russia investigation as a "witch hunt" drummed up by Democrats to explain Hillary Clinton's defeat at his hands in the 2016 election. But Mueller has since reached plea deals with several people close to Trump's former campaign, including Flynn, former campaign chairman Paul Manafort and former campaign aide Rick Gates. Flynn and Gates are now cooperating with Mueller's investigation.
Further spotlight was cast upon Trump's conduct during the investigation this week when The New York Times reported that he had asked White House general counsel Don McGahn and former White House chief of staff Reince Priebus about what they told the special counsel's team during their testimonies.