Trump Lawyers Will 'Challenge Legitimacy' of 'Entire' Mueller Investigation Over FBI 'Spy,' Giuliani Says
President Donald Trump's lawyers could try to "challenge the legitimacy" of the special counsel's Russia probe after learning a government informant spoke to two key campaign aides in 2016, according to Trump attorney Rudy Giuliani.
Giuliani, speaking on Fox & Friends Thursday morning, expressed shock over the revelation, made in a New York Times story Wednesday, that one government informant "met several times" with campaign aides Carter Page and George Papadopoulos, according to current and former government officials. Page's meetings with Russian government officials in 2016 have come under heavy scrutiny, and Papadopoulos has pleaded guilty to lying to FBI officials about his contacts with Russians.
"I think we're going to have to look into whether we can challenge the legitimacy of this entire investigation," Giuliani said. "Maybe the special counsel never should have been appointed."
Giuliani asserted that Trump's campaign was being spied on by the FBI and that he was racking his brain trying to determine who the informant might have been.
"I'm shocked to hear that they put a spy in the campaign of a major party candidate, or maybe two spies," he said. "Now I'm going through my brain—since you know I was a big part of that campaign—trying to figure out who was the spy. Now I'm wondering was it this person or that person or this person."
The Times report provided a detailed account of the initial stages of the FBI's investigation of Russia's interference in the 2016 election and whether the Trump campaign or anyone affiliated with it was privy to Russia's attempts.
Giuliani, like Trump, has often used media appearances to decry the Russia probe and special counsel Robert Mueller, who took over the FBI's inquiry exactly a year ago Thursday, following the dismissal of former bureau Director James Comey.
The attacks on Mueller, a Republican and former FBI director, were expected to continue as the investigation entered its second year, according to Giuliani.
"We are going to try as best we can to put the message out there that it has been a year, there has been no evidence presented of collusion or obstruction, and it is about time for them to end the investigation," Giuliani told Bloomberg Tuesday. "We don't want to signal our action if this doesn't work—we are going to hope they listen to us—but obviously we have a Plan B and C."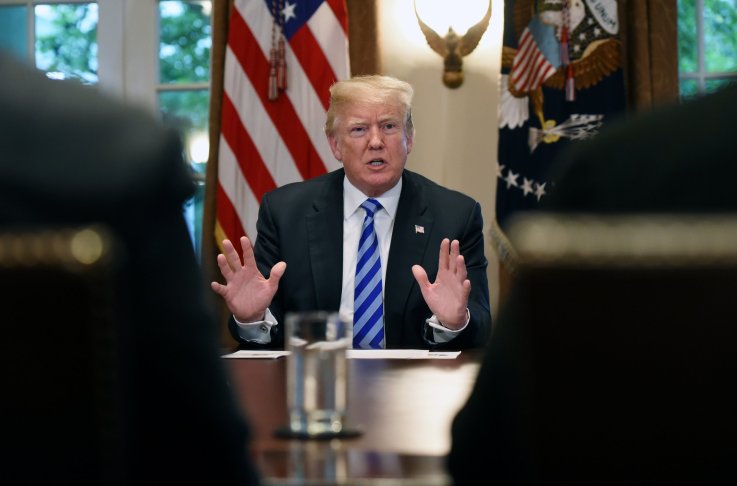 Trump Lawyers Will 'Challenge Legitimacy' of 'Entire' Mueller Investigation Over FBI 'Spy,' Giuliani Says | U.S.