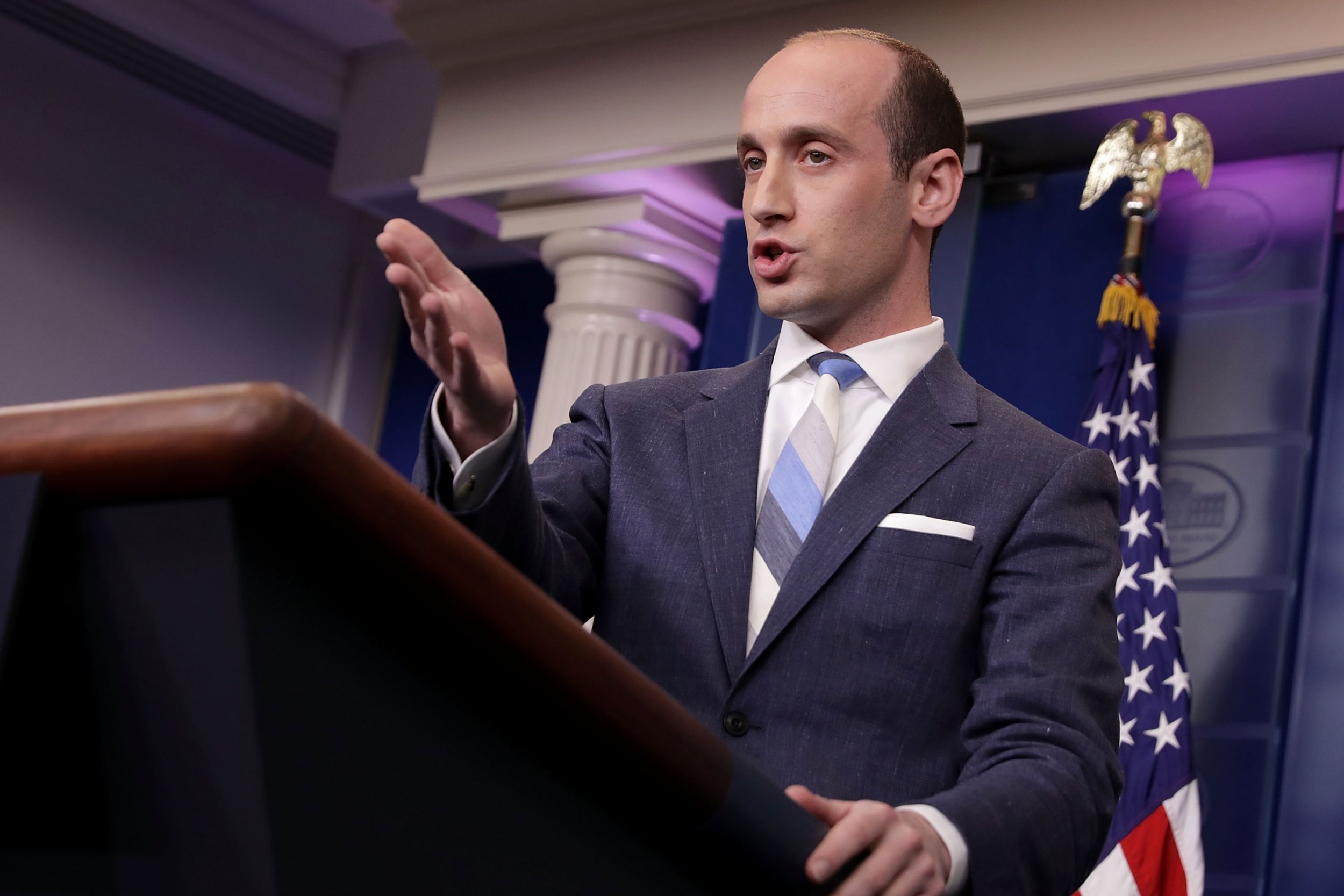 Special counsel Robert Mueller's investigation into Russian influence in the 2016 election has neared closer to President Donald Trump than ever before. White House senior policy adviser Stephen Miller was interviewed as part of the probe, according to a CNN report Thursday, making him the highest-level aide still working in the Trump administration to have sat down with the special counsel's investigators.
Related: Papadopoulos Is "the Big One," Not Manafort, Ex-CIA Director Michael Hayden Says
The revelation came less than two weeks after the first indictments in Mueller's probe were issued. Following the news that Trump's former campaign chairman Paul Manafort, associate Rick Gates and another former aide, George Papadopoulos, were facing charges, the White House attempted to distance itself from the men.
However, Miller's interview could have direct implications for the president. According to the report, Mueller's questioning of Miller included asking for details on his role in the firing of former FBI Director James Comey. Mueller has been investigating whether Trump committed obstruction of justice when Comey was dismissed in May.
Miller, in conjunction with Trump, was said to have composed an initial letter detailing the reasons for Comey's firing. That letter was never sent, after White House counsel Donald McGahn said it could be legally problematic, according to The New York Times. The letter was reported to have included references to Trump's claim that Comey told him three times that he was not under investigation in the FBI's Russia probe.
A copy of the letter was passed to Deputy Attorney General Rod Rosenstein, who then crafted his own version. While it highlighted Comey's investigation of Hillary Clinton's email server as the reason for Comey's dismissal, Trump almost immediately undermined that rationale. The president gave an interview with NBC in which he said the Russia investigation was prominent in his mind.
"In fact, when I decided to just do it, I said to myself, I said, 'You know, this Russia thing with Trump and Russia is a made-up story,'" he said.
Mueller's investigation also zeroed in on another member of the White House team who was around the president when the initial letter was drafted during a weekend at Trump's Bedminster, New Jersey, golf club. Trump's son-in-law Jared Kushner turned over documents to Mueller related to his role in the firing of Comey, CNN reported last week.
Trump has so far dismissed the idea that Mueller's investigation has any direct impact on him. Last month, a Politicoreport sourced from an anonymous White House official said that Trump would be willing to offer an interview with Mueller if one was not requested prior to Thanksgiving.
Questioned about the report, Trump said that no interview had been requested, while again insisting that the investigation was without merit.
"I don't know. Nobody's asked me to do that," he told Fox Business Network. "There has—there is no collusion, I can tell you that. Everybody's seen that. You know, you have Senate meetings, you have Senate hearings and nobody has asked us to do interviews anywhere. They have found no collusion."