Trump Muses About Ultimate Fighting Championship Scenario Against Biden Amid Lag in Polls
President Donald Trump fantasized about an Ultimate Fighting Championship (UFC) fight with Democratic presidential nominee Joe Biden during a campaign rally as he continued to trail the former vice president in the polls on Wednesday.
Trump told his supporters that the hypothetical clash was a "dream fight" during his rally in Bullhead City, Arizona. The president said that UFC President Dana White, an outspoken Trump supporter, had assured him that Biden would not fare well in a physical matchup.
"Sleepy Joe, I don't think Sleepy Joe would be a good fighter, do you?" Trump asked the crowd. "I asked Dana before. One gentle little touch to the face and he's down. He's down and he wouldn't get up very quickly either, would he?"
The candidates have spoken of physically fighting each other in the past. In 2018, Biden said that if the pair were high school students, Trump's remarks about women would have led to him being taken "behind the gym" where he would "beat the hell out of" the president.
Trump responded on Twitter by saying that Biden was "weak" and boasting that he would "go down fast and hard, crying all the way" if they fought. Biden and Trump had a similar exchange ahead of the 2016 election.
A survey from Public Policy Polling, conducted shortly after the 2018 spat, found that 37 percent of voters believed Biden would win in a fist fight between the septuagenarians, while 32 percent thought Trump would win. Another 30 percent had no opinion on the absurd proposition.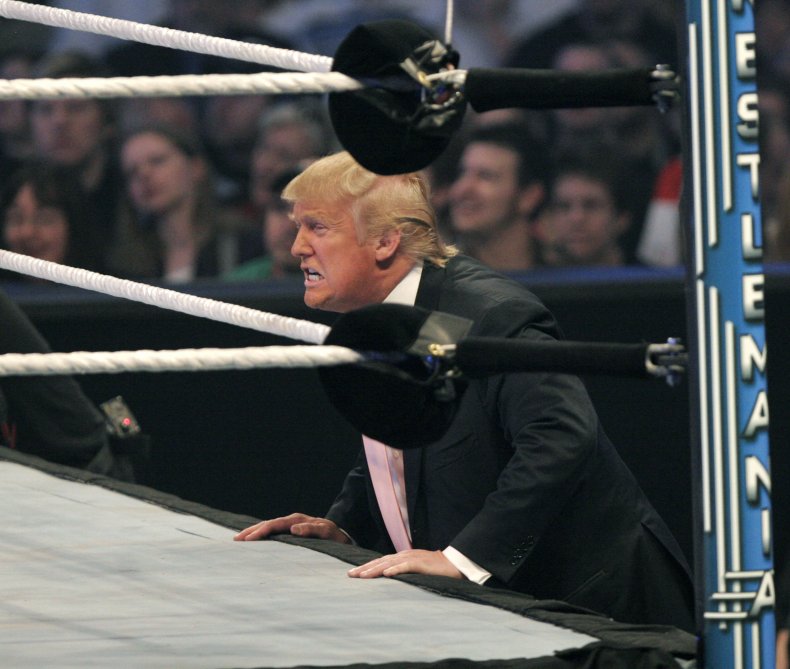 In the 2000s, Trump made appearances at WWE professional wrestling events including WrestleMania 23, where he participated in a staged physical altercation with WWE CEO Vince McMahon. Trump was inducted into the WWE Hall of Fame in 2013, saying he considered it "my greatest honor of all" during his acceptance speech.
Biden has continued to figuratively beat up Trump in polling less than one week before the election. An average of recent national polls from polling analysis site FiveThirtyEight showed Biden leading Trump by 9 percent as of late Wednesday night, while the site's election forecast gave Trump only an 11 percent chance of winning the election.
Trump defeated former Secretary of State Hillary Clinton with an Electoral College victory in 2016 despite polls and predictions making his win look unlikely. However, he appears to be in a weaker position than in the last election. FiveThirtyEight gave him a 32.2 percent chance of winning six days before Election Day 2016.
Trump lost the popular vote to Clinton by 2.1 percent, which was within 1 to 2 percent of national polling averages heading into the election. He did overcome leads in several polls of crucial battleground states, but Biden appears to be polling stronger than Clinton in most of the same states.
Newsweek reached out to the Trump and Biden campaigns for comment.