From the Middle East to the Midwest, Trump Must Listen To His Christian Supporters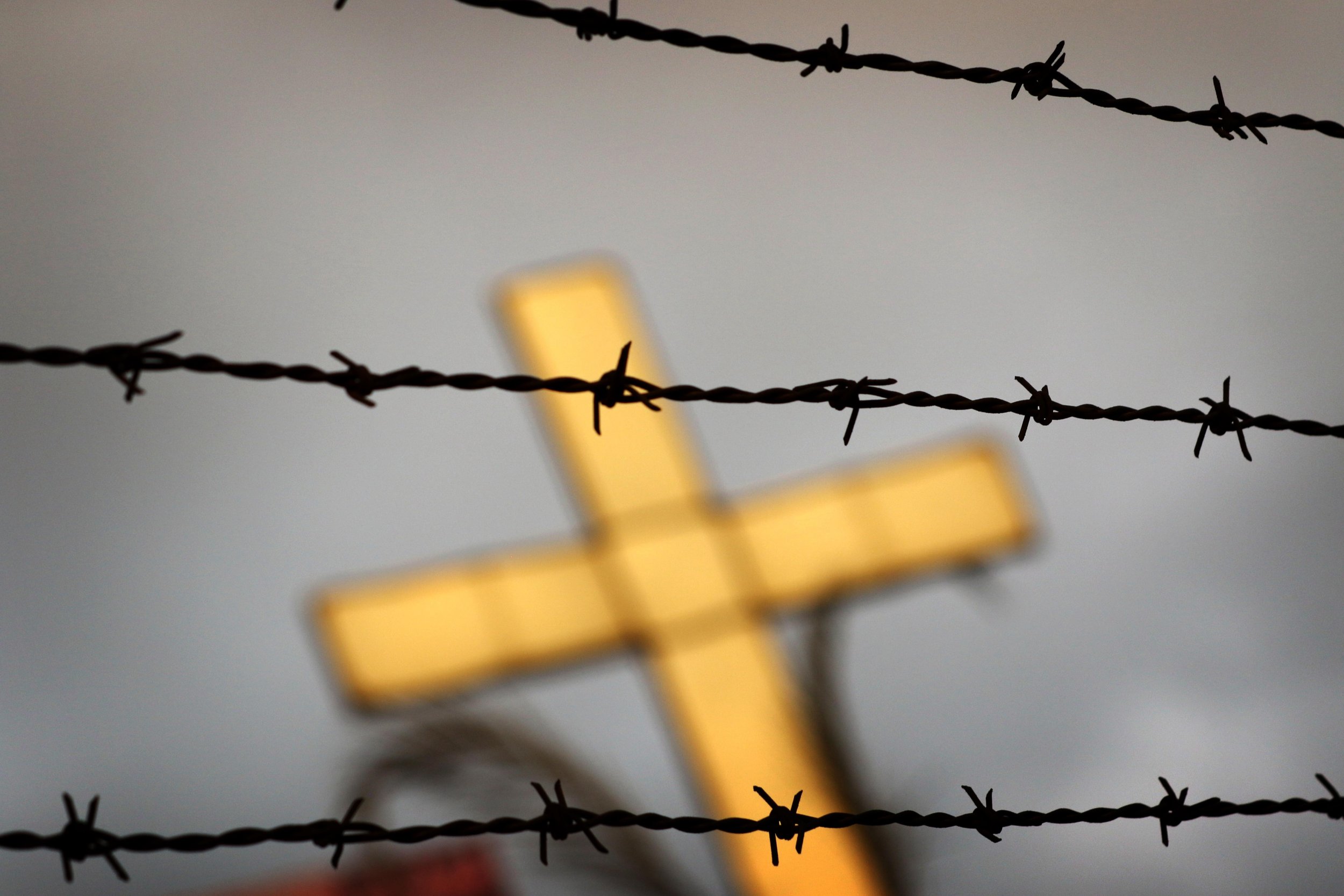 "We believe in God first, Trump second," says a Christian man in Ainkawa, Erbil, in the Kurdish region of northern Iraq. "You hear it said often here."
Iraq's Christians in 2003 numbered more than a million—today they are less than a quarter million. There is a sense of desperation. With the defeat of the Islamic State militant group (ISIS), thousands have begun to return to their homes on the Nineveh Plain, but many more have left Iraq.
Those who remain face significant challenges. "We are caught between Arab and Kurd, between Sunni and Shia, between Turkey and Iran," he adds. They now look to America—to President Donald Trump—to save them.
"Without a province, it will be hard for us to survive," the Christian adds.
The creation of a province—a kind of protected zone where the indigenous minorities of Northern Iraq can rebuild—is not a new concept. It was proposed but shelved prior to the 2014 ISIS conquest of the Nineveh Plain, the Christian heartland of Iraq.
It has since been discussed in Baghdad, Washington, and most recently in Brussels. But there is little doubt that support from the White House is necessary to make it happen. What the Christians of Iraq want to know is whether President Trump will act to save what remains of their community.
Middle East Christians, like other minorities from the region, tend to be supporters of Trump. It was an overlooked factor on election night last November, when several Midwest battleground states broke for Trump. Anyone familiar with the Middle East Christian diaspora community was keenly aware of a fact that went largely unnoticed by the mainstream media: Middle East Christian communities—voters originally from Lebanon, Iraq, Syria, and Egypt—turned out overwhelmingly for Trump.
Nowhere was this felt more acutely than Michigan, home to nearly a quarter of a million Middle East Christians, more than half of them of Iraqi Christian extraction.
Trump won Michigan by a mere 10,000 votes—a fact not lost on Middle East Christians, in the Midwest or in the Middle East.
Candidate Trump pledged to help Middle East Christians on the campaign trail but his besieged administration has gotten off to a slow start. Secretary of State Rex Tillerson has, however, affirmed the designation of "genocide" to describe what ISIS has done to Yazidis and Christians in Iraq and Syria. The Trump administration's next steps remain to be seen, though Middle East Christians endured far worse during the previous two U.S. administrations.
President George W. Bush's administration provided no special protection to Christians when their community came under attack after the 2003 invasion. In fact, Iraqi Christian asylum requests on the grounds of persecution were routinely denied during the Bush years.
President Obama did nothing to protect the Christian communities as ISIS overran Northern Iraq in 2014, when airstrikes could have easily stopped the ISIS onslaught. Middle East Christians can't imagine President Trump ignoring them like this. Despite the uneasy start, Middle East Christians are still "all in" with Trump. That support isn't limited to Christians.
On the front lines against ISIS, young Kurdish Muslim men, who lost fifty men to take the building where we stood in West Raqqa, voice unequivocal support for Trump."
We love you, Uncle Trump," says a young Kurdish fighter with the SDF. "Big love for Trump." The Christians in Raqqa echo the same sentiments. An officer with the Syriac Military Council, a Christian unit within the Syrian Democratic Forces (SDF), is hopeful that a failed plan under the Obama administration may see arms go to reliable—and legitimate—allies in the future. He expresses frustration with America over the arming and training of the Free Syrian Army (FSA)—a wildly imprudent covert program that may yet yield catastrophic blowback for America and its allies.
"Most FSA units had nothing in common aside from fighting the regime," the Christian officer says. "They had no ideas about governing. Many were foreign and just saw an opportunity to use money to steal, extort, torture, and kill." In Aleppo, he says that "many factories were looted and the stolen goods were sold in Turkey."
Middle East Christians have never taken up arms against America anywhere in the Middle East. They are the progressives of their societies across the region, forces for moderation. They are on the front lines against violent extremism across the region. Not only have they been forgotten, those who persecute them have repeatedly been given direct aid by the U.S. government.
During the "Sunni Awakening" in Iraq, the Bush administration approved $300 million to purchase the support of Sunni tribal leaders in western Iraq to defeat the precursor of ISIS, Al Qaeda Iraq (AQI). By the time ISIS conquered much of western Iraq a few years later, they did so with the support of the same tribal leaders—a fact not lost on Christians from the region, whose homes were marked by their neighbors so ISIS would know where to find them.
Virtually every Middle East country where the U.S. has intervened militarily, directly or indirectly, has witnessed an increase in violence against Christians: Iraq, Syria, Libya, and Yemen. In Libya, the overthrow of Muamar el-Qadhafi led to the rise of ISIS. Migrant Coptic Christian workers from Egypt were marched onto the shores of the Mediterranean in the orange jump suits of Guantanamo Bay and beheaded. In Yemen, ISIS stormed a home for the elderly run by the Missionaries of Charity, tortured and murdered several of the nuns and kidnapped a priest.
Like some American observers, Middle East Christians are continuously baffled that America forges alliances with adversaries while ignoring natural allies. The alliance with Saudi Arabia—which has provided the ideological and financial foundations for Al Qaeda, ISIS, and the global Wahhabi-Islamist movement—is particularly baffling. Despite this, Trump and America are still loved by Middle East Christians. But there is only so much neglect, persecution, and genocide that any community can take.
Last September, Congressman Jeff Fortenberry introduced a resolution for an Iraqi initiative to establish a Nineveh Plain Province for religious and ethnic minorities. (Fortenberry, whose Nebraska district is home to the largest Yazidi population in America, also spearheaded last year's genocide recognition in Congress.) There wasn't sufficient support in Washington, where observers often express reluctance to redraw the map of the Middle East—ignoring the fact that it has already been substantially redrawn. Then Donald Trump was elected president. Suddenly, there was hope for Christians and other minorities in the Middle East. Some version of the bill is likely to be reintroduced, but unless the White House engages, it's unlikely to matter.
The Christians of the Midwest and the Middle East continue to hope that the Trump administration hears them. They are competing against more powerful, better funded, interests in Washington and will have to shout loudly for their voices to be heard.
Andrew Doran is on the board of directors for In Defense of Christians (IDC).