Trump Must Proclaim the Alt-Right 'Racist' and 'Evil,' Evangelical Leaders Urge in Letter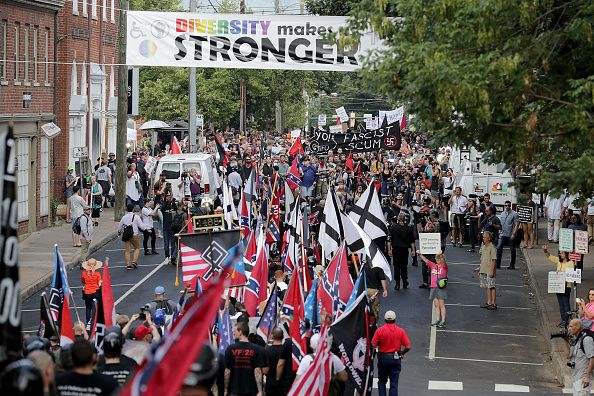 President Donald Trump needs to be crystal clear in his condemnation of the so-called alt-right, a group of Southern Baptist and other evangelical leaders said in a letter addressed to the commander in chief. The document, first obtained exclusively by CNN and published September 29, urges Trump to "join with many other political and religious leaders to proclaim with one voice that the 'alt-right' is racist, evil, and antithetical to a well-ordered, peaceful society."
The letter—drafted by the Reverend William Dwight McKissic, senior pastor at the Cornerstone Baptist Church in Arlington, Texas, and Keith Whitfield, a professor and dean at Southeastern Baptist Theological Seminary—comes in the wake of Trump's varied and widely criticized responses to white nationalist rallies that turned violent in August in Charlottesville, Virginia. The president alternated between blaming both sides for the violence and condemning groups like white supremacists and the Ku Klux Klan.
The events in Charlottesville "reminded us of a time years ago when such brazen displays of bigotry and white supremacy were common and were upheld by political leaders," reads the letter, which is now also available on a site where leaders beyond the original 39 signatories can add their names. "We have overcome much racial injustice, but we fear that without moral clarity and courageous leadership that consistently denounces all forms of racism, we may lose the ground that we have gained toward the racial unity for which so many of us have fought. Our nation remains divided racially and ideologically."
The letter includes a section thanking Trump for signing a joint resolution on September 14 that condemned the violence in Charlottesville and rejecting white nationalists, white supremacists, the Ku Klux Klan, neo-Nazis and other hate groups. But that document did not mention the alt-right.
"This movement has escaped your disapproval," the letter says, despite the racial supremacy expressed by leaders such as Jared Taylor and Richard Spencer. It continues:
We believe it is important for this movement to be addressed, for at its core it is a white identity movement and the majority of its members are white nationalists or white supremacists. This movement gained public prominence during your candidacy for President of the United States. Supporters of the movement have claimed that you share their vision for our country. These same supporters have sought to use the political and cultural concerns of people of goodwill for their prejudiced political agendas. It concerned many of us when three people associated with the alt-right movement were given jobs in the White House.
After Charlottesville, McKissic says, he tried to get a sense of where the president stood on the events that transpired and the groups that participated, including the alt-right. "It was unclear to me then and unclear to me now," he tells Newsweek. "Obviously, he knows how to be very clear and specific and leave no room for doubt when he opposes something."
But Trump has allowed his public feelings about the alt-right to remain ambiguous, even as leaders of both the National Baptist Convention and the Southern Baptist Convention denounced the movement.
McKissic worked with Whitfield, who he says led the effort to write the letter to make it clear this was a united response. "This is not a racial response. This is a kingdom response. The kingdom of God stands opposed to what the alt-right stands for. We ask the president to stand with kingdom of God," he says.
It's also not political, he emphasizes. "Whenever the church gets in bed with politics, it's the church that always gets pregnant," he says. "We're not aligning with either political party. We're talking about calling out darkness, and the alt-right represents spiritual darkness on the offensive, attacking our Pledge of Allegiance, our Constitution."
The goal of the letter is to try to elicit an explicit statement from the president condemning the alt-right movement and the bigoted views many of its members espouse. McKissic says he prays it will get president's attention. Trump "clearly has some history of a relationship with alt-right," he says, pointing to former members of his administration as well as the support Trump received from the movement during and after his election campaign. "It needs to be made clear that people with alt-right ties and connections are not welcome in this administration."
Dozens of people have added their names to the letter, including Samuel Rodriguez, president of the National Hispanic Christian Leadership Conference. McKissic says Rodriguez's affiliation as a member of Trump's informal evangelical advisory board adds weight to the letter.
However, "this is not an attack on the president. This is a loving plea to the president to stand with religious leaders, to uphold the Constitution and the Pledge of Allegiance and the Declaration of Independence," says McKissic, who calls the country a "racial tinderbox." He says he's never seen the level of polarization, division and distrust he sees today.
"A house divided cannot stand," he says. "Our land needs healing, and we need our president to lead the way."
The White House has yet to release a statement about the alt-right in response to the letter and did not immediately respond to Newsweek's request for comment.