Trump: My advice on Brexit was 'Too Brutal'—but Do Whatever, as Long as I Get a Good Deal
President Donald Trump has admitted that his Brexit advice was "too brutal" for British Prime Minister Theresa May, after he criticized her Brexit white paper in an interview with a U.K. tabloid.
Speaking at a joint press conference at Chequers on Friday, the president said he had given May suggestions, rather than advice, on how to pursue Brexit—throwing in a touch of flattery following the critical newspaper interview.
"I think she found it maybe too brutal," Trump said of the suggestions he made to May regarding Brexit.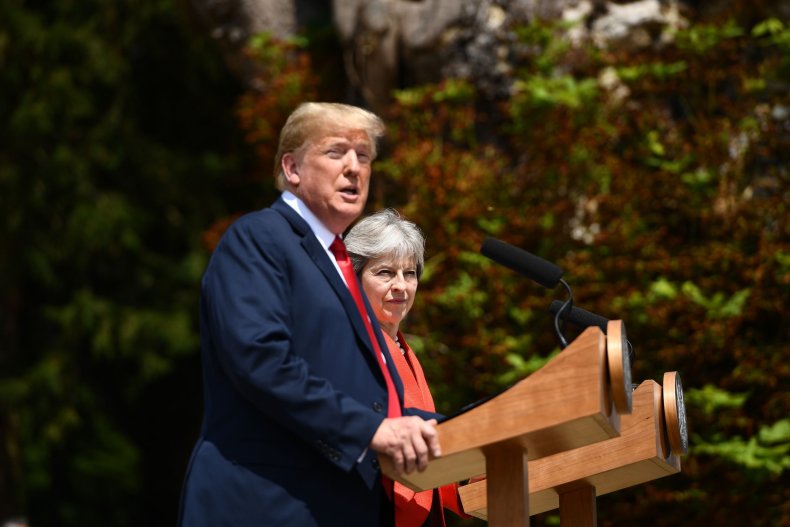 "And that's OK, I can see that. I gave her a suggestion, not advice. I could fully understand why she thought it was a little bit tough," he added. The president would not be drawn on how "brutal" Brexit suggestion had been.
However, he suggested that May might opt to take his suggestion in the future, adding: "Maybe someday she will do that, if they don't make the right deal. She might well do what I suggested that she might want to do but it is not an easy thing."
Revealing he had apologized to the prime minister earlier in the day for the interview published in The Sun, Trump said he had confidence in the job May was doing.
"I think she is a very tough negotiator, she is a very, very smart and determined person," the president commented, adding he would rather have May as his friend than his enemy.
Speaking specifically about the future of trade between the two countries, following his comments to The Sun that the Brexit white paper could threaten a trade deal between the two nations, President Trump said he didn't mind what happened with Brexit as long as the U.S. got a good trade deal with the U.K.
"I…want to thank Prime Minister May for pursuing fair and reciprocal trade with the United States," Trump said.
"Once the Brexit process is concluded—and perhaps the U.K. has left the E.U.—I don't know what they're going to do but whatever you do is ok with me, that's your decision," he continued. "Whatever you're going to do is OK with us just make sure we can trade together—that's all that matters."
"The U.S. looks forward to finalizing a great bilateral trade agreement with the United Kingdom, this is an incredible opportunity for our two countries and we will seize it fully."
"We support the decision of the British people to realize full self-government and we will see how that goes. Very complicated negotiation, and not an easy negotiation, that's for sure," Trump added, in what appeared to be a further attempt to appease the British prime minister.
Trump: My advice on Brexit was 'Too Brutal'—but Do Whatever, as Long as I Get a Good Deal | World