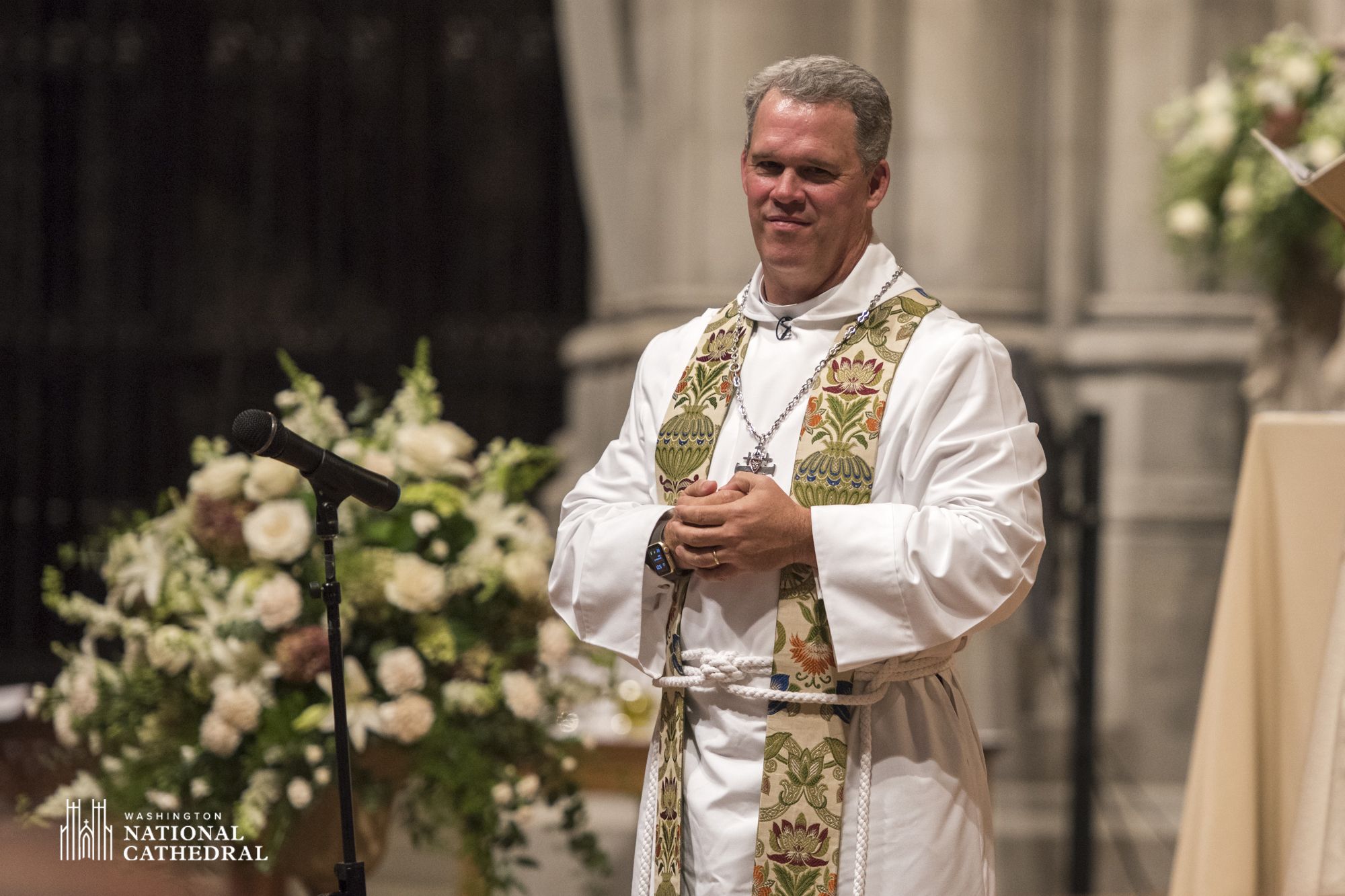 When he helped lead the national prayer service at the Washington National Cathedral in January, Dean Randolph Hollerith, who goes by Randy, asked God to "break down the walls that separate us." President Donald Trump, whose inauguration took place a day earlier, sat in the first row with the first lady, the vice president and the vice president's wife. During the service, Trump sang hymns, shook hands with religious leaders and, at certain points, appeared to doze off.
The National Cathedral in Washington, D.C. is the sixth largest cathedral in the world and the second biggest in the United States. It has always had ties to the U.S. presidency. In 1791, President George Washington suggested there be a national house of worship. More than a century later, in 1893, Congress granted the charter for one. Presidents Gerald Ford and Ronald Reagan had state funerals at the cathedral and President Woodrow Wilson is interred there. The cathedral has also hosted prayer services to coincide with the inaugurations of five presidents: Franklin Delano Roosevelt, Reagan, George H.W. Bush, Barack Obama and Trump.
Related: Who is Paula White, Donald Trump's favorite pastor?
"It's really a prayer service not just for the president, but to honor the nation and to pray for the nation as we go through this amazing thing that happens every four years, this peaceful transition of power," says Hollerith.
But the cathedral maintains its distance from the federal government and does not receive federal funding, because of laws separating church and state. That distance has grown as Hollerith has become a voice in Washington speaking out against Trump, even as the president surrounds himself with religious leaders who claim the White House has them on "speed dial," and after white religious Christians overwhelmingly supported Trump as the presidential nominee.
Hollerith first spoke out a little more than a week after the national prayer service in January. He condemned Trump's executive order temporarily halting the refugee resettlement program and travel into the U.S. from seven majority-Muslim countries. "Trump's actions are a challenge to the conscience of all Americans and people of goodwill," Hollerith wrote in an article for the website Religion News Service, which the National Cathedral website linked to. "This deeply troubling action is grounded in paranoia and fear of the stranger, and threatens to fracture families and unfairly penalize millions of innocent people. It is as un-American as it is un-Christian." Apparently his prayer for breaking down walls had fallen on deaf ears.
Hollerith, who, aside from his clerical collar, has the look and demeanor of a high school athletic coach, became dean last October. He was no stranger to the church; He grew up in Alexandria, Virginia, a suburb of Washington, and both his father's and mother's families are from the area. His relatives even supported the building of the cathedral, and his great-grandmother witnessed the laying of its cornerstone in 1907, according to a church bulletin in his family's possession. "The Washington National Cathedral has always been such an important icon in my life. It's one of the first places I can remember having an experience with the Holy as a child," he says while sitting in his office at the cathedral. Lady, his black lab, scurries around, and a copy of The Gatekeepers, Chris Whipple's book about White House chiefs of staff, sits on the coffee table. On floor-to-ceiling bookshelves are family photos, a statue of St. Paul and a big glass container of M&M's."You want a handful?" he says. "Come on."
The national prayer service for Trump was the first one Hollerith has helped lead. After the election, members of the presidential transition team contacted the cathedral about organizing the service, according to the dean. "Several people were wondering if we should even have the service to begin with," he says, referring to the general public, because "the election was so divisive." But he says he knew "we can pray one day and raise or voice our concerns the next."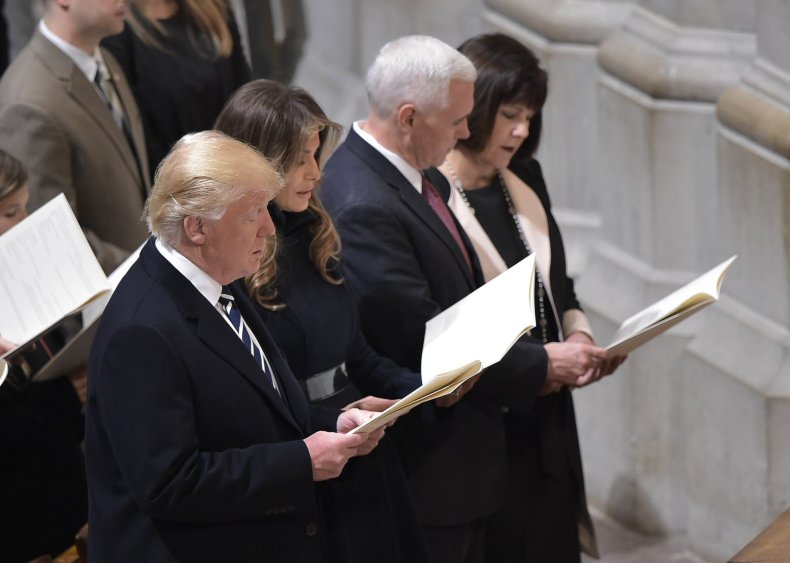 He has indeed raised those concerns, and not just about the travel executive order. In May, he released a statement criticizing Trump's order that told executive departments and agencies not to penalize religious entities that engage in political activity. "This move will politicize churches, distract us from our intended mission and further polarize the people we are attempting to unite," Hollerith said.
Then in June, after a man opened fire on members of Congress as they played baseball in Hollerith's hometown of Alexandria, the dean said the incident "is yet another troubling reminder that our nation faces an epidemic of gun violence." The comment seems at odds with rhetoric by Trump, who defended the Second Amendment as recently as August 23, at a rally in Phoenix.
In July, he released a statement criticizing Trump's decision to ban transgender service members from the military, saying he was "deeply disappointed" and that the action does not advance "Christian values." He added, addressing people who are transgender, "You will always be welcome in our house."
And in August, after protesters including white nationalists, neo-Nazis, the Klu Klux Klan and members of the "alt-right" clashed with counter-protesters in Charlottesville, Virginia, resulting in the death of one woman, Hollerith said in a statement: "We have failed to take seriously the cancer of white supremacy that lurks beneath the surface of our collective life." Trump, on the other hand, condemned the right-wing extremists but also said there was violence "on many sides."
"Every statement we've made and that I've made, we've wanted to be respectful of everyone involved, but [also] be clear about what we think the Gospel has to say about an issue," Hollerith tells Newsweek. "We feel it's important to be a place that proclaims the love of God and the forgiveness of God and the value of every human being, [and] that if we're going to proclaim those things on Sundays and the rest of the week in the worship and the things that we do here, that it's important to try to also do the best we can to stand by that publicly."
He adds, "I don't try to be a voice of dissent. I try to be a voice of clarity around issues."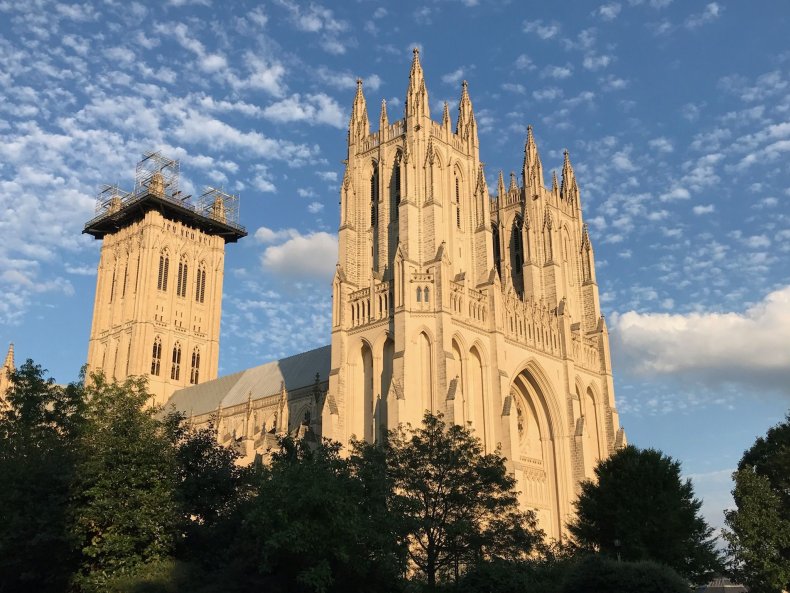 Not Just About 1000-Year-Old Saints
Hollerith yanks open a door in his office and leads the way through a shortcut to the main sanctuary. Purple, red and yellow light streams in through stained glass windows and members of a tour group sit in the pews. As his first year as dean at the cathedral winds down, Hollerith speaks about his future plans there. He says he wants the cathedral to be a place where people of all faiths feel welcome, and for it to tell "the story of America in a way that hasn't been told" there before. "It's not just about saints who lived a thousand years ago," he says, pointing to depictions of contemporary women and also icons of social justice: Eleanor Roosevelt, Rosa Parks and others. He notes the empty niches, uncarved blocks and unstained glass where he hopes to add more figures. He has a list of ideas but won't reveal names.
There is also an opportunity to rebuild the cathedral, literally. The building faced major damage during a 2011 earthquake. Because it does not receive federal funding, the cathedral must seek money for repairs from private donors. So far it has raised more than $12 million, but the project will cost around $34 million, according to Hollerith.
One feature that could change is stained glass windows memorializing Robert E. Lee and Thomas "Stonewall" Jackson, the Confederate generals. State and local governments are grappling with what to do with their Confederate iconography, especially in the wake of the Charlottesville violence, and the cathedral has removed images of Confederate battle flags from the windows, formed a task force to study the issue and hosted lectures on the subject. But the windows will remain until at least June 2018 in order to encourage conversation, according to Hollerith.
But these days, the dean finds he has more to talk about than those windows. "I don't try to be the resistance," he says. "I try to call us to the higher angels of our nature."